PBR Team Series Championship Preview: No. 3 Oklahoma vs. No. 8 Nashville
By: Justin Felisko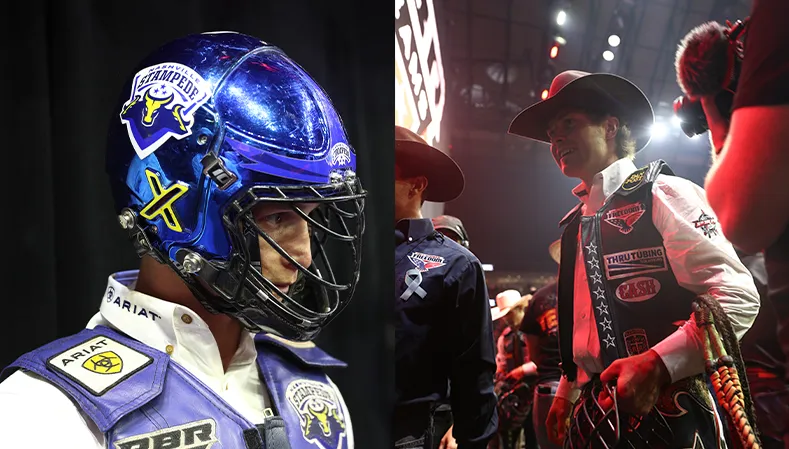 PUEBLO, Colo. – The 2022 PBR Team Series Championship is days away, and PBR.com will be taking a look at each of the first-round matchups taking place inside T-Mobile Arena Friday night in Las Vegas.
The playoffs are the same five-on-five, head-to-head format fans saw during the regular season. Two teams will be eliminated from the PBR Team Series Championship each day. The first two rounds of competition will feature a "Last Chance" playoff game for teams that lost their first game earlier in the night.
Today, let's take a look at Oklahoma vs. Nashville.
No. 3 Oklahoma Freedom (16-12) vs. No. 8 Nashville Stampede (7-20-1) | Friday | 11 p.m. ET CBS Sports Network
Game Competition Rides: Oklahoma (44) | Nashville (47)
Riding Percentage: Oklahoma (31.43%) | Nashville (33.57%)
Average Score Per Game: Oklahoma (136.66) | Nashville (144.71)
Rides Per Game: Oklahoma (1.57) | Nashville (1.68)
Season Series: Oklahoma won the season series 3-1
Aug. 13: Oklahoma (W) 87.75-85
Sept. 9: Oklahoma (W) 261-0
Sept. 23: Oklahoma (W) 178.5-175.5
Oct. 15: Nashville (W) 261-159.75
The separation between Oklahoma and Nashville has been razor thin this season. Oklahoma won the first three regular-season matchups, but two of the three matchups came down to less than three points.
Both teams have shown the ability to answer in the face of adversity as well against each other. The last two matchups each witnessed both teams posting come-from-behind victories. Oklahoma overcame a 175.5-0 deficit in the team's Sept. 23 matchup, while Nashville came back from a 159.75-83.5 score on Oct. 15 in Glendale, Arizona.
MVP: Oklahoma (Derek Kolbaba) | Nashville (Kaique Pacheco)
Derek Kolbaba is tied with Jose Vitor Leme (Austin) for the most walk-off wins in the league with four. Kolbaba is 2-for-4 against Nashville, but he was never placed in a situation this season against Nashville for a walk-off moment. Kolbaba is the only Oklahoma rider with over 10 qualified rides. The 26-year-old is 14-for-29 (48.3%) and has been the uncontested leader for Oklahoma.
Kaique Pacheco is 2-for-4 against Oklahoma, including his 83.5-point ride on First Down to give the Stampede an early lead in their final matchup of the season. Pacheco (12-for-32) struggled early in the PBR Team Series, but he has heated up lately and heads to Vegas with rides in three of his past four outs. While much has been made about walk-off rides (especially because of the excitement factor), getting a score early in a game is extremely important. Pacheco leads the league with nine rides from the No. 1 position, and coach Justin McBride appears to have found a good spot for him in the lineup. McBride has used Pacheco as his leadoff rider in 15 consecutive games.
X-Factor: Oklahoma (Chase Outlaw) | Nashville (Silvano Alves)
Chase Outlaw is expected to return to the lineup for the first time since competing at Thunder Days in Ridgedale, Missouri. Outlaw has appeared in only 12 games for the Freedom, but he has been a huge lift to the team when available. Outlaw is 6-for-14 with three 90-point rides, including a 90.25-point score on Sept. 9 to kick things off for Oklahoma in its win over Nashville. Outlaw is also returning to Las Vegas for the first time since the 2019 PBR World Finals, where he finished third in the world title race behind Jess Lockwood and Jose Vitor Leme.
Silvano Alves loves Las Vegas. The three-time World Champion is 49-for-78 (62.82%) when the premier series stops in Las Vegas. Alves has ridden five consecutive bulls inside T-Mobile Arena, dating back to his fourth-place finish at the 2021 PBR World Finals. Alves and Ryan Dirteater give the Stampede two PBR World Finals event winners in Vegas, with Dirteater winning the inaugural Finals ever held at T-Mobile (2016).
Young Gun to Watch: Oklahoma (Briggs Madsen) | Nashville (Thiago Salgado)
Briggs Madsen finished third in the regular season for Oklahoma by going 7-for-21 (33.3%). The 22-year-old has been thrust into a larger role than maybe the Freedom would have liked this season, but that experience could pay off if he can put it together in his debut inside T-Mobile Arena. Madsen went 1-for-4 against Nashville.
Thiago Salgado is the youngest starter on the Nashville Stampede at 20 years old, and he has been thrust into a crucial role, but this will not be his first time in Las Vegas. While many of the youngsters in the PBR Team Series have yet to ride at T-Mobile Arena, Salgado went 0-for-4 at the 2021 World Finals. Salgado's 25 outs this season are the second-most on Nashville behind Pacheco, as are his eight rides. Coach McBride has pushed Salgado all season long, and Salgado could be one of the young riders ready to blossom on the sport's biggest stage this weekend. Salgado, Dirteater and Cladson Rodolfo are the Stampede's likely top three left-handed riders, and one is going to have to become the guy.
Outlook: Oklahoma vs. Nashville is a coin flip, which one could say about many of the first-round matchups because of the parity in the league. However, these teams also really match up very similarly and are much closer than the No. 3 vs. No. 8 matchup may appear at first glance. Both teams have tdhree strong veteran riders paired with two youngsters. Each team has riders with storied success in Las Vegas. We have yet to even mention the last time Eli Vastbinder was at T-Mobile Arena, he put up four 90-point rides despite sporting broken ribs and a dislocated shoulder. This game very well could come down to who can close out the game in a high-pressure situation. As the higher seed, Oklahoma will be riding last in the game.
Follow Justin Felisko on Twitter @jfelisko
Photos courtesy of Andy Watson/Todd Brewer/Bull Stock Media
© 2022 PBR Inc. All rights reserved.