Pendleton Whisky Velocity Tour Returns to Columbia, South Carolina for Second Time in Series History Aug. 7
By: Kacie Albert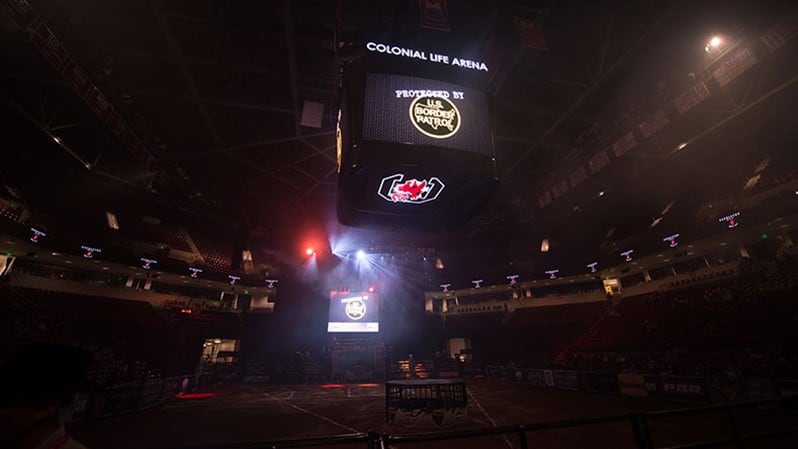 COLUMBIA, S.C. – For the second time in league history, PBR's (Professional Bull Riders) Pendleton Whisky Velocity Tour (PWVT) will buck into Columbia, South Carolina, hosting the Carolina Classic at Colonial Life Arena on Aug. 7.
For one night only, some of the best bull riders in the world will battle the sport's rankest bovine athletes in the ultimate showdown of man vs. beast in one of the most exciting live sporting events to witness.
PBR's Pendleton Whisky Velocity Tour debuted in Columbia in 2019 when Alan de Souza (Taubate, Brazil) went a flawless 2-for-2 to capture the event victory.
As the only rider to cover both of his draws, Souza began the tour stop, marking just his third event on American soil, with an 84.5-point trip on Podunk (Mike Miller Bucking Bulls). He then sealed the win with a championship round-winning, 87-point ride aboard Pneu-Dart's Coal Miner (Mike Miller Bucking Bulls).
While the PBR Pendleton Whisky Velocity Tour has made just one prior trip to Columbia, the developmental Touring Pro Division has a rich history in the Palmetto State. Those winners include Nick Landreneau (2005 – Sulphur, Louisiana), Buckshot Morrison (2007 – Vero Beach, Florida), Travis Sellers (2009 – Tishomingo, Oklahoma), Josh Koschel (2011 – Greeley, Colorado), and Cody Martin (2012 – Trinity, North Carolina).
The Columbia tour stop will tentatively mark the 14th PWVT event of the year, with PBR's fastest-growing tour first stopping in cities including Greenville, South Carolina; Lexington, Kentucky; Pensacola, Florida, and Grand Forks, North Dakota.
Thus far in 2021, the race for the 2021 PBR Pendleton Whisky Velocity Tour Championship is off to a fierce start, with the Top 3 riders in the series standings separated by a mere 12 points.
Austin Richardson (Stephenville, Texas) currently holds the No. 1 rank, winning one PWVT event and registering two additional Top-10 efforts across four events. The 21-year-old Texan leads No. 2 Paulo Ferreira Lima (Bezerros, Brazil) by a slim 8.67 points and No. 3 Michael Lane (Tazewell, Virginia) by 11.5 points.
The bull riding action for the PBR Pendleton Whisky Velocity Tour's Carolina Classic begins at 7:00 p.m. EDT on Saturday, August 7, at Colonial Life Arena.
On Saturday evening, all 40 competing riders will attempt one bull each in Round 1. Following the opening round, the Top 15 will then advance to the championship round, where they will attempt one final bull, all in an effort to be crowned the event champion.
Tickets for the event go on sale Friday, June 18 at 10:00 a.m. EDT, and start at $15, taxes and fees not included. They can be purchased online at Ticketmaster.com or PBR.com, or by calling PBR Customer Service at 1-800-732-1727. Starting Monday, June 21, fans will also be able to purchase tickets at the Prisma Health Box Office.
For an enhanced PBR experience, fans can also purchase PBR Elite Experience Add On for $50, which will provide a behind-the-chutes look into the toughest sport on dirt.
The Elite Experience Add On includes a pre-event question and answer session with PBR stars, commemorative lanyard and post-event photo opportunity in the arena. For more information, contact PBR Direct at 800-732-1727.
Throughout the 2021 season, PBR will continue to commit to providing a safe environment for fans, athletes, employees, and crew by working with its venue partners to implement health and safety protocols for live events while following health guidance from local and state officials.
© 2021 PBR Inc. All rights reserved.