Spears Captures Clovis Crown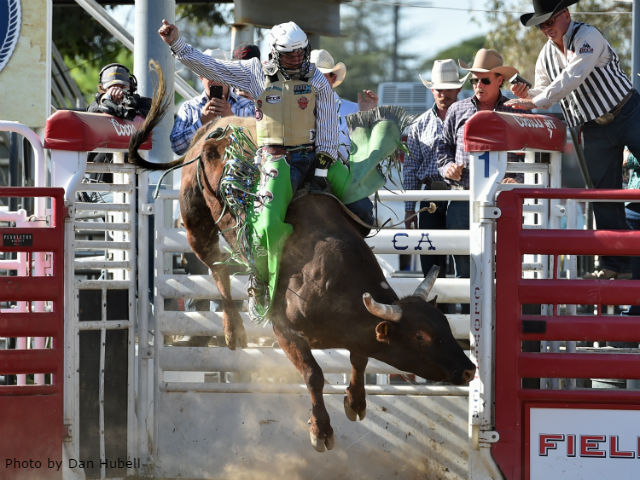 CLOVIS, Calif. – This has been quite the month for bull rider Jordan Spears.
Just over three weeks after winning $13,077 at the RAM National Circuit Finals Rodeo in Kissimmee, Fla., Spears returned to the pay window at the Clovis Rodeo.
Spears had a 90-point ride on Corey & Lange/Flying Diamond Rodeo Company's O Zone to take home the title at this Wrangler Million Dollar Tour Gold rodeo.
"This is the first time I've won Clovis," said Spears, a native of Redding, Calif., which is about five hours from Clovis. "All the big California rodeos are something every guy wants to win at some point in his career, and Clovis was a big one to check off my list. This was my first 90-point ride at a PRCA rodeo, which was cool."
Just last weekend, O Zone got the best of Spears, bucking him off at the Red Bluff (Calif.) Round-Up. On Saturday, he was ready for redemption.
"I made a little mistake when I got on that bull at Red Bluff," Spears said. "This time I had a feel for him. He went right in Red Bluff and kind of got me rocking in my hand, and this time I was ready for whatever he threw at me and it just so happened he went left, right into my hand, and it felt good. When you're in the right spot it all flows together when everything is working. I just had a clear mind and I had 100 percent confidence that I was going to ride this bull."
Spears, who made his ride April 29, was just two points off the Clovis Rodeo bull riding record of 92 points established by Rodney Lidgard in 1992.
"It was a boost to me to know that I drew a good bull and at a rodeo like this and I was able to come through," Spears said.
Spears acknowledged he's hopeful to keep his hot streak going.
"It has definitely been a good month," he said. "To win a big chunk of change at the RNCFR, and have that count toward the standings, and come out here and win Clovis -a prestigious rodeo in California – has made this a great month, and I want to keep this momentum going."
Other winners at the rodeo were bareback rider R.C. Landingham, steer wrestler Dakota Eldridge, team ropers Kaleb Driggers/Junior Nogueira, saddle bronc riders Taos Muncy and Allen Boore and tie-down roper Reese Riemer.
For more coverage of the Clovis Rodeo, check out the May 12 issue of the ProRodeo Sports News.
Courtesy of PRCA