Starting Lineups and Draw Revealed for Freedom Fest
By: Justin Felisko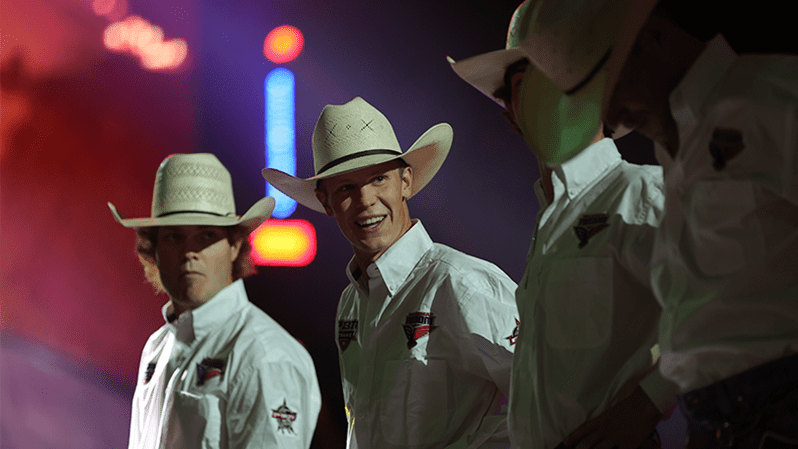 PUEBLO, Colo. – The Oklahoma Freedom (8-8) will attempt to do what no squad has done so far during the inaugural PBR Team Series.
Win their respective homestand.
The Austin Gamblers and Carolina Cowboys have come close, but so far, they, as well as the Kansas City Outlaws and Nashville Stampede, have failed to take home the top prize in their home venue.
Carolina seemed to be on cruise control, on its way to winning its event last weekend in Winston-Salem until being upset by the last-place Stampede on Championship Sunday, 259.25-257.75.
No host team has even gone 3-0 so far at their host event either.
The reality is whether a team is hosting an event or not, it has become extremely difficult for teams to consistently win at events. The PBR Team Series has had five different event winners through the first six weeks of the season, with Austin being the only team to win multiple events.
Event Winners Through Six Weeks
Missouri Thunder (Cheyenne, Wyoming)
Arizona Ridge Riders (Outlaw Days)
Austin Gamblers (Anaheim, California & Stampede Days)
Carolina Cowboys (Gambler Days)
Oklahoma Freedom (Cowboy Days)
A random trend that has popped up in the last three weeks is that the event winner was the team who was next slated to host a PBR Team Series event. If that trend were to continue, then you can just hand the hardware over to the Missouri Thunder (8-8) this weekend inside Paycom Center. The Thunder are set to host Thunder Days in two weeks (Sept. 23-25).
Coming out of its successful weekend in Winston-Salem, the Freedom may have something to say about that.
Oklahoma has won four consecutive games and five of its last six to crawl out of the bottom quarter of the PBR Team Series standings and get back to .500. Now, the team sits only two games behind league leaders Carolina (10-6), Austin (10-6) and the Arizona Ridge Riders (10-6).
Let's take a look at the starting lineups for Friday night's four-game slate in Oklahoma City (8:45 p.m. ET RidePass on Pluto TV).
Nashville Stampede (4-12) vs. Missouri Thunder (8-8)
Kaique Pacheco (NS) vs. Crossover
Adriano Salgado (MT) vs. Concho
Thiago Salgado (NS) vs. Geronimo
Luke Parkinson (MT) vs. Alakazam
Matt Triplett (NS) vs. Duke
Colten Fritzlan (MT) vs. Leopold
Manoelito de Souza Jr. (NS) vs. JoJo
Marcelo Procopio Pereira (MT) vs. Little Voodoo Jacket
Silvano Alves (NS) vs. Jackpot
Andrew Alvidrez (MT) vs. Glory Days
REMATCHES
Kaique Pacheco vs. Crossover (2021 Little Rock, Arkansas – 89.75 points)
NASHVILLE RIDER TO WATCH: Is the Ice Man defrosting? 2018 World Champion Kaique Pacheco went 2-for-4 in Winston-Salem, North Carolina, last weekend. Surprisingly, it was only the second time during PBR Teams in which Pacheco posted multiple rides in an event. It sure feels like Pacheco is due for a weekend of perfection, and maybe, just maybe, that will come in Oklahoma City. The last time Pacheco competed in Oklahoma City, in 2021, the 27-year-old won the 15/15 Bucking Battle inside Paycom Center with a 94-point ride on Chiseled.

MISSOURI RIDER TO WATCH: Luke Parkinson is set to make his PBR Teams debut after fans last saw him at the PBR level be the only rider for Team Australia to notch a qualified ride (88.5 points on Bread Basket) at the 2022 PBR Global Cup USA. Parkinson is a 21-year-old college rodeo athlete at Western Texas College, who just recently returned to competition after injuring his hamstring at a collegiate rodeo in June. Parkinson fits the Ross Coleman–Luke Snyder mold of being an all-around cowboy as he is not only a bull rider, but he also competes in saddle bronc and team roping events for the Westerners.
Arizona Ridge Riders (10-6) vs. Carolina Cowboys (10-6)
Alisson de Souza (ARR) vs. Nature Boy
Cooper Davis (CC) vs. Malakai
Eduardo Aparecido (ARR) vs. Midnight Flyer
Boudreaux Campbell (CC) vs. One Cord Song
Vitor Losnake (ARR) vs. Smooth Over It
Mason Taylor (CC) vs. Theodore
Sandro Batista (ARR) vs. Hitter
Wingson Henrique da Silva (CC) vs. Juice
Luciano de Castro (ARR) vs. Brusta
Daylon Swearingen (CC) vs. Soul Train
ARIZONA RIDER TO WATCH: Vitor Losnake did not have a debut he would like to remember, going 0-for-2 last week at Cowboy Days. However, the Ridge Riders' coaching staff of Paulo Crimber and Colby Yates are going right back to the well with their 18-year-old this weekend in a vote of confidence.
CAROLINA RIDER TO WATCH: Wingson Henrique da Silva has certainly been working his tail off to try and hit the 8-second mark for Carolina. The results have not been there just yet (2-for-10) and coach Jerome Davis may have to consider looking at other options beyond Silva and teammate Leonardo Lima (1-for-8) for that fifth and final starting lineup spot in the future. The original plan was for Carolina was to eventually be able to roll out Ednelio Almeida into the rotation, but the Cowboys had to put him back on Injured Reserve this week for another two events because of a groin injury he sustained on July 30, prior to Carolina trading for him. If Carolina loses its patience, the team does currently have an open protected roster spot to bring in another rider for at least the next two events via free agency or a trade.
REMATCHES
Mason Taylor vs. Theodore (2022 Indianapolis, Indiana – 89.25 points)
Kansas City Outlaws (7-9) vs. Texas Rattlers (5-11)
Marcus Mast (KCO) vs. Dark Hunt
Cody Jesus (TR) vs. Lone Survivor
Cole Melancon (KCO) vs. Hunter
Daniel Keeping (TR) vs. Flatliner
Rafael Henrique dos Santos (KCO) vs. New Grounds
Ednei Caminhas (TR) vs. Siroucho
Kyler Oliver (KCO) vs. Ohio Grounds
Braidy Randolph (TR) vs. Baptism By Fire
Dalton Kasel (KCO) vs. Hostage
Joao Ricardo Vieira (TR) vs. Norse God
REMATCHES
Cody Jesus vs. Lone Survivor (2022 Outlaw Days vs. Austin Gamblers – 86 points; vs. Carolina Cowboys – 87 points)
Dalton Kasel vs. Hostage (2021 Iron Cowboy – 3.76 seconds)
Joao Ricardo Vieira vs. Norse God (2022 PBR World Finals – 87.75 points)
KANSAS CITY RIDER TO WATCH: Cole Melancon is set to make his regular-season debut after tearing his left groin at the PBR Challenger Series event at Cowtown Coliseum in Fort Worth, Texas, on July 10. Melancon was originally expected to miss 3-4 months, but he has instead received the thumbs up from Dr. Tandy Freeman to return to competition after just over 2 months. Melancon competed at two small amateur rodeos near his home in Sour Lake, Texas, and now gives Kansas City another veteran to run out into its lineup. If healthy, the Outlaws could start to rise up the standings with a roster featuring Dalton Kasel, Kyler Oliver, Marcus Mast and Melancon.
TEXAS RIDER TO WATCH: Cody Jesus is one of two riders who has two qualified rides against his bovine opponent this weekend, and that could be an advantage for the Texas Rattlers with the Oklahoma City bullpen expected to be one of the most difficult of the season. Jesus is a perfect 2-for-2 against Lone Survivor, and Texas won both of its games when he rode that bull.
Austin Gamblers (10-6) vs. Oklahoma Freedom (8-8)
Ezekiel Mitchell (AG) vs. Ivy League
Chase Outlaw (OF) vs. Oz
Lucas Divino (AG) vs. Gladiator's Hammer
Briggs Madsen (OF) vs. Black Ice
Dakota Louis (AG) vs. Little Lightning
Casey Roberts (OF) vs. Moon Juice
Austin Richardson (AG) vs. Monkey Blues
Eli Vastbinder (OF) vs. Clear Water
Ramon de Lima (AG) vs. American Gangster
Derek Kolbaba (OF) vs. HomeBru
*This is the CBS Game of the Week and airs Saturday at
REMATCHES
Derek Kolbaba vs. HomeBru (2021 Kansas City, Missouri – 89.5 points; 2021 PBR World Finals – 92.5 points)
Lucas Divino vs. Gladiator's Hammer (2022 PBR World Finals – 90 points)
AUSTIN RIDER TO WATCH: The season-long problem for Austin continues to go unanswered. Do the Gamblers have enough depth to compete for a PBR Teams Championship? With two-time World Champion Jose Vitor Leme week-to-week with three broken ribs, the margin for error is even that much more razor thin. Last week, the team went 1-for-12 outside of new acquisition Ramon de Lima (2-for-4). Someone needs to step up beyond Ezekiel Mitchell and Lima, and the time has come for Austin Richardson to be that guy. Richardson was the 16th overall selection for Austin, but he is ranked 37th in the league with a paltry 2-for-17 showing.
OKLAHOMA RIDER TO WATCH: Could we see a new PBR Team Series high-score record on Friday night? So far, the best ride in PBR Teams history came on July 26 by Daylon Swearingen (92.5 points on I'm Legit Too) in Cheyenne, Wyoming. Derek Kolbaba could be in a position to challenge that score with his matchup against HomeBru. Kolbaba last rode HomeBru for 92.5 points at the 2021 World Finals, and maybe he could make a push for 92.75 points if the rider and bovine athlete team up with close to perfect performances. The matchup could also have much at stake with it having the potential to be a walk-off game winner for the CBS Game of the Week.
Be sure to tune in for night one of the action in Oklahoma City, as Freedom Fest kicks off Friday, Sept. 16 at 8:45 p.m. ET, only on RidePass on Pluto TV.
Follow Justin Felisko on Twitter @jfelisko
Photo courtesy of Todd Brewer/Bull Stock Media
© 2022 PBR Inc. All rights reserved.