Swearingen Returns to Lineup, Powers Cowboys Back into Win Column
By: Rachel Tighe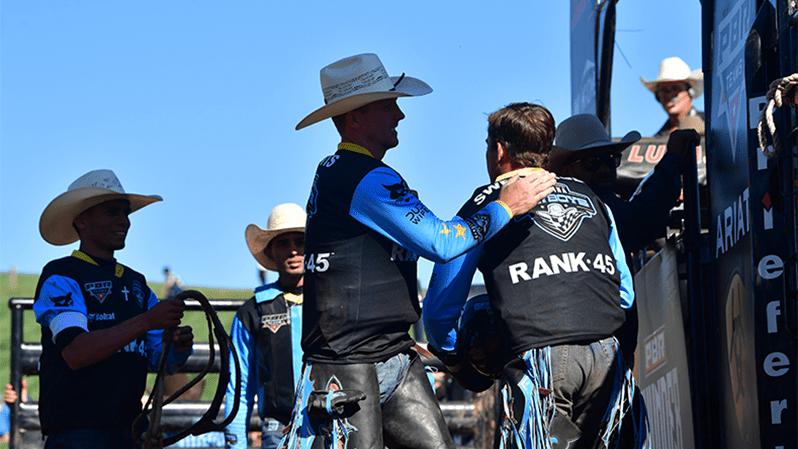 Carolina Cowboys: 261 / Austin Gamblers: 89.5
RIDGEDALE, Mo. – On the last day of competition of the PBR (Professional Bull Riders) Team Series Thunder Days, the Carolina Cowboys bounced back after going 0-for-5 on Saturday night to put up three rides and crush the Austin Gamblers 261–89.5.
The Gamblers were without No. 1 draft pick Jose Vitor Leme (Ribas Do Rio Pardo, Brazil), who aggravated sore ribs after being slammed to the dirt on Saturday night following his game-winning ride.
To open the game on Sunday, Ezekiel Mitchell (Rockdale, Texas) in the lead-off position was no match for Gold Chain (Young Cattle Co.), bucked off at 3.71 seconds.
The first out for the Cowboys was Cooper Davis (Jasper, Texas), who hung on valiantly for the final two jumps aboard Falcon Eddie (Lari Crane/Gene Owen) to register an 88.75-point ride.
With the Cowboys on the board first, Griffin Smeltzer (Claresholm, Alberta, Canada) started off strong in trying to respond for the Gamblers, but was ultimately no match for Midnight Flyer (Jane Clark/Gene Owen).
Carolina's Boudreaux Campbell (Crockett, Texas) wasted no time to capitalize on the Gamblers' dry streak, and further widened the lead with 80.5 points atop Blazer (Universal Pro Rodeo/Rachel & Dustin Powell).
Two frames in and three remaining, the Cowboys led the Gamblers, 169.25-0. With the third and fourth frame scoreless, Ramon de Lima (Rio Branco, Brazil) finally struck for the Gamblers for 89.5 points on Black Ice (BMC Bucking Bulls/Jenkins Cattle Co.).
With the Gamblers still down a bull, 2022 PBR World Champion Daylon Swearingen (Piffard, New York) further added to Cowboys winning score with 91.75 points in dominating Hostage (Hale/Wood/Ogden).

The Carolina Cowboys (14-8) finish 2-1 for the weekend, while the Austin Gamblers (11-11) finish 1-2.
Photo courtesy of Andy Watson/Bull Stock Media
© 2022 PBR Inc. All rights reserved.