Two Rides is Sufficient for Kansas City Outlaws to Defeat Nashville Stampede in Game 3 of PBR Team Series Preseason Event in Bismarck
By: Rachel Tighe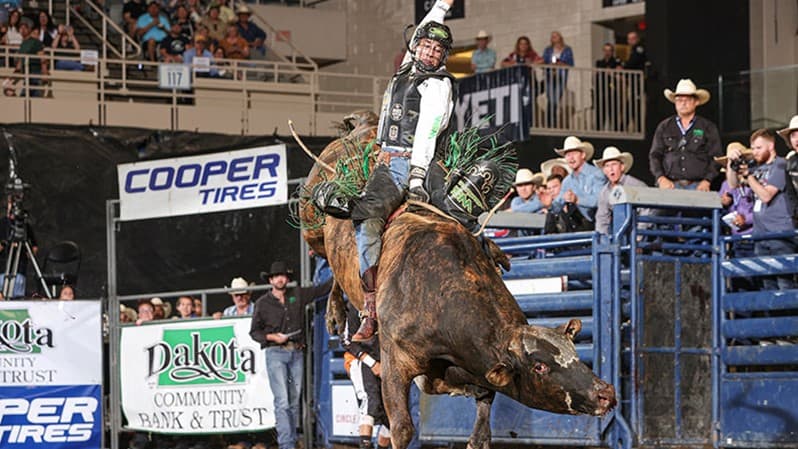 BISMARCK, N.D. – History was made tonight in Bismarck, ND, when bull riders joined teams to compete in five-on-five bull riding games in four preseason matchups in the PBR Team Series – a new league of eight bull riding teams from across the country competing for a national championship.
The preseason for the inaugural PBR Team Series season got underway at Bismarck Event Center, with high-scoring rides in each game this evening.
The league's two preseason exhibition events in June do not affect the PBR Team Series championship race and standings – a 10-event regular season that begins July 25 with neutral site games in Cheyenne, Wyoming, and culminates in the championship tournament in November. Night two of Dakota Community Bank & Trust PBR Bull Riding Challenge continues Saturday at 8:30 p.m. ET, available to fans LIVE on Pluto TV (channel 720).
Kansas City Outlaws: 177 points
Nashville Stampede: 0 points

With the bulls dominating Game 3 of the Dakota Community Bank & Trust PBR (Professional Bull Riders) Bull Riding Challenge, two qualified rides were enough for the Kansas City Outlaws to roll to their first preseason win in shutting out the Nashville Stampede 177-0. Marcus Mast (Middlebury, Indiana) earned the first qualified ride of the night aboard WSM's Sun Country (WSM Auctioneers/Clay Struve/Dakota Rodeo/Chad Berger) for 87.5 points. 2019 PBR Rookie of the Year Dalton Kasel (Muleshoe, Texas) followed up with the second and final 8-second ride of Game 3 for 89.5 points, bringing the Outlaws to a 177-point lead and their first preseason win.

"Teamwork," said Kansas City Outlaws Head Coach J.W. Hart. "The player tonight, for me, was Marcus Mast. What he went through the last two months to get to where he's at, to go through training camp the way he did and perform here the way he did under pressure trying to earn a spot…he made his spot."
"It was awesome being a part of this. I am super proud of everybody and how hard they tried," added Dalton Kasel. "I'm so thankful for our Coach, and I have been blessed with an amazing team."
© 2022 PBR Inc. All rights reserved.