Unleash The Beast Returns to New Orleans' Smoothie King Center March 17-18
By: Kacie Albert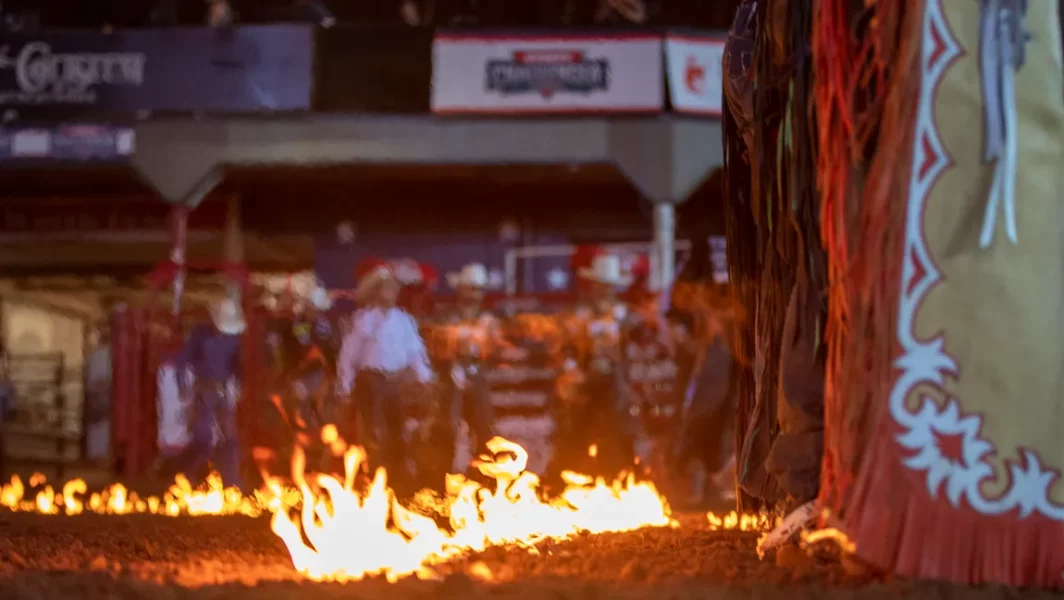 NEW ORLEANS – For the first time in 13 years, PBR's (Professional Bull Riders) elite Unleash The Beast will buck into Smoothie King Center in New Orleans, Louisiana, holding the PBR Union Home Mortgage Invitational March 17-18, 2023.
For two nights only, more than 35 of the best bull riders in the world will go head-to-head against the sport's rankest bovine athletes, showcasing the ultimate showdown of man vs. beast in one of the most exciting live sporting events to witness.
During the 2023 season, the PBR will celebrate its 30th anniversary since 20 cowboys broke away from the traditional rodeo with the belief that bull riding could be a standalone sport. Since their trailblazing initiative, the PBR has grown into a global phenomenon awarding nearly $300 million in prize money.
The upcoming PBR Union Home Mortgage Invitational will mark the 16th event of the new individual season. Eventgoers will watch on as riders vie for crucial points in the race to be crowned the 2023 PBR World Champion.
PBR's return to New Orleans comes on the spurs of a historic season for young gun Daylon Swearingen (Piffard, New York) as he became the first rider from New York to be crowned the PBR World Champion in 2022.
Clinching the title compliments of a victory at the prestigious PBR World Finals, Swearingen went a torrid 26-for-60, covering 43.33% of his animal athlete opponents during his 2022 gold buckle campaign.
Swearingen earned $1,697,481.63, including $1,394,000 for his career-first PBR World Championship and World Finals event win. Swearingen is now 17th in all-time money earned in PBR competition with his career earnings topping more than $2.21 million.
When PBR's premier series was last in New Orleans in 2010, Pistol Robinson (Burleson, Texas) delivered a perfect 3-for-3 performance to win the event. The Top 5 was star-studded, with three-time PBR World Finals event winner Robson Palermo (Rio Branco Acre, Brazil) in second, two-time PBR World Champion Chris Shivers (Jonesville, Louisiana) in third and 2008 PBR World Champion Guilherme Marchi (Tres Lagoas, Brazil) in fifth.
Other past PBR Unleash The Beast event winners in the Big Easy include: Justin McBride (2007 – Elk City, Oklahoma); Wiley Petersen (2002 – Fort Hall, Idaho); Bart Jackson (2002 – Greenwood, Mississippi); Gilbert Carrillo (2001 – Stephenville, Texas) and Tater Porter (2000 – Kenansville, Florida).
The bull riding action for the PBR Union Home Mortgage Invitational begins with Round 1 at 7:45 p.m. CT on Friday, March 17, followed by Round 2 and the championship round at 6:45 p.m. CT on Saturday, March 18. All competing bull riders will get on one bull each in Rounds 1-2. Following Round 2 Saturday evening, the riders' individual two-round scores will be totaled, with the Top 12 advancing to the championship round for one more out and a chance at the event title.
Tickets for the two-day event go on sale Friday, November 11 at 10:00 a.m. CT, and start at $15, taxes and fees not included. Tickets can be purchased online at ticketmaster.com and PBR.com, at the Smoothie King Center Box Office or by calling PBR customer service at 1-800-732-1727.
PBR Elite Seats are available for avid fans who want an exclusive VIP experience while enjoying the world's top bull riding circuit. These tickets, available in three tiers, offer premium seats, personal on-site concierge at the PBR fan loyalty booth, $20 concession voucher and souvenir credential and lanyard.
Available for $225, the PBR Bronze Elite Seats, which also include a pre-event photo on the dirt which will be available for digital download after the event.
Priced at $310 is the PBR Silver Elite Seats and $390, the PBR Gold Elite Seat, which include a 30th anniversary collectible item, pre-show tour with PBR talent and photo on the dirt in front of the bucking chutes presented in a PBR 30th anniversary season branded frame to take home after the show and also available for digital download.
Additionally, the PBR Gold Elite Seats, which will offer the best views in the venue, will also include a 2023 PBR Yearbook.
Photo courtesy of Andre Silva/Bull Stock Media
© 2022 PBR Inc. All rights reserved.