Utah Native Dalton Rudman Wins Second Performance at Utah Days of '47 Rodeo
By: Ann Bleiker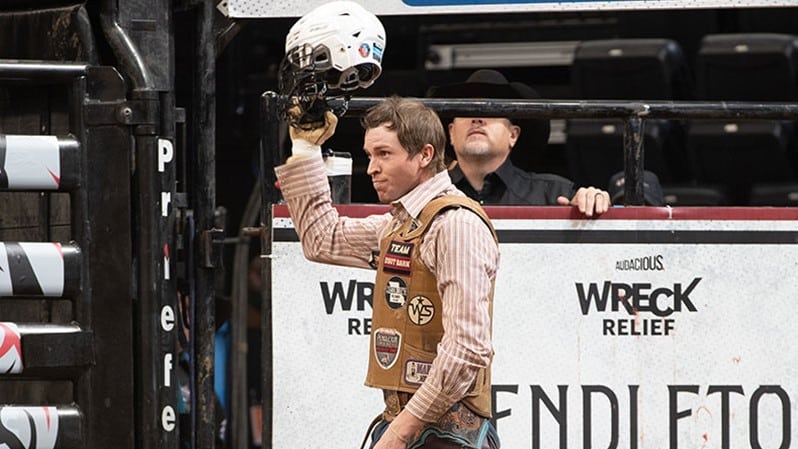 SALT LAKE CITY – On Thursday night at the Utah Days of '47 Rodeo, it was a hometown boy winning the bull riding.
Last year, Dalton Rudman of Wellington, Utah, won a silver medal after turning in a 90.5-point ride in the semifinal round since only one bull rider rode in the gold medal round. He returned in 2022 and posted yet another 90.5-point ride, this time on D&H Cattle's Alakazam. He will look to improve on his silver medal finish from last year and stand atop the medal podium this year. He will no doubt have the hometown crowd behind him.
The Gold Standard in Rodeo features a total of 288 competitors who will take their shot at a share of the $562,500 in prize money and a Gold, Silver, or Bronze medal that will be awarded on Monday, July 25. There will be 32 competitors in each of the following events: bareback riding, steer wrestling, team roping, saddle bronc riding, tie-down roping, women's breakaway roping, barrel racing and bull riding.
The full field of 32 competitors is divided into four groups of eight and competes in one of the first four performances (July 20-23). The one (1) highest score/fastest time from each discipline of each performance will advance to the Gold Medal Round along with the three (3) highest scores/fastest times overall from all four combined Semifinal performances that have not yet advanced. In addition, the No. 1-ranked athlete in each discipline (for team roping, it is highest ranked team after pairing) of the final audited standings of the WCRA Days of '47 Rodeo Leaderboard will be automatically qualified for the Gold Medal Round, making a total of eight (8) contestants in each discipline to compete in the Gold Medal Round. Scores/times from the Semifinal performances will NOT carry forward to the Gold Medal Round (only to break ties). The eight competitors in each event in the Gold Medal Round will compete in a sudden-death format, with the winner collecting a Gold Medal and $25,000 cash.
The event of the night on Thursday night was the ladies' barrel racing.
Stevi Hillman came out on top of a tough barrel race that included four Wrangler National Finals Rodeo qualifiers and a current WPRA rookie. Hillman, of Granbury, Texas, jockeyed her palomino Lemon Drop to the top of the leaderboard, stopping the clock in a blistering 17.111 seconds to knock defending gold medalist Wenda Johnson to No. 2 on the leaderboard. Johnson finished in a time of 17.183 seconds.
Hillman will be looking for her first gold medal on Monday, and while Johnson will have to wait to see if she will earn a wildcard spot based on her time, she is definitely in the best position to earn that spot.
"She is just amazing," said Hillman of her horse Lemon Drop. "She is only a 6-year-old, and she has done amazing things, and I am blessed to have her.
"This rodeo pays really good, and I am thankful for the invite, and this crowd is awesome."
Reigning World Champion Jordon Briggs finished the night third fastest in a time of 17.277 and will also have a good shot at returning to Salt Lake City on Monday. Before her run, she watched her daughter, Bexley, compete in the mutton busting and win a trophy bigger than her. Rodeo is truly a family sport.
Joe Nelson of Alexander, North Dakota, was the first in 2022 to break the 4-second mark in steer wrestling at the Utah Days of '47 Rodeo, stopping the clock in 3.62 seconds. Nelson advances to the Gold Medal Round on Monday and will hope to keep it fast in search of his first gold medal. Tristan Martin of Sulphur, Texas, was the only other sub-4-second run on Thursday night, stopping the clock in 3.81 seconds. He is in good position to return as one of the wildcard contestants.
George Gillespie of Darby, Montana, landed atop the leaderboard in the bareback riding with a 76-point ride on Legend Rode's Critical Smile. He will be looking to improve on that score on Monday night.
Andrew Ward and Buddy Hawkins set the tone in the team roping on night No. 2 and held on for the top spot through the following seven teams. Ward of Edmond, Oklahoma, and Hawkins of Stephenville, Texas, stopped the clock in 4.79 seconds. Brady Tryan and Jake Long were hot on their heels with a time of 4.89 seconds. Ward and Hawkins punched their ticket for Monday, while Tryan and Long will have to see if their time will earn them a wildcard spot.
Brandon Lansford from Cotulla, Texas, added $1,600 to his pockets after landing atop the leaderboard on night No. 2 in the saddle bronc riding. Lansford rode Macza's Get Smart for 89.5 points and punched his ticket to Monday, where he will be looking to add $25,000 more to his bank account.
It was a rough night in the tie-down roping with only three qualified times. No one did it better than Trenton Smith from Bigfoot, Texas, with an 8.55-second run. He will be looking to land atop the medal podium come Monday.
The Utah Days of '47 Rodeo, presented by Zions Bank, is taking place at the $17.5 million state-of-the-art Days of '47 Arena at the Utah State Fairpark, custom designed and built for rodeo. The venue—an outdoor arena located in the heart of Salt Lake City—features over 10,000 stadium-style seats.
On Wednesday, the Utah fans watched eight-time and ProRodeo Hall of Famer Speed Williams rope with his son, Gabe Williams, in the team roping. Unfortunately, they came up short with a no time. On Thursday, his daughter Hali Williams competed in the breakaway roping and is following in her father's footsteps. She won the performance in 2.33 seconds and will look for her first medal on Monday night. Her father, Speed, competed just north of Salt Lake City in Farmington, Utah, in 2002 in the Olympic Command Performance rodeo that ran at the same time as the 2002 Olympic Winter Games. Speed and his partner at the time, Rich Skelton, roped their way to a silver medal during that event. Hali will be looking to add to the family collection with her own medal.
For only the seventh time in rodeo history, riders will have an opportunity to compete for Gold, Silver, or Bronze Medals. The first two times were in conjunction with the Olympic Winter Games in Calgary (1988) and Salt Lake City (2002), when rodeo was part of the Cultural Olympiad, and the other four times were the Days of '47 Cowboy Games and Rodeo 2017-2021. 2022 marks an official name change of the event to Utah Days of '47 Rodeo. This will be the third time for breakaway ropers as their event was added to the roster in 2019. The medals awarded at the Utah Days of '47 Rodeo will be produced by OC Tanner, the same company that made the Olympic medals for the champions of the 2002 Olympic Winter Games.
Tickets are still available at www.axs.com. For more information on the event, visit www.utahdaysof47rodeo.com.
For those unable to attend in person, the Utah Days of '47 Rodeo is being live streamed on RidePass PlutoTV-Channel 720 nightly at 7:30 p.m. MT. CBS will air the Gold Medal Round of the Utah Days of '47 Rodeo on July 31 at 11 a.m. MT.
Action at the Utah Day of '47 Rodeo continues on July 22 at 7:30 p.m. MT.
© 2022 PBR Inc. All rights reserved.