Vitor Crespo Wins Career-First PBR Event at Challenger Series Residency in Fort Worth, Texas
By: Kacie Albert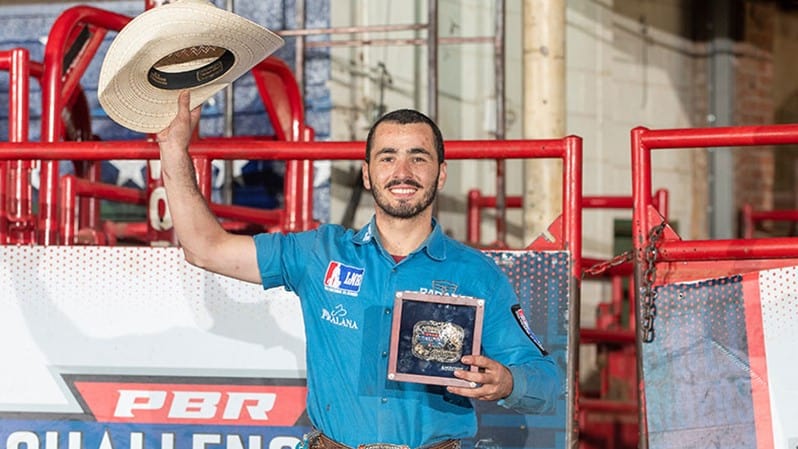 FORT WORTH, Texas – At the seventh installment of the PBR (Professional Bull Riders) Challenger Series residency in Fort Worth, Texas, at the iconic Cowtown Coliseum, Brazilian Vitor Crespo reached a crucial career milestone. Delivering the high-marked ride Sunday afternoon, Crespo won his career-first PBR event, victorious at the PBR Sunday at Cowtown.
Despite being bucked off by 98 (Lyndon Flinn) in Round 1, Crespo had his hopes of victory renewed when he advanced to the championship round on time.
Crespo returned poised, ready to climb aboard Herman (Broken Arrow S). Matching the animal athlete jump-for-jump, the 23-year-old scored 84 points to surge to the top of the event leaderboard.
For his efforts, Crespo netted 37 Challenger Series points.
Davi Henrique de Lima (Candido Mota, Brazil) was second, garnering 24 Challenger Series points.
Lima's silver finish included an 82-point ride on Heavy Duty (Broken Arrow S) in the championship round.
As the only other rider to reach the requisite 8, Mauricio Pares Pinto (Sao Paulo, Brazil) was third.
Pinto's 81-point ride atop Overruled (Runyan Ranch) in the championship round earned him 13 Challenger Series points.
In an event where the dominant athletes bucked supreme, Bootlegger (Eli Flinn) emerged the top bull to buck inside Cowtown Coliseum.
Crowned the Bull of the Event, Bootlegger was scored 45.5 points in Round 1 for his 1.24-second buckoff of Ty Scott (Sanger, Texas).
The PBR Challenger Series residency at Cowtown Coliseum continues Sunday, July 31. Action gets underway at 2 p.m. CT.
PBR RidePass on PlutoTV will offer re-airs and on-demand replays of PBR Challenger Series events. PBR RidePass is available on desktops, laptops and mobile devices via www.pluto.tv. Tune to channel 2150 for the latest programming schedule, and click here for on-demand PBR programming.
PBR Challenger Series
PBR Sunday at Cowtown
Cowtown Coliseum – Fort Worth, Texas
Event Leaders (Round 1-Round 2-Event Aggregate-Event Points)
1. Vitor Crespo, 0-84-84.00-37 Points.
2. Davi Henrique de Lima, 0-82-82.00-24 Points.
3. Mauricio Pares Pinto, 0-81-81.00-13 Points.
Dayer Da Costa, 0-0-0.00
Carlos Gomes Junior, 0-0-0.00
Cimarron Rucker, 0-0-0.00
Ty Wainwright, 0-0-0.00
Robson Guedes, 0-0-0.00
Treven Ward, 0-0-0.00
Alex Marcilio, 0-0-0.00
Matt Birdwell, 0-0-0.00
Marcio Luis Lima, 0-0-0.00
Wellington de Brito, 0-0-0.00
Gabriel Gonzales, 0-0-0.00
Anthony Hopen, 0-0-0.00
Angelo de Souza Neto, 0-0-0.00
Ty Scott, 0-0-0.00
Andre da Cruz de Souza, 0-0-0.00
Kelsey Pavlou, 0-0-0.00
Dakota Hostetler, 0-0-0.00
Charles Kelly, 0-0-0.00
Roman Letka, 0-0-0.00
Rafael Aparecido, 0-0-0.00
© 2022 PBR Inc. All rights reserved.