Wired Jaw No Problem as Kasel Guts Outlaws to Second Place Showing
By: Justin Felisko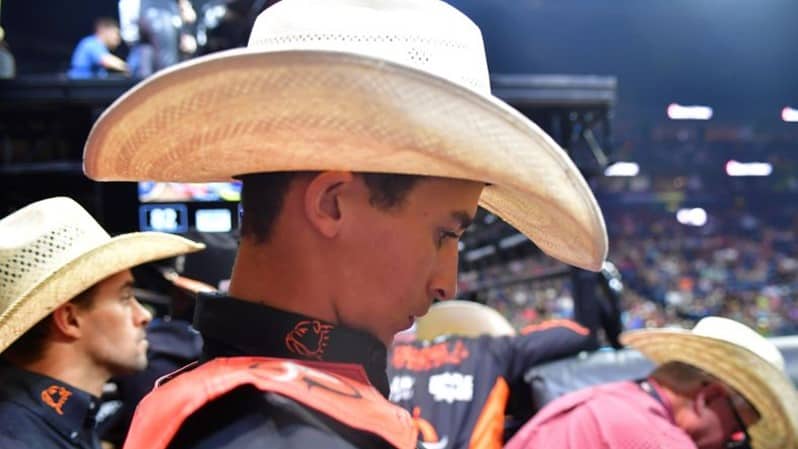 NASHVILLE – The Music City may be known for its famous hot chicken that can be found all over Broadway, but Kansas City Outlaws' captain Dalton Kasel found a different favorite food this weekend during Stampede Days.
Kasel's jaw has been wired shut since as he underwent some facial cosmetic work following his injuries sustained on July 30 at the PBR Challenger Series event in St. Michael, North Dakota.
Kansas city's leader could have easily taken another weekend off as he continues to recover from his broken jaw and ribs.
However, sitting at home is not in Kasel's DNA, and a wired-shut jaw and some physical fatigue was not going to stop him from climbing back into the bucking chutes inside Bridgestone Arena to help out his fellow teammates.
Kasel was fed up having missed the last five games, and he wanted to help the Outlaws get back to its winning ways, so he found a new way to get some nutrition during the weekend.
Miso soup.
"I ended up getting a wisdom tooth taken out and my jaw wire-barred shut and I got a couple of plates on the side of my face," Kasel told PBR.com this weekend. "It is not too bad. I've actually been pretty blessed; it hasn't been too sore. It feels a lot different, but it's not too bad. I found a Japanese restaurant that had miso soup and I bought a few containers of it. Before I was only eating milkshakes."
The lack of a regular diet didn't affect Kasel one bit in Nashville.
Kasel was an invigorating jolt to the Outlaws, and he helped propel them to a season-best, second-place finish in Nashville. The Outlaws went 2-1 with victories over Oklahoma and Nashville, and a loss against Arizona.
Kasel quickly answered the bell Friday night against Oklahoma by riding Spice for 89.25 points immediately after Matt Triplett began the game with a bang for the Freedom (87.25 points on Dr. X).
The 23-year-old then bounced back from a 4.5-second buckoff against Show Me Homie and the Arizona Ridge Riders Saturday night by putting forth a gutsy effort against Spice in a rematch Sunday.
Spice had a very untraditional out with Kasel Sunday, as he threw everything but the kitchen sink Kasel's way. The 2019 Rookie of the Year was able to hang on despite Spice stumbling to the ground at one point and then re-erupting midway through the out.
It was an ugly 78.75 point-ride, but it wound up being a crucial and game-winning ride as Kasel put the Outlaws up 162.75-85.

The Outlaws were awarded a re-ride opportunity, but Kasel and Kansas City coach J.W. Hart elected to keep the score, with the belief three-time World Champion Silvano Alves would buck off Tested's Viper in Nashville's final out.
"We were discussing what to do and I knew which bull Silvano had," Kasel explained. "I knew it was going to go one of two ways: he was either going to ride him or he wasn't. We were banking on him not riding him because I've seen that bull a bunch and know he bucks hard."
Tested's Viper bucked Alves off in 4.83 seconds.
Hart admitted on CBS to Allen Bestwick in the heat of the moment he decided to listen to his team vs. his gut.
"Well, I listened to Dalton. I listened to my captain," Hart said. "I may have went against my call, but I trust my players. They know the bull Silvano has."
Kasel's effort is the kind of grit Hart has been telling his players to ride with every second of every out.
As the captain, Kasel knew he had to get that ride to give his team a chance to knock off Nashville in front of its home crowd.
"That's what we've been practicing, and what's been embedded in us – being tough and fighting when it gets rough," Kasel said. "I knew I couldn't quit, and I'm not one to quit, ever, so I just knew I had to try hard."
Kansas City then notched the second-place finish by breaking a three-way tie in the Bonus Round courtesy of Marcus Mast. Originally, Kasel was the man selected by Hart to compete in the Bonus Round. Kasel, though, was awarded a re-ride with Norse God, and Hart then substituted Marcus Mast to face Big Black.
Mast, who also had a strong showing in Nashville, then helped Kansas City tie for the Bonus Round win with an 88.75-point ride.

"I'm always planning on getting on – we always have to be prepared for anything," Mast said. "It didn't go the way we wanted it to for Dalton (in the Bonus Round), but it's good to have another opportunity, and I wanted to be there for coach whenever we need it and it worked out today."
The Outlaws head into next weekend's Gambler Days 4-6 and ranked fifth in the PBR Team Series. A healthy Kasel is only going to help Kansas City continues its rise up the standings and potentially get back above .500.
Kansas City faces Carolina (5-5) on Friday night inside the Moody Center in Austin.
Mast added Kasel's return to the lineup and locker room was a large boost to Kansas City.
"It's huge," Mast said. "It's awesome to have Dalton (Kasel) back here for the team. I don't have to play leader as much, so that always makes it better for me."
Kasel is happy to finally be back, and admitted it was difficult not being able to help his team when he was stuck on the sidelines injured.
"It was extremely frustrating," Kasel concluded. "Not just because we didn't win our games, just being around bull riding just makes me love it more and more every time I see a bull buck and getting to watch my team ride, it builds the fire in me."
Photo Courtesy of Josh Homer/Bull Stock Media
© 2022 PBR Inc. All rights reserved.