ZipRecruiter Top Recruit: Swearingen Riding Momentum of Salinas Victory Into Deadwood
By: Justin Felisko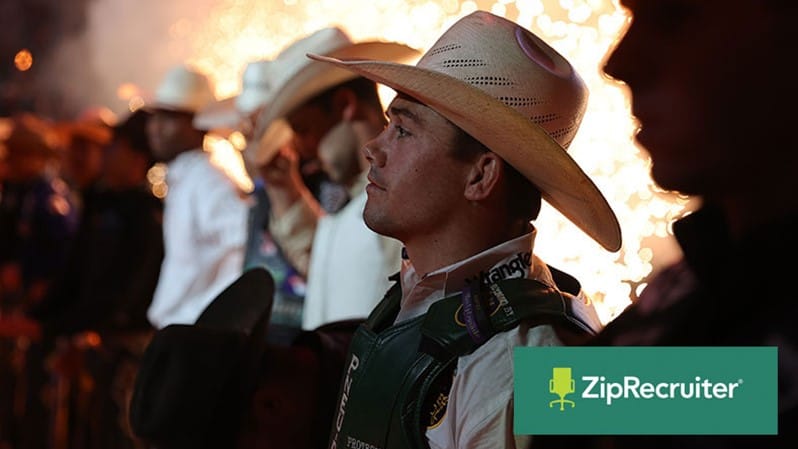 PUEBLO, Colo. – Daylon Swearingen's first season in the PBR two years ago involved the college rodeo athlete often studying last-minute for exams from his hotel room on the road and working on his homework assignments from the back of his truck or an airplane.
Swearingen has since graduated from Panola College with a degree in land and ranch management, but he recently compared his approach to getting back inside the Top 35 to that of those late-night study sessions.
"It is kind of like a homework assignment," Swearingen said in Newark about being down to his final injury exemptions. "I feel like I have been trying (to get back in the Top 35) and not necessarily waiting, but it kind of feels like now you really have to do it."
The No. 36-ranked bull rider in the world is in the draw for this weekend's PBR Monster Energy Invitational, presented by Cooper Tires, because of his last injury exemption after missing the first five months of the season because of surgeries on his right shoulder and hip.
Deadwood is one of five Unleash The Beast regular-season events remaining before the 2021 PBR World Finals on Nov. 3-7 in Las Vegas.
Swearingen did not wait until arriving in Deadwood to turn in his homework assignment. Instead, you could say he went after some extra credit, going a combined 3-for-5 to win the California Rodeo Salinas Big Week PBR Touring Pro Division event, as well as place fifth overall, on Wednesday evening.
Swearingen has been battling a minor injury to his surgically repaired right shoulder, but he confidently triple-entered Salinas. Swearingen met with Dr. Tandy Freeman last week before the PBR ZipRecruiter Invitational in Newark, New Jersey, to receive some treatment on his shoulder and get some rehabilitation advice for between events to help strengthen the shoulder.

"It feels pretty good," Swearingen said. "We didn't do any imaging, but I have a lot more range. I am back to doing all my rehab back stuff again that I was doing earlier this year. I'm feeling really good. The hip is starting to feel good too."
The Piffard, New York, native saw those exercises pay off in Salinas. He gained 18 world points to move up to No. 36 in the world standings.
The No. 36 ranking is the current cutoff for the 2021 PBR World Finals, with No. 20 Colten Fritzlan out for the year after undergoing season-ending left shoulder surgery last week.
Rounding out the Top 4 in Salinas was Clayton Sellars, Junior Patrik Souza and Andy Guzman.
Souza's third-place finish helped him gain seven points in the Rookie of the Year race, and he now trails No. 1 rookie Chase Dougherty by 46.5 points.
Swearingen was red-hot before injuring his shoulder during his victory at Jerome Davis's 22nd annual Touring Pro Division event on Sept. 3 and then again on Sept. 4 in his second-place showing in Belton, Texas. He then placed fourth in Calgary at the Cody Snyder Charity Bull Bustin but sustained a concussion.
"It was pretty frustrating," Swearingen said. "I was already out for so long, and I didn't want to turn out of Anaheim and the rest of Calgary, but I knew that even something small like last year when I just took a little time off and it just kind of let everything release for my muscles (would help)."
Swearingen took 11 days off to recover from the concussion and rehab his shoulder, and he now appears to have returned to the same form that saw him go 6-for-9 at those three TPD events before his injury.
The 22-year-old needs to crack the Top 30 of the world standings to guarantee himself a full-time draw spot on the Unleash The Beast and not rely on being an alternate for the final four regular-season events after Deadwood. Swearingen is only 63 points out of the Top 30 heading into his Round 1 matchup against Gray Smoke (3-2, UTB) on Saturday night (8:45 p.m. ET on RidePass on Pluto TV).
Swearingen is confident he will be back in Las Vegas in less than two months for the 2021 PBR World Finals, but he knows he can't sit back and bank on being there.
He is ready to finish his assignment so he can pursue a more significant task, like winning the World Finals.
"I am just going to try and stay on these bulls and do it," Swearingen concluded before letting out a nervous exhale. "It is real important to get back to Vegas. That's the goal I set out for the year."
Professional Bull Riders – California Rodeo Salinas Big Week PBR
Salinas, CA, 2021 – Event Leaders (Round 1-Round 2-Event Aggregate-Event Points)
1. Daylon Swearingen [3], 89-87-176.00-15 Points.
2. Clayton Sellars, 84-86-170.00-8 Points.
3. Junior Patrik Souza, 82.5-61-143.50-7 Points.
4. Andy Guzman, 88-0-88.00-4 Points.
5. Daylon Swearingen [1], 84.5-0-84.50-3 Points.
6. Dawson Branton, 72-0-72.00-2 Points.
7. Trent Nugent, 55-0-55.00-1 Points.
João Henrique Lucas [2], 0-0-0.00
João Henrique Lucas [1], 0-0-0.00
Marcelo Procopio Pereira, 0-0-0.00
Daylon Swearingen [2], 0-0-0.00
J.T. Moore, 0-0-0.00
Cody Casper [2], 0-0-0.00
Cody Casper [1], 0-0-0.00
Marcos Gloria, 0-0-0.00
Eli Necochea, 0-0-0.00
Alex Santana, 0-0-0.00
Jonny Perez, 0-0-0.00
Cody Ibrahimi, 0-0-0.00
Jesus Sanchez, 0-0-0.00
Andy Valdez, 0-0-0.00
Jesse Flores [1], 0-0-0.00
Jesse Flores [2], 0-0-0.00
Alex Guzman, 0-0-0.00
Marco Ortiz, 0-0-0.00
Aaron Williams, 0-0-0.00
Sammy Baltazar, 0-0-0.00
Dalton Shepard, 0-0-0.00
Misael Garcia, 0-0-0.00
Colton Lyons, 0-0-0.00
Colby Strickland, 0-0-0.00
Follow Justin Felisko on Twitter @jfelisko
Photo courtesy of Andy Watson/Bull Stock Media
© 2021 PBR Inc. All rights reserved.