World Leader Leme Tips his Hat to Lane Frost and his Legacy
By: Justin Felisko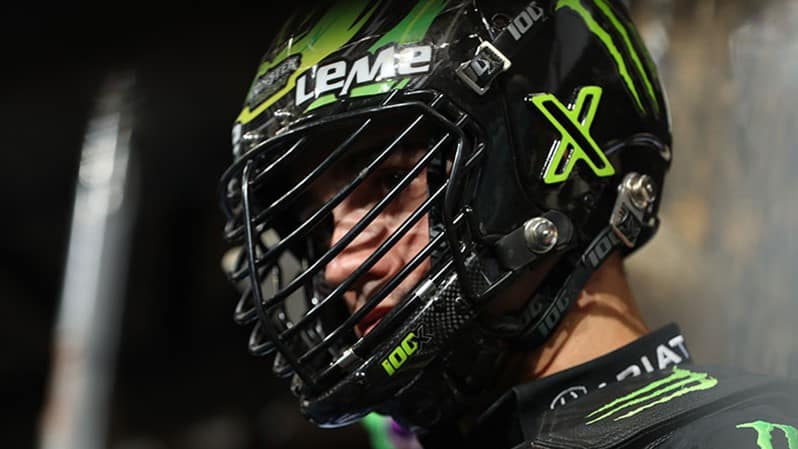 PUEBLO, Colo. – Jose Vitor Leme to this day has been unable to find another copy of the movie 8 Seconds with a Portuguese voiceover and subtitles since watching the famous movie about the late Lane Frost when he was a young boy growing up in Brazil.
The world No. 1 bull rider believes he can learn from the careers, mindsets and lifestyles of previous bull riding legends, and even though he admits his knowledge of Frost is somewhat limited, he still remembers the lasting impression 8 Seconds had on him.
"In fact I just learned of him from the film," Leme said this week. "I don't know exactly how he was and the titles he won, but for the little that I watched him in the film, I saw that he was an excellent bull rider and that he certainly would have made a lot more history if he hadn't suffered that accident.
"I watched it dubbed just one time. I already looked for this dubbed movie to buy, but I can't find it anymore."
Thursday is the 31st anniversary of Frost's death at the 1989 Cheyenne Frontier Days rodeo. The 1987 PRCA bull riding champion was 25 years old.
For the last three decades, Frost has continued to serve as an inspiration to future generations of bull riders all over the world as his legacy lives on through family and friends, those who have seen the movie 8 Seconds and others who have gone on to read about him or watch highlights of his career.
Leme is like so many other aspiring bull riders today that get a glimpse into Frost's life and career through the 1994 film. 8 Seconds deserves a good portion of credit for bringing Frost's legacy to a larger audience and for continuing to teach new generations about who Frost was.
The 2017 PBR World Finals event winner competed at Cheyenne Frontier Days last season for the first time, and Leme called it surreal to compete at the historic rodeo grounds.
"It really is amazing to be at an event with the background and history that this event has," Leme said with the help of Paulo Crimber translating last season. "So many great stories. So many great events. So many great titles. I hope to do my best, win this and add this to my trophy case of buckles."
The PBR held its inaugural season the same year (1994) in which 8 Seconds was released, and the bull riding organization certainly benefitted in a burst in popularity in the sport from the film.
Every year the PBR awards the Lane Frost/Brent Thurman award in Las Vegas, which is given out annually to the bull rider that posts the single highest-scored bull ride during the PBR World Finals.
Leme won the award in 2017 when he capped his unbelievable premier series debut at the World Finals (6-for-6) with 94.5 points on Magic Train.
The award sometimes gets overlooked because of the World Championship and World Finals titles, but the honor is something many riders do not take for granted.
2016 World Champion Cooper Davis won the award courtesy of his 91-point ride on Catfish John in Round 5 of the 2016 PBR Built Ford Tough World Finals, which helped earn him the 2016 world title.
"That is probably the coolest thing, aside from winning the world, that I ever won," Davis said in 2017. "I didn't know anything about (winning) the Lane Frost deal until a few weeks after the Finals. It was really cool.
"That guy has helped the sport out so much just by his legacy. Not everybody got to watch him ride – I never got to watch him ride – but anyone that has ever known anything about bull riding is going to know who Lane Frost is."
Another aspect that has helped Frost's legacy remain intact is the growth of social media and YouTube through the years.
Fans can now rewatch many of Frost's iconic rides via the internet, including the 1988 "Challenge of the Champions." It was then that Frost and fellow 1987 World Champion Red Rock went head-to-head seven times in the famous showdown.
Last year, PBR.com asked various PBR riders and insiders what kind of modern day showdown they would like to see.
Frost had come up short of the 8-second mark in two previous matchups against Red Rock at the National Finals Rodeo, including in 1986 when Red Rock prevented him from riding all of his bulls and winning the world title.
In 1987, both Frost and Red Rock went on to win world championships in the PRCA, and the following season led to Red Rock owner John Growney and Frost teaming up to create what would become the most memorable series between man vs. beast.
The two champions faced off seven times in a three-month period between April and July in 1988.
Frost eventually won the series 4-3, breaking the tie on July 25, 1988, in Spanish Fork, Utah.
The "Challenge of the Champions" brought tremendous popularity and national attention to the sport of rodeo and bull riding with national media outlets such as Sports Illustrated, USA Today and NBC's Sports Machine all profiling the man vs. beast phenomenon.
Two-time World Champion J.B. Mauney's rivalry with three-time World Champion Bushwacker sometimes led to comparisons with Frost vs. Red Rock.
Mauney considered himself an avid studier of Frost as a teenager growing up in North Carolina.
The now future Ring of Honor inductee would pop in a VHS tape – and later a DVD – of Frost's famous bull riding instructional video series: "Bull Talk."
Frost teaches the fundamentals of how to ride bulls, and it is still available for purchase today. The cowboy begins by reviewing the equipment he uses to ride. He then takes viewers into the chute and shows how to use one's equipment.
Mauney's favorite part of the series is when Frost discusses his strategies of how to ride and get off a bull, including those legendary rides aboard Red Rock.
"I watch that quite regular," Mauney, who still studies Frost today, said in a 2018 interview about Frost. "I like watching his rides, the way he breaks them down and goes through them. I have been watching that, nobody knew that, for I don't know how long."
Follow Justin Felisko on Twitter @jfelisko
© 2020 PBR Inc. All rights reserved.