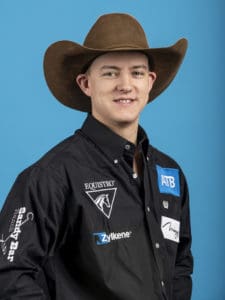 Name and Hometown: Zeke Thurston – Big Valley, Alberta
6-time Wrangler National Finals Rodeo Qualifier
2-time world champion
Joined PRCA: 2014
Regular Season Earnings: $50,523
Starting 2020 NFR in 10th place
Major regular season wins:
• San Angelo (Texas) Rodeo, $7,888
• Cody (Wyoming) Stampede (2nd), $4,291
• Killdeer (North Dakota) Mountain Roundup PRCA Rodeo, $5,668
• Home on the Range Champions Ride (Sentinel Butte, North Dakota), $8,878
Fun Facts about Zeke: This year has been especially challenging for Zeke as he hasn't had any rodeos to go to in his native land of Canada. In past year's qualifying for the WNFR, Canadian rodeos were especially important to Zeke whose family ranches at Big Valley. He won his second world championship in 2019 with consistency. He won three rounds in Las Vegas and placed in seven total to finish fourth in the average and earn $170,064 out of the Thomas and Mack Center. Zeke did it with two of his biggest fans in the stands, his wife, Jayne and their daughter, Lucy. His 2021 rodeo schedule might look a little different than in the past, and not because of COVID 19. The couple is expecting another daughter in February. Zeke's dad, Skeeter qualified for the WNFR six times as a saddle bronc rider. His mom, Lynda has done nearly every job behind the scenes and has competed in barrel racing. He has two brothers, Wyatt and Sam, and a sister, Tess, who also compete at rodeos.