Dakota Eldridge – Elko, Nev.
4-time WNFR qualifier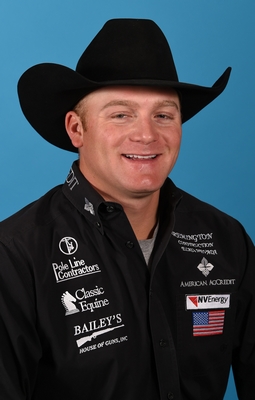 Last year, Dakota Eldridge was the best steer wrestler at the Wrangler National Finals Rodeo (NFR).
He won the average with a total time of 45.6 seconds and moved from 12th to second in the world standings. After four years of competing in the PRCA, he surpassed a half million dollars in earnings and is likely to add to that significantly at the NFR. He enters in sixth place with $89,951 in regular season earnings, slightly less than the $144,115 that he won in Vegas December of 2015.
The biggest drawback of the NFR for Dakota is the fact that it is indoors. It doesn't matter what the weather is like, he would rather be outdoors than anywhere inside. He is an avid snowboarder and loves snowmobiling. He also hunts whenever he gets the chance and would rather have cold weather than warm.
Dakota will be riding his trusty 17-year-old gelding Rusty at the NFR. The horse was raised by his grandfather and trained by Dakota. He helped carry Luke Branquinho to the 2012 world championship.
There has never been a steer wrestling world champion that was born and raised in Nevada and with the NFR being held in his home state, winning a gold buckle would be especially poignant for Dakota. He will carry the Nevada flag in the opening ceremonies.
With the success that Dakota has had in the Thomas and Mack Center for the past three years, it would be easy to assume that success will come again. He has had some time at home and will be putting in plenty of practice prior to the opening day, Dec. 1. But he's not a guy to take anything for granted nor will he let the pressure of the competition get to him.
Dakota is going to do exactly what he has done to get him to Las Vegas and what made him the reserve world champion last year – take it one run at a time and give it his all.