Marty Yates – Stephenville, Texas
3-time WNFR qualifier
1-time RNCFR qualifier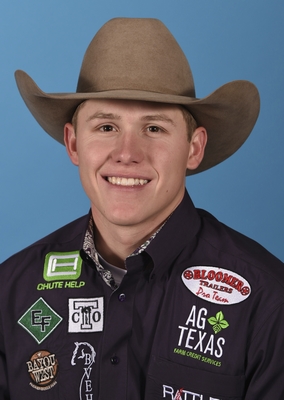 At 22-years-old, Marty Yates is one of the young guns of tie-down roping and has come out firing since he joined the PRCA in 2013.
He qualified for his first Wrangler National Finals Rodeo (NFR) in 2014 in fifth place. Last year, his second qualification saw him enter the Thomas and Mack Center in third. He was working his way up to that first place position and a world title. He won the RAM National Circuit Finals in 2015 his first national championship.
This year, prior to June's Reno Rodeo in Nevada, he was 18th in the world standings, far behind where he wanted to be. Then he won the West of the Pecos rodeo in Texas and placed others earning over $12,000 in a week. He moved up to 10th.
In 2014, everything looked like it came so easily for the second generation roper. In 2015 he worked double time for every penny he got. The first of August, he was down to 13th.
The first of September with just one month left in the regular season, he was up to 12th. The final week of the season he was in 14th place with $62,628. A big push that week added a little more to his earnings and he held off J.C. Malone for the final NFR qualifying spot. Marty will start this year's NFR in 15th with $63,847.
Marty is never one to rope for second place and he is exciting to watch. With him entering this year's rodeo in the final spot, he has nothing to lose and everything to gain which suits his style just fine.
It does make it a little nerve wracking for his family and friends who will be supporting him both in Las Vegas and his home state of Texas. There will be little doubt where those supporters are at in the Thomas and Mack Center. While Marty quietly prepares to make his run, they will be adding to the electricity in the arena with their enthusiasm.