2021 Wrangler NFR Round 8 News & Notes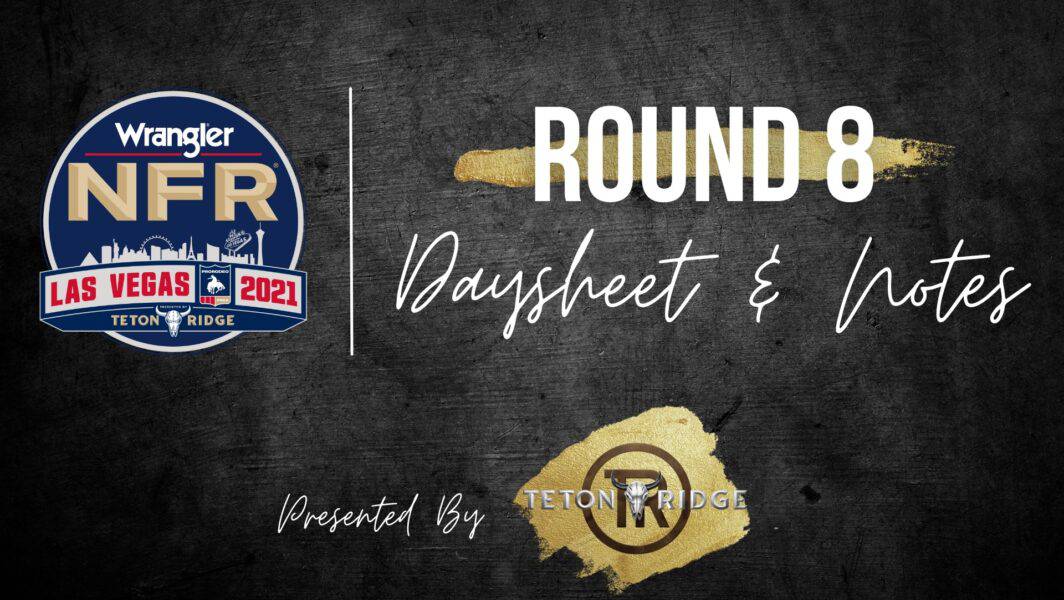 Round 8 – Dec. 9, 2021
Canadian country singer and songwriter Corb Lund is the opening act, and 2020-21 Miss Rodeo Canada Alicia Erickson is singing the Canadian national anthem. American country singer Tyler Booth is singing the national anthem. Tonight, is Canadian Night. Durango Boots is the performance sponsor.
---
WRANGLER NFR LIVE ON TELEVISION AND INTERNET
The 2021 Wrangler National Finals Rodeo® presented by Teton Ridge airs nightly Dec. 2-11 at 5:45 p.m. PST/8:45 p.m. EST. The Cowboy Channel is the official network partner of PRORODEO® and the exclusive broadcast and streaming partner of the NFR. Live coverage of the NFR can be found on The Cowboy Channel and RFD-TV through its cable and satellite partners, and online at cowboychannelplus.com.
---
BROUSSARD TO MISS ROUND 8
On top of a previous left shoulder dislocation from Round 3, bareback rider Taylor Broussard suffered a neck injury in Round 6. He doctored released out of Round 7 and as such will also have to miss Round 8. He's eligible to return for Round 9 of the Wrangler NFR. Broussard is sitting 14th in the PRCA | RAM World Standings with $82,381. He has three qualified rides so far at the NFR.
---
STETSON WRIGHT DAZZLES IN ROUND 7, WINNING BULL RIDING ON HIS SECOND RE-RIDE
During his short PRCA career, Stetson Wright has become a household name winning back-to-back all-around world championships and last year's bull riding crown. Add Wednesday night to his list of great accomplishments. Wright rode three bulls in less than 15 minutes and then won Round 7 on his second re-ride bull. The Milford, Utah, cowboy had a 90.5-point ride on Pete Carr Pro Rodeo's Bloomer's High Rise. "The pain is going to go away and especially after the tenth round is up, so I figured I'd put everything on the line," said the exhausted Wright. "I risked getting every bone in my body broke to win and right now it's going good, but we have a few more to go." Wright, 22, said he never been on three bulls in one rodeo at the PRCA level. Wright earned $46,374, counting ground money, since he and Josh Frost were the only two cowboys to make the whistle in Round 7. Frost, who had a 52.5-point ride on Beutler & Son Rodeo's Record Rack's Viper, earned $40,713.
---
STETSON WRIGHT CLOSING IN ON THIRD CONSECUTIVE ALL-AROUND TITLE
Stetson Wright has all but locked up his third straight PRCA All-Around World Championship headed into Round 8 of the 2021 Wrangler NFR. If Wright can finish the job in Las Vegas, he will become the first cowboy to win three straight all-around titles since Trevor Brazile accomplished the feat from 2013-2015. With three nights left to go at the Finals, the Milford, Utah, cowboy has a $254,331 lead over tie-down roper Caleb Smidt for the top spot. Wright has won $467,197 so far this season in saddle bronc riding and bull riding. Stetson now has his sights set on breaking Trevor Brazile's PRCA all-time single season earnings record of $518,011, which was set in 2015. He will have six more outs to try and set the all-time mark. His run at this year's NFR is highlighted by a 94.5-point bull ride on Powder River Rodeo's Chiseled in Round 5. He has two second place finishes in saddle bronc riding.
---
NEWS & NOTES
In bareback riding, five-time PRCA World Champion Kaycee Feild looks to make a strong final push, matching up with Hi Lo Pro Rodeo's High Heels. The horse was awarded the bareback horse of the night after bucking off Caleb Bennett in Round 3. Feild currently holds an $11,550 lead over Jess Pope, the current leader in the average. Bennett will aim to build off his 86-point ride Wednesday night, drawing Calgary Stampede's Soap Bubbles. The nine-time NFR qualifier has only found the pay window once thus far. Soap Bubbles will make his 2021 Wrangler NFR debut Thursday, entering with an average stock score of 44.18 and seven qualified rides.…In the saddle bronc riding, two-time PRCA World Champion Zeke Thurston has a favorable matchup in Round 8. He has drawn Bridwell Pro Rodeo's Indian Burn. In nine outs this season, only three cowboys have lasted the eight seconds. Layton Green had a 91-point ride on the horse at ProRodeo Tour Finale in Salinas, Calif., Sept. 26. Spencer Wright will look to continue his solid Wrangler NFR on Thursday night, when he matches up with Beutler & Son Rodeo's Nutrena's Killer Bee. Wright is sitting second in the average and will try to cover a horse that has yet to have an out at this year's Finals…In the bull riding, Josh Frost will look to build off his second-place finish last night. In Round 8, he's drawn Four Star Rodeo's Shark Bait. The bull has bucked off 83 percent of would-be riders in 2021. The only cowboy to cover Shark Bait this season is the world's No.1 man Sage Kimzey. That ride came in Salinas, Calif. on Sept. 23. Ky Hamilton has a golden opportunity in Round 8 on Stockyards ProRodeo's Soy El Fuego. In Round 3 of the NFR, Parker Breding rode the bull for 88 points and a third-place finish.
---
Record times and scores for the eighth round of the Wrangler NFR:
Bareback riding: 90 points, Clayton Biglow, 2019
Steer wrestling: 3.1 seconds, Shawn Greenfield, 2013
Team roping: 3.5 seconds, Travis Tryan/Cory Petska, 2008
Saddle bronc riding: 92 points, Ryder Wright, 2017
Tie-down roping: 6.5 seconds, Trevor Brazile, 2015
Barrel racing: 13.37 seconds, Amberleigh Moore, 2016
Bull riding: 95 points, Colby Yates, 2002
2021 Wrangler National Finals Rodeo – Round 8 Daysheet
Courtesy of PRCA