21Moments We're Thankful for in 2021
By: Darci Miller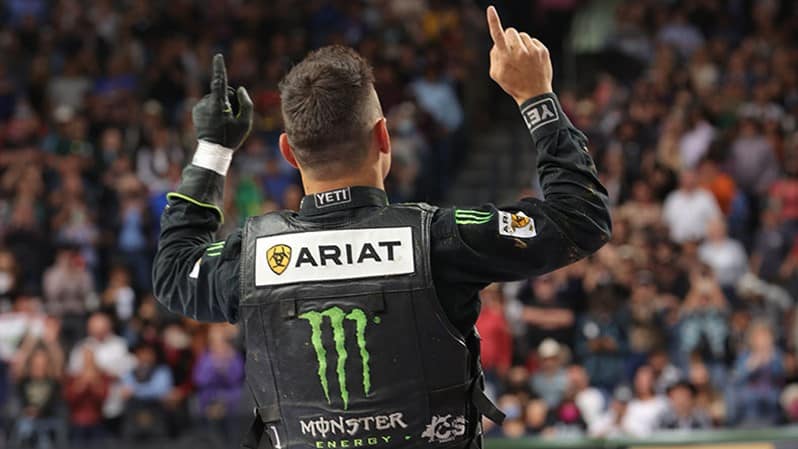 PUEBLO, Colo. – Now that the 2021 season is officially in the books, the verdict can be made: it was one of the most unforgettable in PBR history. We had front-row seats to see Jose Vitor Leme put together the most dominant campaign of any rider ever, Woopaa carried riders to heights never before seen, the league pioneered diversity in Western sports like never before, one final World Finals in Las Vegas – and it all went down with fans in the stands once again.
In no particular order, here are 21 moments we're thankful for in 2021, and we wish you a safe and Happy Thanksgiving.
Tune in to CBS Sports Network on Nov. 25 at 6 a.m., 9 a.m. and 6 p.m. ET for a PBR marathon of some of the highlights from the 2021 PBR World Finals.
Don't forget to tune into Pluto TV all week long for event replays from the 2021 season.
Getting back to our roots with the American Roots Edition

Starting a season amidst a global pandemic was an unprecedented challenge that called for an unprecedented solution. Thus, the Unleash The Beast: American Roots Edition was born. For the first two months of the season, the elite tour returned to its roots with stops in historic outdoor venues in longstanding rodeo communities in Florida and Texas.
"Bringing a retro presentation of PBR to iconic outdoor rodeo venues across the country furthers our commitment to putting safety first to keep our industry employed, helping open communities responsibly, and providing fans the sport they love in the most exciting ways," PBR CEO and Commissioner Sean Gleason said in December 2020.
Bucking bulls on the USS Lexington for charity

For the second consecutive year, the PBR Air Force Reserve Cowboys for a Cause brought the world's top bull riders to the historic USS Lexington, a World War II-era aircraft carrier, in Corpus Christi, Texas. The team-formatted event raised $100,000 for Farmer Veteran Coalition, and riders and partners donated $150,000 to the family of the late Amadeu Campos Silva, who passed away in August.
"This is an awesome experience," Mauricio Moreira said at the time. "It is awesome to have a story that you ride on the ship, and now I have a picture of me here. It is really awesome. To have teammates, it is really fun. You ride not just for you, but for your team.
"And today, I rode for Amadeu. He was a really good friend, and he is in a good place in my heart."
Breaking barriers with the Bill Pickett Invitational Rodeo

In 2021, the PBR partnered with the historic all-Black Bill Pickett Invitational Rodeo. For the first time in its 37-year history, the country's most significant national touring Black rodeo was broadcast on network television.
"The heart of PBR's mission is to provide more and better opportunities for Western sports athletes in exciting marquee events that get lots of attention," said PBR Commissioner and CEO Sean Gleason. "We partnered with the Bill Pickett Invitational Rodeo, which has a 37-year history of creating great rodeos, to assist in amplifying their voice and media exposure, just as we are doing with organizations like WCRA, INFR and national high school rodeo. We are so proud to bring fans this historic rodeo the CBS television network."
Speaking of the WCRA…
Showcasing the best of the best at the Women's Rodeo World Championship

In 2020, the PBR and the WCRA partnered to launch the Women's Rodeo World Championship, held in conjunction with the PBR World Finals in Arlington, Texas. In 2021, the venue might have been different, but it was another field of women vying for the richest payout in the history of women's rodeo.
"I will never forget who was the first people to stick their necks out and say, 'Here, this is for women's rodeo," 2020 WRWC all-around champion Jackie Crawford said. "(The WCRA and the PBR) were the first to do that, and we will always remember that because that has opened so many doors because they were the ones that were brave enough to do it, and they were the ones who had the foresight to see how much of an impact women could make in the industry."
Making history at the Cowtown Coliseum

In June, the PBR joined giant venue operator ASM Global and Fort Worth's Stockyards Heritage Development Co. in a joint venture to operate Cowtown Coliseum and to expand entertainment programming and marketing partnerships within the National Historic District.
The three partners will manage and promote Cowtown Coliseum and portions of the surrounding historic District, while PBR will also produce dozens of Western sports events at Cowtown Coliseum annually.
Beginning in 2022, this will also include the PBR World Finals.
Announcing the PBR Team Series
The sport of bull riding has grown continually for 28 years, and it will undergo its latest transformational change with the announcement of the PBR Team Series.
The PBR Team Series, which will span June to November 2022 in its inaugural season, following the May conclusion of the Unleash The Beast, will launch with eight founding teams playing a 10-weekend regular season culminating in a team playoff.
"I'm really excited for this new opportunity in our sport," said 2016 PBR World Champion Cooper Davis. "Teams bring a great new element to bull riding. Guys feel the responsibility to ride for their teammates, and it makes everyone ride better. You're riding for more than yourself."
One last World Finals in Las Vegas

While the PBR Team Series will hold its playoffs and championship inside T-Mobile Arena in Las Vegas, the move to Fort Worth means 2021 saw the last World Finals to be hosted in Sin City.
It was a bittersweet moment for a generation of riders who grew up hoping to compete under the bright lights of the Strip, and they didn't disappoint, giving us one last Vegas World Finals to remember.
Adriano and Thiago Salgado make it a family affair

In October, Adriano Salgado won the Pendleton Whisky Velocity Tour season title to clinch the first World Finals qualification of his career. Qualifying alongside him was his younger brother, Thiago, who'd made the move to the United States so the two could pursue their dreams together.
"It's amazing," Thiago said. "There are no words to describe it because he's always inspired me to show the best way to go, the best way to be. And he is my inspiration, always going to be. It's like I just won that title with him."
Mauricio Moreira celebrates by riding Flint Rasmussen

One of the biggest joys of the 2021 season came whenever Mauricio Moreira earned a qualified ride. Each time he did, he would… well, ride Flint Rasmussen. We're not sure we understand it, and you know what? We're not sure we even have to.
Moreira finished the season ranked No. 5 in the world standings, giving him – and us – plenty of reasons to celebrate.
Woopaa wins YETI World Champion Bull title in honor of J.P. Lewis

When Woopaa won the 2021 YETI World Champion Bull title – on the heels of a 48.75-point bull score, the third-best ever, no less – he was doing it in honor of the late J.P. Lewis.
Stock contractor Larry Barker named the bovine superstar in honor of his friend's celebratory whoop, and Barker was pretty sure he was yelling it from high above as the bull put forth one of the best bovine performances ever.
"Oh, you know he is," Barker said laughing. "J.P. is up there. He was with us today. You know he was, and a whole bunch of fans up there was too. We have a fan club up there."
Kaique Pacheco rides nine consecutive bulls

En route to a No. 2 finish in the world standings – and the best statistical season of his career, including his 2018 world title season – Kaique Pacheco rode nine consecutive bulls back in March. In the process, he earned two event wins and the world No. 1 ranking, putting him firmly into the world title race, where he would remain for the rest of the season.
Alvaro Aguilar Alvarez brings Mexico back to the World Finals

There had been no Mexican representation at the PBR World Finals since Juan Carlos Contreras in 2018. But that all changed when Alvaro Aguilar Alvarez earned an international invite at the Pendleton Whisky Velocity Tour Finals. He would go on to win Round 2 in T-Mobile Arena with a career-high 92 points on Detroit Lean.
"I was very honored to be here," Alvarez said with the help of Val Jimenez translating. "I came here to do the Velocity Tour and qualified to be here. I'm very proud to represent my country, Mexico, here in the PBR Finals."
Rodrigo Melgar becomes first Guatemalan to ride on the premier series

Rodrigo Melgar is one of just 11 Guatemalan bull riders to purchase their PBR card. In January, he became the first Guatemalan ever to reach the elite Unleash The Beast when he made his debut at the PBR Pendleton Whisky Invitational in Arcadia, Florida.
Two months later, in Glendale, Arizona, Melgar also became the first Guatemalan to record a qualified ride on the premier series, riding Sugar for 85.75 points.
"The feeling is indescribable," Melgar said at the time. "I am very happy, excited and anxious to know God has prepared me for this year because, without a doubt, I will give it my all like I did tonight."
Fans return in full force in Sioux Falls
PBR was the first major professional sport in North America to return to competition following the COVID-19 shutdown in late April of 2020, and then the first to welcome fans back into indoor arenas last July in Sioux Falls with new safety protocols in place.
In 2021, that string of firsts continued when the league became the first to welcome fans back at full capacity at the Denny Sanford PREMIER Center in Sioux Falls, South Dakota.
"Venues that are very dependent on live ticketed events and need to get back to business have been extremely receptive of PBR's protocols and are eager to collaborate on events," PBR Commissioner and CEO Sean Gleason said at the time. "PBR has always enjoyed strong venue partnerships, and during COVID-19, these relationships have gotten stronger. Times of crisis are difficult. And they can also bring resilient people closer than ever."
Eli Vastbinder goes 90 four times to win Rookie of the Year

At the 2021 PBR World Finals, Eli Vastbinder won the Rookie of the Year title with a 4-for-6 performance despite a separated shoulder and broken ribs. Not only did he become the second-oldest rider ever to win top rookie honors, but he also became just the eighth rider ever to ride for 90-plus points four times in a single World Finals.
Vastbinder is the only non-World Champion to produce four 90-point rides during one World Finals and is the only rookie to do so.
"It is really cool," Vastbinder said. "You always want to win the Rookie of the Year. Honestly, of all the associations I have ever been to, this is the first Rookie of the Year I won. I think this is the best group of rookies I have seen between Chase (Dougherty), Junior (Patrik Souza), Austin (Richardson), Jesse Petri and everybody. It is definitely awesome to win, but when you can beat guys like that, it is even better."
Dalton Kasel rides Woopaa for 96.75 points

In San Antonio, Texas, 2019 Rookie of the Year Dalton Kasel rode Woopaa for 96.75 points, breaking the previous highest-scored ride record of 96.5 points.
"It was kind of a shock to me," Kasel said at the time. "Nothing really sunk in, nor has it sunk in yet, but it is getting cooler and cooler by the minute. It is pretty neat."
Unfortunately for Kasel, however, his ride is just the third-highest-scoring ride ever, because…
Jose Vitor Leme records the highest-scoring ride in PBR history…

About two months before Kasel's ride on Woopaa, Jose Vitor Leme set a new standard. Also aboard Woopaa, Leme scored a monstrous 97.75 points to win the 15/15 Bucking Battle in Tulsa, Oklahoma.
"This is awesome — it is hard to explain," Leme said from the dirt moments after the ride. "It is one of the best days of my life, of my career riding bulls.
"Thanks to all my friends who helped me, and thanks to the fans. I don't know what special (energy) this arena has, because J.B. Mauney rode Bushwacker here for 95.25 points. So now I put my name on history too with the best mark of all the years. That's amazing. Thank God for everything."
…twice

Just 100 days later, Leme yet again set a new record for the highest-scoring ride. Once again aboard Woopaa, Leme recorded the first-ever perfect rider score of 50 points en route to a 98.75-point ride.
Yes, 98.75 points.
"I had already looked for that perfect score when I rode Woopaa for 97.75 points in Tulsa, and some of those judges then gave me a quarter less than others and I scored 49.5," Leme said. "When I looked at that, I said, 'Well, I want to be perfect one day and score 50 points.' So now I am happy to do that."
Leme sets the record for most 90-point rides in a single season…

Leme's sensational ride on Woopaa not only set the record for the highest-scoring ride in PBR history, but it also helped him set the new record for most 90-point rides in a single season with 24.
The previous record was 16, set by Cody Hart in his 1999 World Championship season.
"It's very special," Leme said. "I am not only here to win. I want to put my name on the history (books). Now I put my name for another reason, for most 90-point rides in a single season. I'm just so happy because I work for that. I work hard for all these 90s. I pick the rank bulls to go into the 90s, and I'm just so happy and blessed about another great mark on my career."
…and most round wins in a single season…

In September, Leme tied two-time World Champion J.B. Mauney for most round wins in a season with 19. However, he was injured on the ride that did so and was out of competition for the final month-plus of the season.
It may have taken him a little longer than he would've liked, but Leme won Round 5 and the championship round at the PBR World Finals to conclude the season with a new record of 21 round wins.
…and won back-to-back world titles
Leme also set the record for highest average ride score in a season (89.82 points) and tied the record for most event wins in a season (8 – Justin McBride). That's six records the Brazilian phenom broke or tied en route to winning his second World Championship, becoming just the second rider ever to go back-to-back.
"Records are another kind of World Championship," Leme said. "That is why I am here. If I don't want to write history, I would be back in Brazil with my family and friends and do fun things that I enjoy. But I am here to make my history and do my job. I use that for motivation. I saw the numbers and all the records I can break. That for sure brings me a lot of motivation to keep doing that and to keep riding my bulls, pick rank bulls to be 90, win events."
It was, bar none, the most dominant season by a rider ever. Dare we ask what he could have in store for next season?
© 2021 PBR Inc. All rights reserved.