Best Bull Scores From This Year's YETI Fan Favorite Bull Nominees
By: James Youness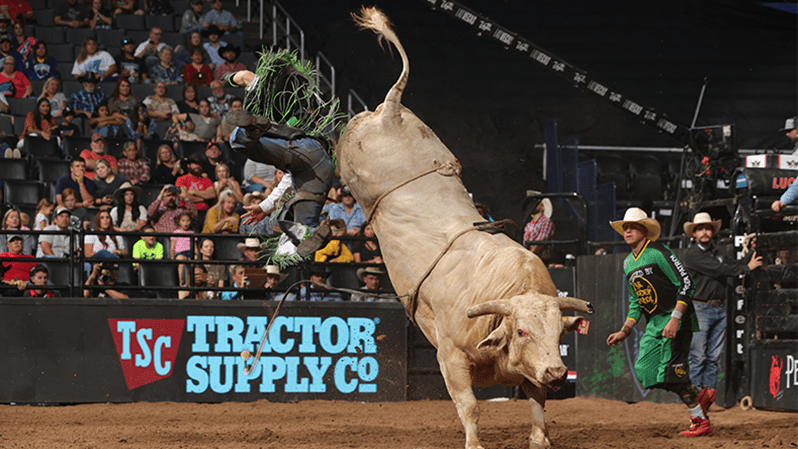 PUEBLO, Colo. – With the best bulls in the world come big buckoffs, big weekends, big Bonus Round performances and big bull scores. Featured regularly throughout the 10-game regular season, there were a handful of bovine talents who separated themselves from the pack.
Bull riding fans are now being tasked with identifying which of the seven finalists deserve this year's top honor. With Cool Whip, Medicine Man, Montana Jacket, Moonlight Party, Night Hawk, Preacher's Kid and Yellowknife representing the world's top-end bucking talent, fans will have until Nov. 1 at 11:59 p.m. ET to cast their vote for the YETI Fan Favorite Bull.
As voting for the YETI Fan Favorite Bull surges on, honoring the rankest, most adored bulls who showed out during the inaugural PBR Team Series campaign, PBR.com is looking back at the best bull scores from each of the seven nominees for this year's award.
Cool Whip – 46.25 points
Since making his PBR Team Series debut during the first weekend of action in Cheyenne, Wyoming, as the Arizona Ridge Riders and Austin Gamblers duked it out for early-season bragging rights, Cool Whip has yet to surrender a qualified ride in five outings this season. While each of his five bull scores earned more than 45 points, it was a pair of 46.25-point scores that represent the athlete's best bull scores of the year.
The first came during the Gambler Days Bonus Round in Austin, Texas, on Aug. 28 when Cool Whip was paired with Texas Rattlers veteran Joao Ricardo Vieira. Dispatching the cowboy in 4.27 seconds, the animal athlete was awarded a Bonus Round-best 46.25 points as he played spoiler to Vieira's attempt.

Seemingly getting up for his Texas-hosted opportunities, Cool Whip doubled down on his career-best score with another 46.25-point showing, this time in Fort Worth, Texas. Again in the Bonus Round, the bull faced off with the Carolina Cowboys' Wingson Henrique da Silva, who attempted to secure crucial bonus points for his squad at Rattler Days. While Silva nearly met the requisite 8, bucking off 7.36 seconds, Cool Whip retained his undefeated title en route to securing another highest Bonus Round bull score.
Medicine Man – 46.25 points
In similar, top-tier fashion, Medicine Man has maintained an elite 5-1 record throughout the PBR Team Series regular season despite facing off with some of the world's best bull riders in Eli Vastbinder (twice), Cooper Davis and company. Regularly bringing the heat, Medicine Man saved his best effort of the year, and career, for the last event of the season. Exiting the extra session tied with a Bonus Round-best 46.25-point bull score after sending Austin Gambler Lucas Divino to the dirt in a mere 2.59 seconds, the Glendale, Arizona, crowd at Ridge Rider Days got an up-close-and-personal example of what Medicine Man will bring to the PBR Team Series Championship on Nov. 4-6 in Las Vegas.
Montana Jacket – 45.5 points
Outside of surrendering two 90-plus-point rides in matchups with two-time World Champion Jose Vitor Leme, who's taken a liking to the elite efforts of his opponent, Montana Jacket has handled himself well in PBR Team Series games this year.

3-2 overall, he was able to buck off a pair of respective team qualified ride leaders for the Carolina Cowboys (Daylon Swearingen) and Arizona Ridge Riders (Luciano de Castro) in paving the way for his YETI Bull of the Year nomination. His highest score of the year, though, came during the Outlaw Days Bonus Round. Teamed up with Carolina's Silva, Montana Jacket sent the 23-year-old flying high 6.4 seconds in, matching his career-best bull score of 45.5 points.
Moonlight Party – 46 points
While Moonlight Party only logged three appearances during the PBR Team Series slate, he made each of them count. Boasting a perfect 2-0 record after besting the Texas Rattlers' Braidy Randolph in 1.69 seconds and Arizona's Chase Dougherty in 1.48 seconds earlier in the season, the bovine warrior saved the best for last.

Exploding from the chutes and ferociously bucking his Nashville Stampede opponent to the right, Moonlight Party got the best of Thiago Salgado during the Rattler Days Bonus Round, forcing the productive youngster to the ground in 2.33 seconds. Though a valiant run, it was his YETI Bull of the Year co-nominee Cool Whip who stole the best score of the extra session with a 46.25-point bull score.
Night Hawk – 46 points
After closing the 2022 PBR World Finals with a pair of 47.25-point bull scores and earning 2022 Bull of the Finals honors, Night Hawk came into the PBR Team Series preseason red-hot.

He picked up right where he left off by marking his Team Series debut with matching 46-point bull scores during the first preseason event in Bismarck, North Dakota. Kicking the weekend and preseason off in style, Night Hawk upended Tyce Willis in a stunning 2.5 seconds. The following day, the animal athlete doubled down, this time knocking Ross Freeman to the ground in a quick 2.08 seconds.
One of the biggest heartbreakers of the year, Night Hawk nearly gave up what would've been his first and only qualified ride of the season. But he didn't, teasing Vastbinder with a 7.99-second buckoff during the final Bonus Round outing of the regular season.
Preacher's Kid – 45.25 points
While Preacher's Kid may not have flashed the highest bull scores of the year, he's easily considered one of the most dominant on tour after finishing the year a combined 8-0 and perfect 4-0 against the league's best riders in the Bonus Round.
Facing off with the Rattlers' Rafael Jose de Brito during Stampede Days in Nashville, Tennessee, the bull would log what would be his highest bull score of the year.

Despite Brito getting back into position after his opponent gave him a rowdy start out of the chutes, Preacher's Kid went the distance, bucking Brito off in just 3.68 seconds and limiting the Rattlers to three bonus points.
Yellowknife – 45.5 points
New to the party? Maybe, but not new to success. Storming into the PBR Team Series preseason and into his first PBR event overall, Yellowknife showed up and showed out.
Holding a 7-1 record throughout the campaign, the bovine athlete surrendered his lone ride early in the regular season, as Arizona's Alisson de Souza exited the matchup victorious.

Bucking off the rest of his opponents for the duration of the season, it was in a feisty Bonus Round matchup with the Missouri Thunder's Callum Miller where he would earn his highest score of his career. Logged 45.5 points after forcing a 5-second exit for Miller, Yellowknife is ready to compete against eight talent-packed teams at next weekend's PBR Team Series Championship.
Photo courtesy of Andy Watson/Bull Stock Media
© 2022 PBR Inc. All rights reserved.