Cowboys Prepare for Critical Upcoming Cowboy Christmas Stretch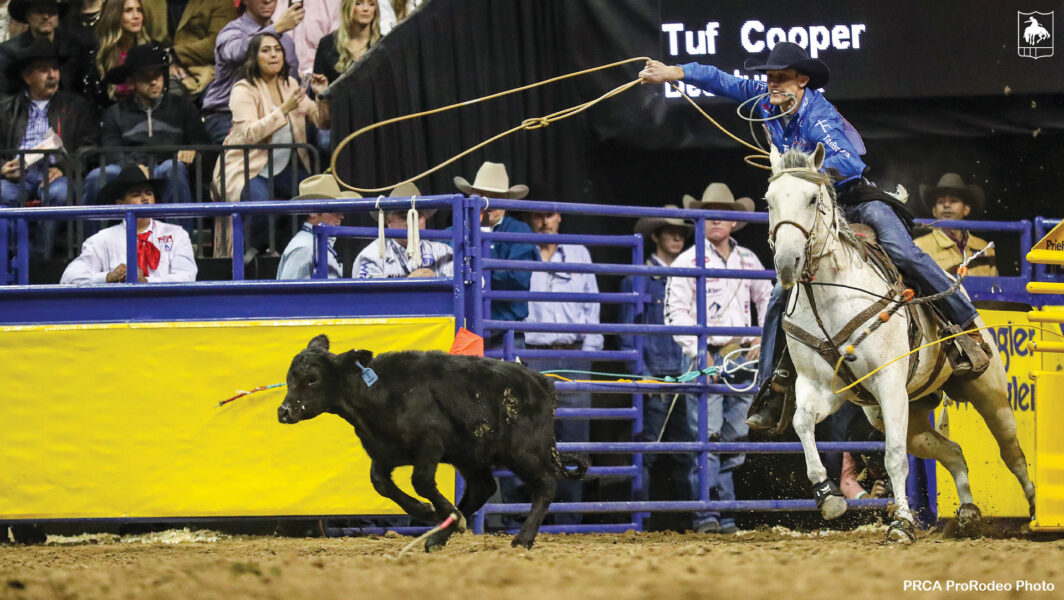 Imagine if the major winter stock shows with all their huge purses – Denver, Fort Worth, San Antonio, Houston, Austin, and San Angelo – all happened in the same week.
That's almost what the Fourth of July is like for ProRodeo cowboys and cowgirls. Little wonder it's called "Cowboy Christmas" and finds contestants driving all night for days in a row to try to earn the biggest chunk of the huge amount of prize money available.
PRCA World Champion tie-down ropers Tuf Cooper and Shane Hanchey both know the feeling of rising to the top of the heap as the high money winner over the Fourth.
Cooper was the high money winner among all competitors in 2021, when he won $31,255.
"You definitely need to be on a roll, and you have to win first a lot," said Cooper, 33. "There's so much opportunity – the key thing is to stay positive. You can't let anything negative that happens transfer over to the next run."
"You have to forget and refocus because you're going to wake up in a new parking lot every day with a chance to win $10,000."
Cooper is a new dad, baby girl Tru Fashion is nine months old, and his Fourth of July strategy incorporates his new hauling buddy.
"We're not going to too many," he said, citing about seven possible stops. "One or two days away is okay, but I don't want to be away from my family any longer than that."
Proving she fits in her Hall of Fame family, Tru is already a rodeo fan.
"She loves it, she comes with me when we go check the draw," Cooper gushed. "It's so cool in rodeo that you can take your family with you like this."
Hanchey set what was then the record for single-event earnings at $32,293 in 2016.
"I remember it like it was yesterday," Hanchey, 33, chuckled. The week was highlighted by the second of his three titles at the Ponoka (Alberta) Stampede.
"It was one of those 'meant to be' weeks," Hanchey said.
This year, the 2013 world champion has another packed schedule including a stop in Ponoka, the largest purse of the week.
"It's one of my favorite rodeos of the year, let alone the Fourth," he said. Hanchey has almost a dozen rodeos planned, and Ponoka is about the only one that will require an airplane ride.
Just getting entered is often half the battle of having a good Fourth.
"Honestly, this has been one of the best Fourths as far as entering," Hanchey said. "I try to prioritize the (Playoff Series) rodeos and we'll be able to get to all of them and then work in the others.
"Most people can clearly see the line of how to work everything but when you don't get your preferences, it gets muddled up," three-time PRCA World Champion Bareback Rider Tim O'Connell, 31, agreed. "That's what makes the Fourth so chaotic."
Case in point for O'Connell – who took home more than $20,000 in Cowboy Christmas earnings in 2022 – one year he worked nine rodeos in two days, while another he was only able to get to a handful. This year, he'll be going back to Ponoka for the first time in several years thanks to a good draw.
"I'm excited to kick the Fourth off there," he said. "We try to go where the best chances to win a lot of money are."
O'Connell, like other roughstock competitors, also has to consider the stock he and his hauling partners are drawing.
"We look to make sure we're working more than one a day," he said. "We've got three in the rig, so we want everyone to have a chance to win something every day."
No one has had a better Fourth in a single event than two-time and reigning PRCA World Champion Team Ropers Kaleb Driggers and Junior Nogueira did a year ago. They earned $35,152 in eight rodeos to beat Hanchey's record.
"We try to do the best we can every single run," said Nogueira, 32. "We're not trying to break records, just trying to get the NFR wrapped up."
The duo has a busy Fourth planned out with two rigs going different directions to maximize their opportunities in 2023.
"We're a little bit behind, so we're trying to catch up," Nogueira said, noting they're third and fourth respectively in the PRCA | RAM World Standings with $63,495 earned so far in 2023.
To a man, the group is looking forward to the opportunities available.
"I'm very excited," Hanchey said. "In the winter, you rope two and go home for a week or two. In the summer is when you can really get on a roll, roping one or two a day, get your timing and get tapped off."
After battling injuries for months going back to 2022, O'Connell is finally healthy and ready for the grind of the Fourth.
"I'm excited, this is where the race starts," he said.
Courtesy of PRCA