Pope Brothers Share Bareback Title in Gooding (Idaho)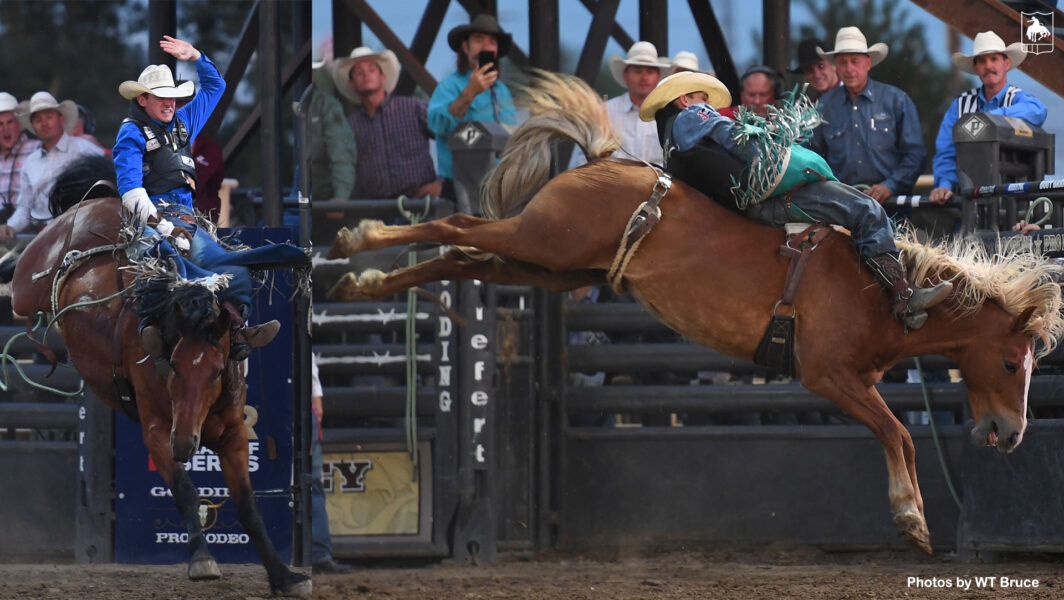 There were many record-setting rides recorded in the Pope's living room when brothers Jess and Ty were growing up. Today, they are setting the ProRodeo world on fire.
"As little kids we were always playing bucking bulls in the living room," said Jess, 24. "We were dreaming of doing this and to be able to experience everything the rodeo road offers, the ups and downs, together has been really fun."
Just five years into his career, Jess has already built a drool-worthy resume with three Wrangler National Finals Rodeo average titles and $1 million in earnings. He also happens to be the reigning PRCA Bareback Riding World Championship.
But Jess got to experience a career first at the Gooding (Idaho) Pro Rodeo when he split the win with his younger brother, Ty, with matching 87-point rides.
"Last year when Ty was on his permit, we went down to Arcadia (Fla.), and I was first and he was second," Jess said. "I told him, one day we'll split one and to finally get it done was really awesome."
"It's pretty sentimental for me."
Ty shared the joy of the win, coming during his rookie season.
"It's the first time we've split," said Ty, 21. "We've been first and second a few times but to do this in my rookie year, that's a pretty cool deal."
Ty rode Cowtown from Summit Rodeo, a horse he watched break Kade Berry's rigging in Cheyenne before Berry could nod.
"I knew she was hard to get out on, so I just went easy with her," Ty said. "I knew if I got out on her, she would give me a good shot."
"She leaves hard out of there, but it was just a pile of fun."
Meanwhile, Jess danced with another Summit horse, Red Beard.
"I didn't know much about her, knew she was an older mare that they've gotten some colts out of," Jess said. "I thought she'd probably be good from the videos, and I felt like I made a good ride. She's tiny so it was hard to feel her."
"It was the first time I've been beer worthy over there," Jess added with a laugh, referring to a Gooding tradition where the "Beer Worthy" section of the crowd offers a beer to the nightly winners in each event. Luckily, they were ready with two for the brothers after their tie.
They didn't have to share the beer but did split the payout, banking $4,857 each. Along with good checks in Billings, Mont., and Caldwell, Idaho, the money helps Jess who finds himself in the strange position of being on the bubble at 12th in the PRCA | RAM World Standings as he works his way back to the Wrangler NFR.
"The winter was quite a bit different for me, I was dealing with some issues in my neck and hadn't won anything by the time I got to Houston," Jess said.
Always missing spring to be home moving cows, the Popes have been hard on the road this summer to make up ground.
"It's been tough, we've been to a lot of rodeos," Jess said.
For Ty, the payday kept him in the conversation, ranked 25th in the world standings and sixth in the extremely competitive rookie race. The public relations major will soon head back for his senior year in college at Missouri Valley College, in Marshall, a program that has turned out two world champs in big brother Jess and Tim O'Connell.
He says traveling with the reigning world champ has been a huge advantage.
"There's a fire in him, everyone looks at him because he's the world champion," Ty said. "He's taught me so much."
Both brothers agree tying is fine and so is one winning and not the other.
"As long as the money stays in the rig, we're good," Jess said.
Other winners at the $205,334 Playoff Series Rodeo were steer wrestlers Don Payne and Dirk Tavenner (3.6 seconds each); team ropers Jake Clay/Kollin VonAhn (3.8 seconds); saddle bronc rider Ross Griffin (85 points on King Rodeo and Wentz Bucking Bulls' Blood Tracks); tie-down ropers Shane Hanchey and Cash Hooper (7.9 seconds each) breakaway ropers Addy Hill and Braylee Shepherd (1.9 seconds each); barrel racer Dona Kay Rule (16.76 seconds); and bull rider Jeff Askey (88.5 points on Macza Pro Rodeo's Burnt Oil).
Courtesy of PRCA