PRCA for the Record: St. Paul Rodeo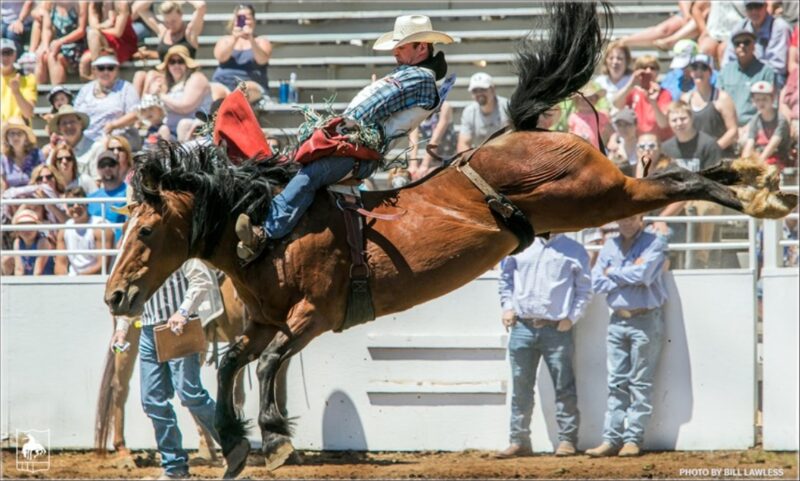 Bareback rider Tim O'Connell has had plenty of big-time rides over his career. The three-time world champion (2016-18) has shined on the sport's biggest stage, but there's a ride at the St. Paul (Ore.) Rodeo that he remembers like it was yesterday.
O'Connell set the St. Paul bareback riding record in 2017 when he went for an 89.5-point ride on Bridwell Pro Rodeo's Sacred Nation.
"I've been on that horse like five or six times, that day she was just special," said O'Connell, 29. "She was almost outside of herself she was bucking so good. She got going right out of the chute, I got going right out of the chute. I feel like I put on one of my flashiest rides of the year, and she just stayed so solid the entire ride with me."The title O'Connell took home in 2017 was a part of back-to-back titles for the Zwingle, Iowa, cowboy in St. Paul. He's excited to get back to Oregon and give it another go at taking home the top spot.
"I drew really well this year out there, so I look forward to taking advantage of that here in a few days," O'Connell said. "There's always something special about going back to St. Paul."
The draw in St. Paul is just the beginning of what will be a hectic Cowboy Christmas for O'Connell. He is scheduled to ride tonight (June 29) at the Greeley Stampede before tackling the Fourth of July run.
"It's a chance for us to make a lot of money in a short amount of time, but it is run, run, run," O'Connell said. "The next week is going to feel like a month but that's just how it goes around this time. My mind is ready to rock 'n' roll, my body is ready to rock 'n' roll, I'm ready to get after it."
The St. Paul rodeo will get underway June 30 and be broadcast on The Cowboy Channel and streamed on the PRCA on Cowboy Channel Plus App.
St. Paul Rodeo Records
• Total payout: $375,112, 2019
• All-around: $16,806, Stetson Wright, 2019
• Bareback riding: 89.5 points, Tim O'Connell, 2017
• Steer wrestling: 3.4 seconds, Rowdy Parrott, 2018
• Team Roping: 4.1 seconds, Charly Crawford/Joseph Harrison, 2017; Steven Duby/Evan Arnold 2018 (9.2/2, Coleman Proctor/Jake Long, 2014)
• Saddle bronc riding: 89 points, Cort Scheer, 2019
• Tie-down roping: 7.4 seconds, Shane Hanchey, 2011
• Barrel racing: 16.38 seconds, Callie duPerier, 2015
• Bull riding: 94 points, Terry Don West, 1996
Courtesy of PRCA