Richmond Champion Wins in Baker
By Jolee Jordan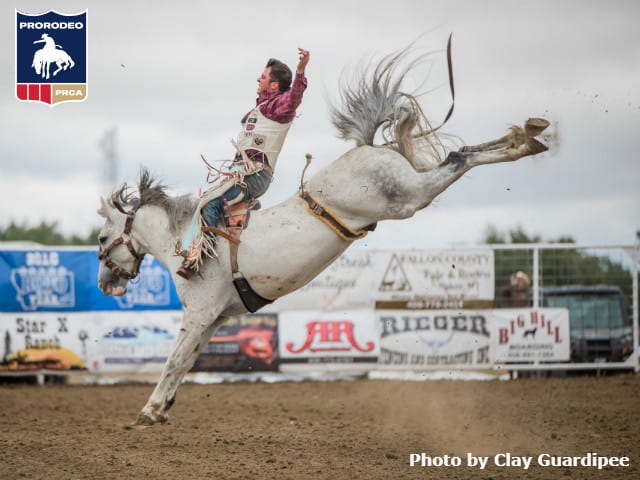 BAKER, Mont. – No group this summer has been as hot, collectively, as the bareback riders in the PRCA. Arena records have been no match for the combined talent of this group of riders when matched against the best bucking horses in ProRodeo.
Richmond Champion has already been in on the streak of broken records this season, setting the new mark for the Redding Rodeo back in May.
"The competition is crazy," Champion said. "The last four or five years, I feel like the level of the guys from No. 1 to 25 or 30 has jumped up where everyone has a chance to win on any given day. It has made everyone have to step up."
"You have to let it all hang out every time you nod your head."
Champion did just that, grabbing another spot in the record books at the Fallon County Fair and Rodeo, a ProRodeo Tour stop, on Aug. 18, when he tied the record of 91 points set by PRCA World Champion Tim O'Connell on C5 Rodeo's Virgil last year.
Champion's winning ride also came aboard a great, grey bucking horse from C5, Make Up Face. A perennial competitor at the Wrangler National Finals Rodeo since 2011, the crafty bucking horse had matched up with Champion back in 2013 in Jackson, Miss.
"I don't know if I made the end of the gate that day," joked Champion. "Of course, that was really in his heyday."
"They switched deliveries on him a couple of years ago," Champion added. "He's not the easiest horse but if you ride him right, you know you can be a bunch of points."
"He had a really stellar day in Baker. When he reared out of there, it worked in my favor and allowed me to get ahead of him. When he got stronger at the end of the ride, I was in good position to finish it."
Champion needed a little ego boost after bucking off a rank up-and-comer the day before in Kalispell.
"I got bucked off a 5-year-old of Kesler's that none of us knew anything about," he said. "It says a lot about the (stock) contractors and their breeding programs, the caliber of horses we have to get on just about any day of the week."
"I think the records will continue to get broken. It's a lot of fun for us (bareback riders)."
The win, worth $4,484 keeps Champion strong in the PRCA | RAM World Standings where he was already ranked fourth prior to Baker. Gathering more points on the ProRodeo Tour will guarantee his spot at the ProRodeo Tour Finale in Puyallup, Washington Sept. 5-8.
"I think you just reassess your goals every month," he said of being safe to make his fifth WNFR in December. "There is a relaxed feeling of, 'cool, I made it,' but then it's like, 'crap, there's still Kaycee (Field), Orin (Larsen), Clayton (Biglow).' Everyone is still out here and riding great so you can't let up."
"Now, we're just fighting for position for Vegas," said Champion who would like nothing better than to strap on his first gold buckle at season's end. He'll stay on the road hard until the end of the regular season on Sept. 30. After a short break, he'll use the Canadian Finals in early November as the tune-up for the WNFR.
"It's a great warm-up . . . most of the horses there go to Vegas. Of course, there are good riders and the money is good," he said. "After that, we'll refocus, get back in the gym and be ready for the Finals."
Other winners at the $179,737 rodeo were all-around cowboy Bryce Bott, ($4,128, tie-down roping and team roping); steer wrestlers Kyle Callaway and Walt Anseth (3.7 seconds each); team ropers Brady Tryan/Clay Futrell and Paul David Tierney/Matt Kasner (5.0 seconds each); saddle bronc rider Brody Cress (90 points on C5 Rodeo's High Valley); tie-down ropers Bryce Bott and Justin Smith (8.7 seconds each); barrel racer Kristy Maxwell (14.73 seconds); steer roper Coy Thompson (39.8 seconds on three head); and bull rider Hawk Whitt (83.5 points on C5 Rodeo's Jethro).
Cress' 90-point ride broke the record for Baker, coming just 24 hours after Cody DeMoss had already set a new mark, beating Sterling Crawley's score from 2018 with his score of 89 points.
For more coverage of the Fallon County Fair and Rodeo, check out the Aug. 23 edition of ProRodeo Sports News.

Courtesy of PRCA