Scott Snedecor Holds on to No.1 Spot with Sheridan Title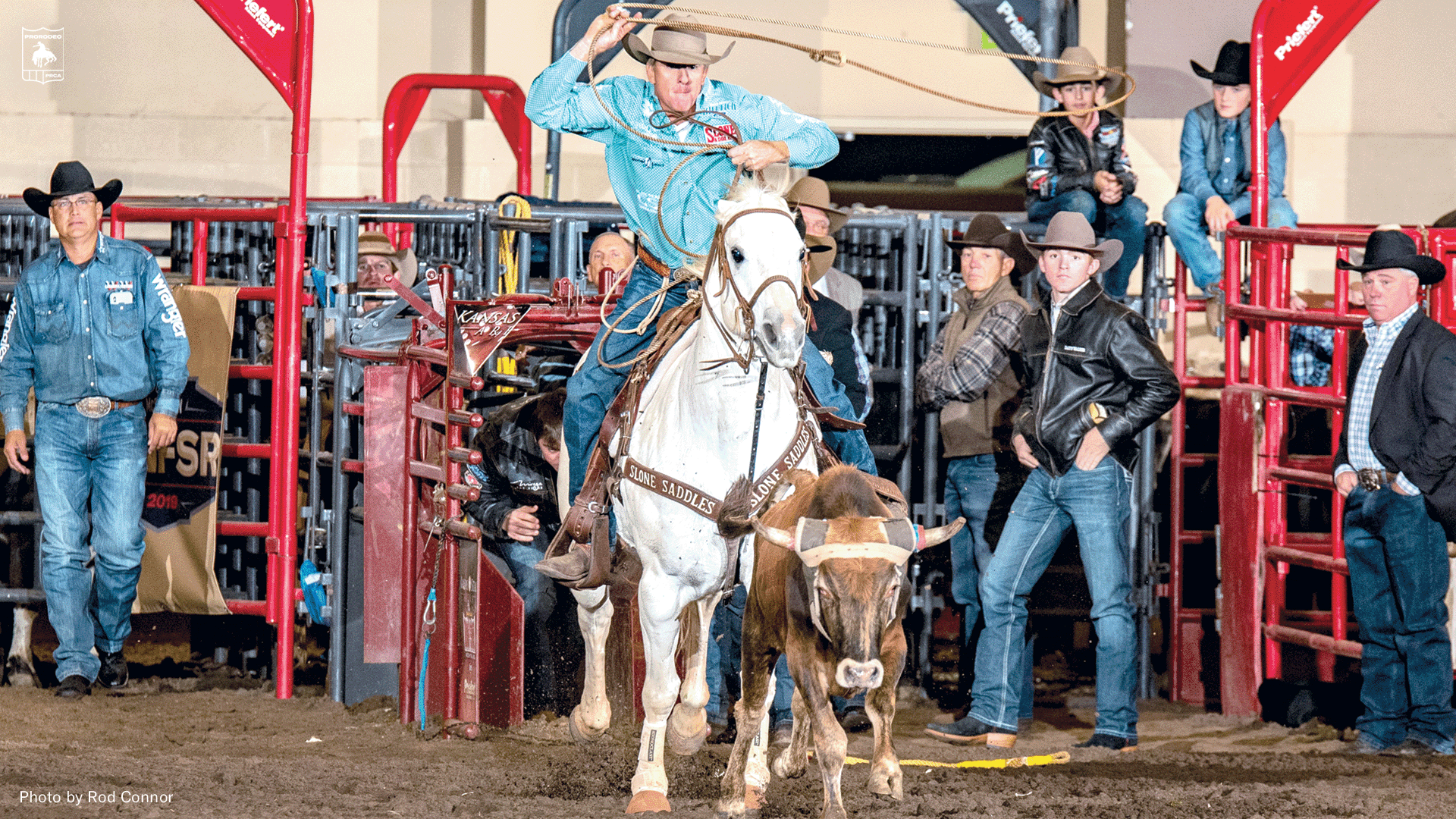 With over $1.5 million won in his career, it doesn't seem like steer roper Scott Snedecor has endured too many slumps in his career. But Snedecor is riding a hot streak during the 2022 summer run that is welcome to the four-time PRCA World Champion.
"It's been a while since I've been on a winning streak, where things are fun and easy instead of feeling like you're working hard," Snedecor said after winning the Sheridan WYO Rodeo on July 16, for 52.4 seconds of work on four steers.
Snedecor earned $6,296 after placing in all four rounds and taking the average win by half a second over Garrett Hale. He posted runs of 12.2, 14.2, 11.8 and 14.2 seconds.
"It was really good this year," Snedecor said. "My first one was good, and I got seventh in that round. I bobbled my hooey a bit on the second one, that probably cost me placing higher on that one."
Snedecor was seventh in that round as well. He took second in round three and finished up with a fifth-place finish in the progressive round in the Friday night performance.
"I drew pretty good, and my horse is working outstanding," Snedecor noted. He bought the horse he calls Goose from a friend about a year and a half ago. "He was pretty green last year but really came on at the end of the year.
"He makes it easy for me and fun. He does his job, and it lets me do mine," Snedecor said, noting the importance of good horsepower in his event. "I tell guys all the time, even for someone like me at this level, if you don't have 'that horse,' you're just another guy."
Snedecor is now ranked first in the PRCA | RAM World Standings, chasing his fifth world title after two straight years of finishing as the reserve world champ.
"Every year since I was a little kid, like all of us, we all want to be a PRCA World Champion in whatever event we do," Snedecor said. "It's always my goal to be the best I can be, and it never gets old at the end of the year winning those deals."
At 47 years old, Snedecor admits to having moments where thoughts of retirement creep in.
"My wife just tells me, you still like it and you're having fun so keep doing it," Snedecor says with a chuckle. With his youngest daughter Kallyn headed off to Tarleton State University to compete for the rodeo team, Snedecor says he and wife Kelli are empty nesters and enjoying the chance to head out on the road together.
"She and I can take off and go if we want to," he said. Sheridan is a favorite stop for Snedecor, who thinks he may have split the title there years ago. "I honestly can't remember for sure, but I've had success there in the past.
"I love that rodeo," Snedecor said. "I like rodeos like that where we go and hang out all week, enjoy the rodeo atmosphere.
"We really appreciate committees like Sheridan that really welcome us all week."
Other winners at the $323,437 rodeo were all-around cowboy Taylor Santos ($9,950, tie-down roping and steer roping); bareback rider Cole Reiner (89.5 points on Sankey Pro Rodeo & Phenom Genetics' Bronc Riding Nation); steer wrestlers Blake Knowles, Will Lummus, Rowdy Parrott and Dalton Massey (8.4 seconds on two head); team ropers Clay Tryan and Jade Corkill (12.4 seconds on two head); saddle bronc rider Tanner Butner (92.5 points on Sankey Pro Rodeo & Phenom Genetics' Black Tie); tie-down roper Taylor Santos (16.6 seconds on two head); barrel racer Stevi Hillman (17.09 seconds); breakaway roper Erin Johnson (7.6 seconds on two head); and bull rider JR Stratford (86 points on Sankey Pro Rodeo & Phenom Genetics' Cash Is King).
Courtesy of PRCA