Texas Rattlers Become First Team to Go Flawless 5-For-5 in Upset Win Over Carolina Cowboys in Glendale
vBy: Mandi McCary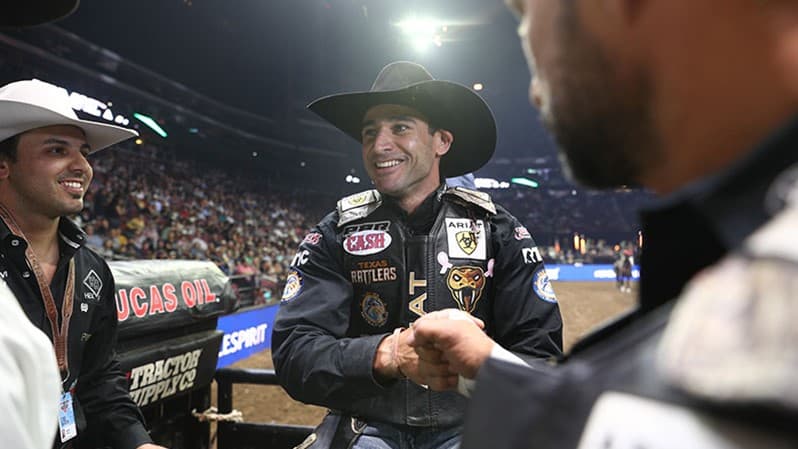 Texas Rattlers: 431 / Carolina Cowboys: 256
GLENDALE, Ariz. – The Texas Rattlers made league history as the very first team to go a flawless 5-for-5 in their victory Friday evening during the opening night of PBR (Professional Bull Riders) Team Series competition in Glendale, Arizona, upsetting the league No. 3 Carolina Cowboys by two ride scores, 431-256.
The Rattlers have now won eight straight games to improve to 14-12 on the season with two games remaining.
Opening the first game of the regular season's final weekend, the Rattlers' leadoff rider Joao Ricardo Vieira (Itatinga, Brazil) blew out of the chutes aboard Next Strand (Young Cattle / Jack and Dot Verbois / D&H Cattle Co) in perfect form, netting his team 83.75 points. Answering the three-time World Champion, 2016 PBR World Champion Cooper Davis (Jasper, Texas) sounded off for Carolina in besting B Hummer's Gold (Culp Bucking Bulls / Zapata / Mendes) for 84.25 points.
In the top of the second, 22-year-old Brady Fielder (Clermont, Queensland, Australia) matched Mikey's Surprise (Ogden Ranch) jump for jump for 87.25 points to put Texas in the lead, 171-87.25, before being hung up and stomped on after the whistle. Down one bull, Carolina was unable to respond as 2020 PBR Rookie of the Year Boudreaux Campbell (Crockett, Texas) was bested in a swift 4.94 seconds by Spice (Flying C/ Flying P Bucking Bulls), giving the Rattlers an 86.75-point lead as the third frame got underway.
Continuing to bring the heat for the Rattlers, Braidy Randolph (Jonestown, Pennsylvania) put Carolina even further behind after hanging onto a leaping and lunging Zorro (Young Cattle Co.) for 83.75 points in the top of the third. Newly signed Carolina Cowboy SandroBatista (Pedra Preta, Brazil) then cut into the Rattlers' lead, putting up 86 points aboard Cold Shot (Jeb Fredericks/ Dakota Rodeo/ Chad Berger).

As the fourth frame got underway, the Rattlers' Rafael Jose De Brito (Potirendaba, Brazil) put Carolina in a must-ride situation after riding High Plains Drifter (Flying C/ Flying P Bucking Bulls) for 88.5 points. With his team down two bulls, Carolina's Mason Taylor (Maypearl, Texas) was no match for Orca (Yount Bucking Bulls), giving Texas their 14th win of the season.
In the top of the fifth, Cody Jesus (Window Rock, Arizona) had fans in his home state at full volume as he punctuated the Rattlers' historic flawless night with 87.75 points aboard Drago (Jeb Fredericks/ Dakota Rodeo/ Chad Berger).

The Cowboys wouldn't go quietly into the night. On their final out, 2022 PBR World Champion Daylon Swearingen (Piffard, New York) bested Bad Deal (Platinum Bull Company) for 85.75 points to conclude the opening game for the Cowboys on a high note and stay close in the 2022 MVP race. The Cowboys' three qualified rides weren't enough, and they fell to the Texas Rattlers, 431-256.
In beating the Carolina Cowboys for the second week in a row, the Texas Rattlers improved to 14-12 this season and will seek their second game victory at PBR Ridge Rider Days on Saturday, Oct. 15 when they face the host Arizona Ridge Riders (1-0 | 14-11-1). The Carolina Cowboys slipped to 14-12 on the season and will look to rebound during the second round of games when they play the Missouri Thunder (0-1 | 12-14).
PBR's Ridge Rider Days continues Saturday, October 14 at 6:45 p.m. MST. Tickets are still available and can be purchased online at Ticketmaster.com and PBR.com, at the Desert Diamond Arena (formerly Gila River Arena) Box Office, or by calling PBR customer service at 1-800-732-1727.
PBR RidePass on Pluto TV will offer replays of all the PBR Team Series action from Glendale. Check https://pluto.tv/en/live-tv/pbr-ridepass for the latest programming schedule.
© 2022 PBR Inc. All rights reserved.