Veteran Tie-Down Roper Matt Shiozawa Turning Heads at RodeoHouston®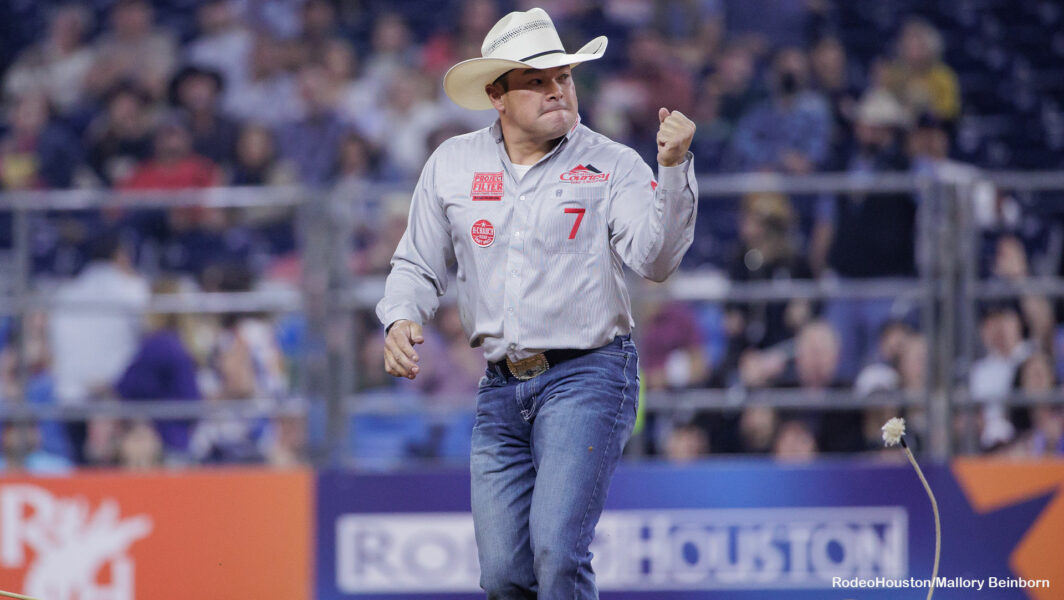 During 2023 RODEOHOUSTON®, there have been plenty of names that have been a blast from the past.
One is standout tie-down roper Matt Shiozawa. Shiozawa, 42, has earned $7,500 at RodeoHouston and advanced to the Super Series Championship Round, March 19 with 10 contestants. The four finishers in the Super Series Championship Round advance to the four-man Championship Shootout later Sunday to determine the overall winner. The winner of the Championship Shootout earns $50,000.
"It feels great," Shiozawa said about his performance in Houston, which is a Playoff Series Rodeo. "I still have a little more work to do on Sunday."
Shiozawa placed second at RodeoHouston a few years back when it wasn't sanctioned by the PRCA like it is now.
"The setup (at RodeoHouston) fits my style well and the cattle are bigger," Shiozawa said. "The handling of the cattle is important and like anything in this deal you have to draw well. Those intangibles never go away. The setup, the cattle, my horse, and my timing it is all coming together."
The Chubbock, Idaho, cowboy is no stranger to success on the big stage. He's an 11-time qualifier for the Wrangler National Finals Rodeo – 2005-07, 2009, 2011-12, 2014-18, who has earned more than $2 million in his PRCA career. He joined the PRCA in 1999.
In Houston, Shiozawa is riding Kass Kayser's horse, Bubble Gum. Kayser is a fellow PRCA tie-down roper.
"I had been on his horse a little bit here and there and he's letting me ride his horse in Houston," Shiozawa said.
Shiozawa, who won the NFR average in 2011 and the RAM National Circuit Finals Rodeo in 2008, 2012-13, acknowledged that to continue to rope at the highest level at his age it takes some work.
"I'm still physically able to do it and that takes some effort," Shiozawa said. "There's not a secret formula. It is a lifestyle thing. For bigger rodeos like Houston, it is easy to put some focus into."
As for his rodeo schedule, Shiozawa has no real plans right now – his main concern is at Houston.
"My only goal is to get through Houston and finish up the best that I can there, and we will see what unfolds after that," Shiozawa said. "I really haven't made any plans past that because Houston is that big of deal. It's not worth looking past Houston."
Shiozawa said one of the things that keeps him active is playing tennis with his three daughters, Stella, 12; LuLu, 10, and Ivory, 8.
"You need to find something to do that's physical and for me (tennis) is good because it keeps my speed up," Shiozawa said. "I always enjoy doing it and it is something I get to do with my kids. My girls are getting good. They will be for real players, every one of them. We work at it just like I have my roping."
Courtesy of PRCA