Cameron Morman – Glen Ullin, N.D. ($76,704)
First-time WNFR qualifier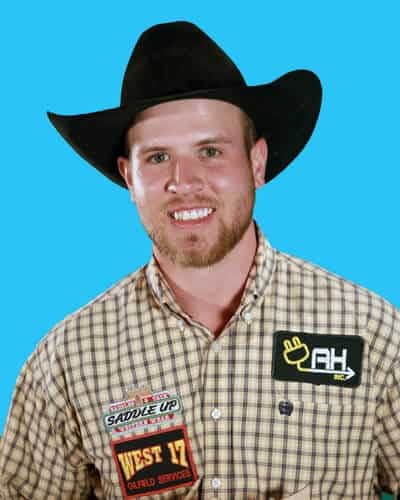 Cameron Morman will be one of two North Dakota cowboys competing at the 2019 Wrangler National Finals Rodeo. Since the other North Dakotan is bareback rider Ty Breuer, the first time Cameron rides in front of a crowd at the Thomas & Mack Center, he will be carrying the flag of his home state in the grand entry.
After graduating high school in a class of about a dozen students in 2012, Cameron joined the PRCA in 2013. He competed in college rodeo for Dickinson State University, less than an hour's drive west of his hometown, and qualified for the College National Finals Rodeo three times. He won the college steer wrestling championship in 2015 and earned his ag business degree in 2016.
Cameron finished 34th in the world championship standings in 2017, then barely missed last year's WNFR when he finished the regular season ranked 18th. He also has done well in the Badlands Circuit which includes North and South Dakota. He won the circuit championship in 2015 and 2018 and won the steer wrestling at the Badlands Circuit Finals Rodeo in 2018 and 2019.
The 26-year-old cowboy was firmly in the top 10 in the world standings for much of the 2019 season, but dropped to 13th by mid-August. That put him on the bubble to qualify for the WNFR. He didn't secure his spot until the final weekend of the regular season when he won the American Royal Rodeo in Kansas City for the second year in a row. He starts the NFR in 14th place with $76,704 in regular season earnings.
The western lifestyle has always been Cameron's life. His dad Bruce is a rancher and a banker, and his mom Nancy is a vet tech. He works on the ranch and sells seed when not traveling to rodeos. Cameron is one of five siblings – he has three brothers and a sister. He began competing in rodeos in the seventh grade and is the only one in the family to rodeo professionally.
A good number rough-stock cowboys from North Dakota have competed at the WNFR. Cameron is only the fourth timed-event cowboy from the state to compete at the finals. He is hoping to change that. After the regular season was over, he helped with a steer wrestling school in his home state hosted by Diamond S Performance Horses and featuring Luke Branquinho. Rodeo fans across the Peace Garden State will be cheering for him, along with his family and friends, as he makes his WNFR debut.