Bull Riders Eye Gold Rush Again in Palmer, Alaska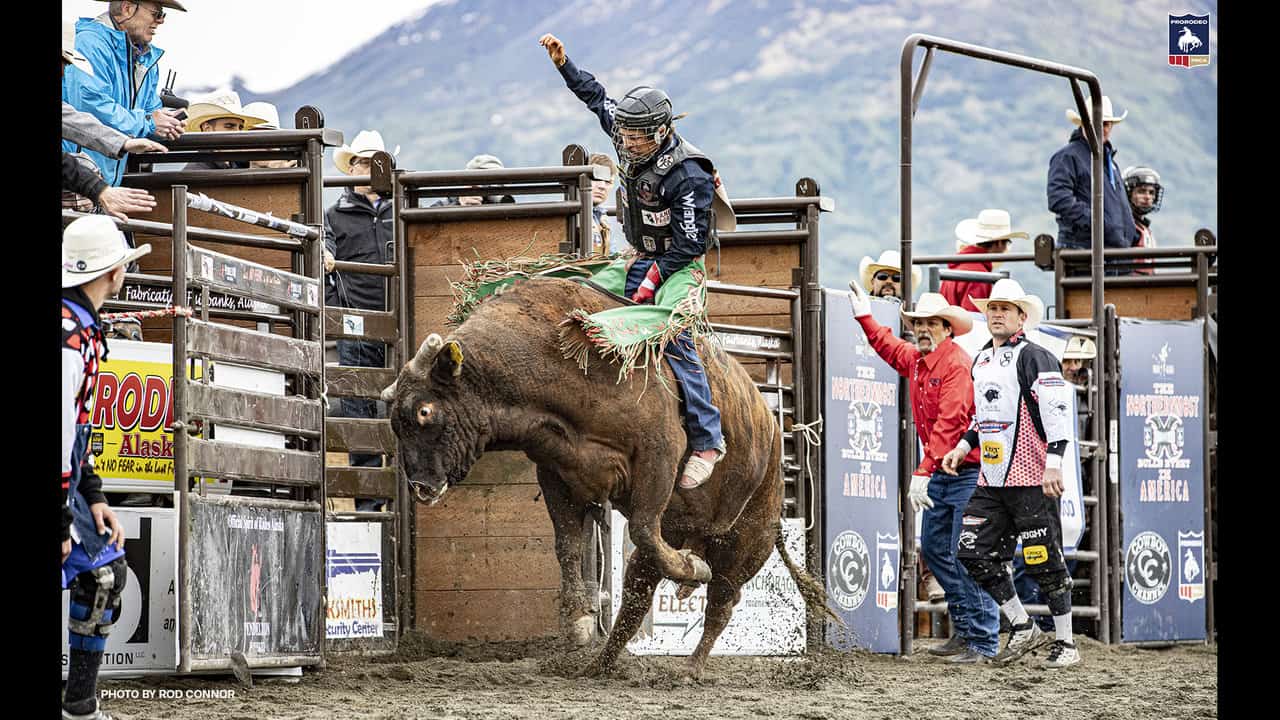 The inaugural payout of the Northern Most Xtreme Bull Riding in America in Palmer, Alaska, in 2021 had $15,000 added for the Division 2 event.
This year it is bigger and better – literally.
The 2022 Northern Most Xtreme Bull Riding in America has $25,000 added and it is now a Division 1 Xtreme Bulls event. This year it also has expanded from one day to a two-day event, May 27-28.
A unique aspect of the event is the bounty bull, if the winner of the event then has a qualified ride on the bounty bull, he will win $20,000 of Bering Sea gold. Palmer is 40 miles northeast of Anchorage.
"We are super excited," said event producer Frank Koloski to The Cowboy Channel. "It is year two and the pot has gotten thickened and there's a lot of gold up here to be claimed. We are excited to see how this all this turns out. Palmer is so great about opening its arms for events like this. Our community here and all over the state of Alaska is excited to have an event like this."
There are 26 bull riders scheduled to compete in the event, including last year's champion Roscoe Jarboe and fellow National Finals Rodeo qualifiers, Josh Frost, Tyler Bingham, Trey Kimzey, Jordan Hansen, Ruger Piva, Jordan Spears and Parker Breding.
"I'm super excited to go back," said Frost, who finished a career-best second in the 2021 PRCA | RAM World Standings. "It was really cool last year. A guy doesn't get many opportunities to go to Alaska. The fans were great. It was sold out, standing room-only. There were hundreds of people standing because there were no seats left. The fans were super excited, and we got to sign a pile of autographs. The community was super excited to have us there. From the time we landed, they knew the cowboys were in town for bull riding, which made it fun."
The action will begin at 11 p.m. (ET) on May 27 and 8 p.m. (ET), May 28, and will be broadcast live by The Cowboy Channel and The PRCA on Cowboy Channel Plus App.
"They made it a two-header this year and I'm super excited to go back there," Frost said. "If you can ride both bulls, you will be sitting good in the average. I also would love to have a shot at $20,000 on that bounty bull."
While Frost is no stranger to the Palmer, 10-time PRCA Clown of the Year Justin Rumford is making his first appearance at the event.
"I met Frank (Koloski) at the NFR a couple of years ago and he wanted me to come to Alaska and it didn't work out with my schedule," Rumford said. "I said let's book it and I made it up here this year and it is amazing. I did an interview with the radio station in Anchorage this morning and we went salmon fishing (Wednesday). Today we are going to play golf. My wife is up here, and Cody Webster (reigning two-time PRCA Bullfighter of the Year) is up here with his wife. Anthony Lucia (announcer) is here and so is (bullfighter) Nate Jestes. Our whole crew is up here, and we are staying in first-class cabins. It's so wonderful."
Courtesy of PRCA