Daylon Swearingen Wins Big Week Professional Bull Riding
By: Mandy Linquist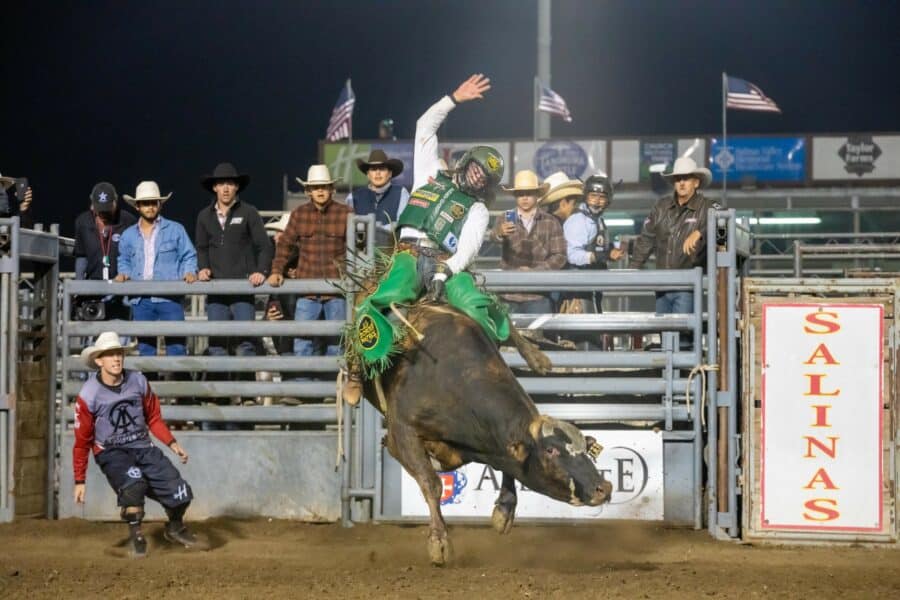 SALINAS, CA – The Professional Bull Riding (PBR) bucked back into Salinas and a crowd of 8,860 enjoyed the show. Daylon Swearingen of Piffard, NY won the buckle with Andy Guzman of Oakdale, CA coming in second. Presented by Salinas Valley Ford, the PBR is one of the most popular events held during Big Week each year. Rodeo Entertainer Matt Merritt kept the crowd engaged and will be performing at the California Rodeo Salinas for the next two nights and two days.
Tickets for the California Rodeo Salinas September 23rd-26th are still available at www.carodeo.com 24/7 or onsite from 10am to 6pm at 1034 N. Main Street in Salinas. Get a full schedule of events along with ticket prices on the website. The theme for Thursday night is Tough Enough to Wear Pink, wear pink to encourage awareness for breast cancer. Gates open at 4pm and the Rodeo starts at 6pm and will include finale fireworks.
About California Rodeo Salinas
The California Rodeo Salinas will take place September 23rd-26th, 2021. The California Rodeo Association is a not-for-profit organization that strives to preserve and promote the traditions of the California Rodeo Salinas and the West. We support the community and other non-profit organizations through the staging of the annual California Rodeo Salinas and other year-round operations of the Salinas Sports Complex. Through donation of our facility, vending and fundraising opportunities during Rodeo and other events, the California Rodeo Association returns over $500,000 annually to local non-profits. For more information about the California Rodeo Salinas, log on to www.CARodeo.com or call the California Rodeo Office at 831-775.3100. 'Like' the California Rodeo on Facebook at www.facebook.com/CARodeoSalinas or follow us on twitter @CaliforniaRodeo for updates, photos and more.