News & Notes From the Rodeo Trail, July 31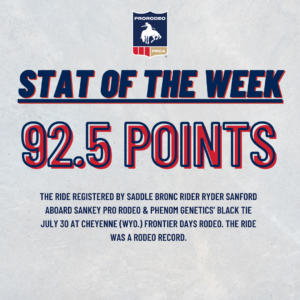 In recognition of the support that PRCA-sanctioned rodeos contribute to local, regional and national charities, Hesston by Massey Ferguson presents the Sowing Good Deeds contest. The contest is a chance to share the stories of rodeo teams across the country who are doing good in their communities.
One rodeo committee will win a Massey Ferguson® tractor for the great work they do.
Contest Details:
• Open to all PRCA-sanctioned rodeo committees, regardless of size
• Participating rodeo committees must apply for the Sowing Good Deeds program and meet certain criteria
• Participating rodeos will receive a Hesston by Massey Ferguson Sowing Good Deeds banner to hang in their arena
• Entries are due Sept. 30, 2023, and the top five finalists will be announced on or round Oct. 13, 2023.
Visit this link to enter:
https://www.masseyferguson.com/en_us/discover-mf/mf-community/community/sowinggooddeeds.html
Past winners of the Sowing Good Deeds initiative are the Reno (Nev.) Rodeo (2022), Burke (S.D.) Stampede (2021), Caldwell (Idaho) Nights Rodeo (2020), Santa Maria (Calif.) Elks Rodeo (2019), and Sikeston (Mo.) Jaycee Bootheel Rodeo (2018), Clovis (Calif.) Rodeo (2017).
Courtesy of PRCA