PRCA for the Record: Rhen Richard's Record Setting Weekend in Ellensburg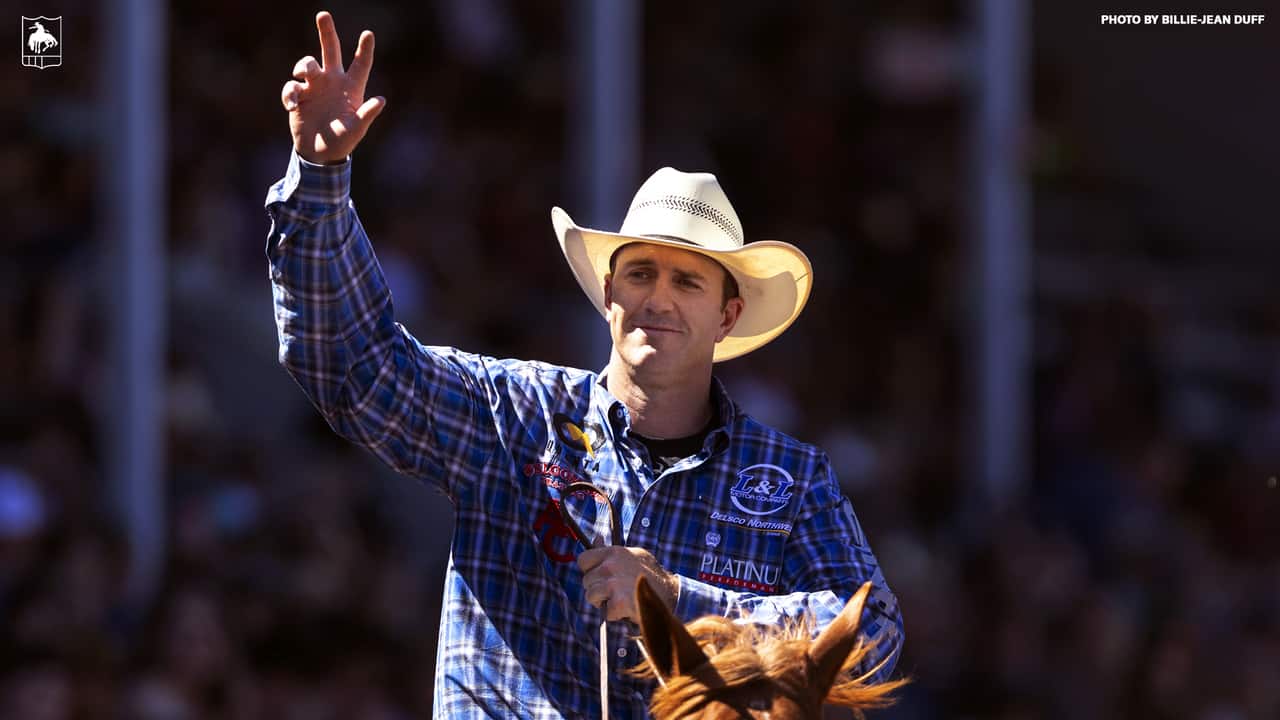 The Ellensburg (Wash.) Rodeo has been bringing the country's top cowboys to the northwest since 1923.
The list of rodeo record holders includes household names like Trevor Brazile, J.W. Harris, and Cody Ohl. Rhen Richard added his name to that list in 2019 with the most money won as the all-around cowboy with $9,921.
In addition to his all-around title, Richard also took home the tie-down roping championship that year winning the average with a 26.4-second time on three head. He recalls coming into the event needing a change of luck.
"I remember being on the bubble in the tie-down roping and really needing a win there (Ellensburg)," said Richard, 32. "I actually got off my horse and rode a buddy's horse because I wasn't having any luck on mine."
That was the stroke of luck he needed, as he eventually qualified for his second Wrangler National Finals Rodeo in the tie-down roping that season.
Now, in 2021 he finds himself once again in the position, but as a team roping header. He currently sits 15th in the PRCA | RAM World Standings, $2,480 ahead of Tate Kirchenschlager in the No.16 spot. He knows it won't be easy coming down the stretch.
"I think the main thing for me is just not panicking and thinking I have to win a certain amount of money in a certain amount of time," Richard said. "I just have to stay positive and have fun, usually it takes care of itself."
Cowboys from across the country will look to make a late season push and take down Richard's record Sept.3-6 at the Ellensburg (Wash.) Rodeo. You can catch all the action on The Cowboy Channel and the PRCA on The Cowboy Channel Plus App.
---
Ellensburg Rodeo records
• Total payout: $368,274, 2019
• All-around: $9,921, Rhen Richard, 2019
• Bareback riding: 90 points, Steven Peebles, 2010 (175/2, Steven Peebles, 2010)
• Steer wrestling: 3.4 seconds, Pat Nogle, 1979; Birch Negaard, 1997; Ethen Thouvenell, 2010; Dirk Tavenner, 2019 (11.6/3, Ryan Jarrett, 2005)
• Team roping: 4.1 seconds, Tanner Baldwin/Nano Garza, 2019 (15.6/3, Chad Masters/Michael Jones, 2008)
• Saddle bronc riding: 91 points, Jesse Kruse, 2009; Cody DeMoss, 2011; Isaac Diaz, • 2013 (176/2, Jesse Kruse, 2009)
• Tie-down roping: 7.3 seconds, Ryan Jarrett, 2007; Tuf Cooper, 2015 (24.4/3, Cody Ohl, 2015)
• Barrel racing: 16.91 seconds, Sydni Blanchard, 2011 (51.48/3, Nellie Miller, 2017)
• Steer roping: 8.4 seconds, Trevor Brazile, 2007 (18.7/2, Rod Hartness, 2007)
• Bull riding: 95 points, J.W. Harris, 2006 (177/2, Tim Bingham, 2012)
Courtesy of PRCA