Red-Dirt Rocker Stoney LaRue to Headline Rattler Days Fan Festival With Post-Event Concert Oct. 7 at Dickies Arena
By: Kacie Albert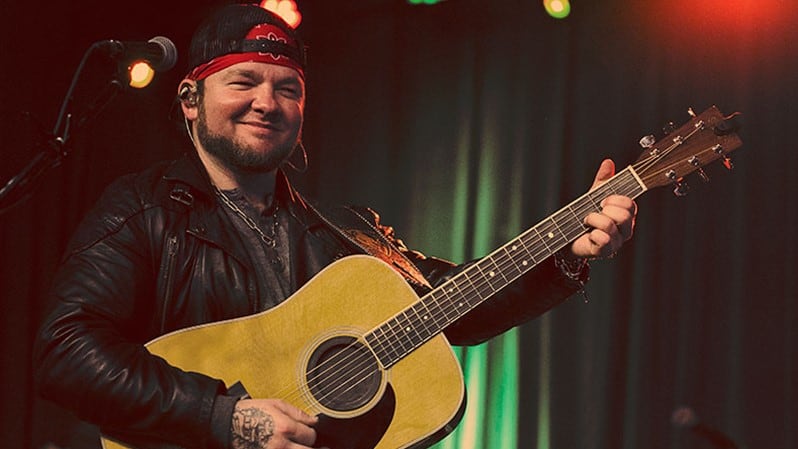 FORT WORTH, Tex. – Ahead of the hometown debut for Fort Worth's first-ever professional bull riding team, the Texas Rattlers, presented by Ariat, today announced a three-day fan festival to be held Oct. 7-9 alongside PBR (Professional Bull Riders) Rattler Days at Dickies Arena. The programming will be headlined by a post-show concert Friday, October 7 by Red Dirt rocker Stoney LaRue.
The Rattlers, the newest professional sports team to take the Dallas-Fort Worth area by storm, are one of eight founding teams in the groundbreaking PBR Team Series. During the regular season, the founding teams are competing in five-on-five games in a 10-event regular season leading into a national championship that will be decided in a double-elimination playoff tournament in November in Las Vegas.
PBR Rattler Days will kick-off Thursday, October 6 with the team's official welcome party at Billy Bob's Texas, the world's largest honky-tonk. The festivities will begin at 7:00 p.m. with event-goers able to meet the team, while also enjoying live music and line dancing.
While each day of the PBR Rattler Days fan fest will feature unique programming, festivalgoers will be able to partake daily in a variety of lawn games, including yard pong, corn hole, Jenga and more, as well as live music, food from a variety of local vendors and a cash bar. The Rattlers' mascot, Fang, will also make daily appearances to greet fans and take pictures with them.
The PBR Rattler Days fan festival will get underway on Simmons Bank Plaza at Dickies Arena on Friday, October 7 at 5:30 p.m. All programming on Simmons Bank Plaza and inside Dickies Arena will require a Rattler Days ticket to attend. The programming will feature a college-day flare in homage to bull riding's version of the Red River Showdown, which will take place later that evening when the Texas Rattlers take on the Oklahoma Freedom.
At 6:00 p.m. The Mullet Boyz will take to the stage performing covers of the best classic and current pop, rock, dance and rap tracks. Bringing an act like no other, the Mullet Boyz are part comedy show, part choreographed numbers and non-stop musical entertainment. Following the opening round of games for PBR Rattler Days, LaRue will take to the stage inside Dickies Arena.
For nearly two decades, LaRue has sustained a seminal music career that was dug straight out of the red dirt in Oklahoma. His rock-infused country "tude" coupled with a dominating set of vocal pipes quickly made him a rising star. His career headlines have included sold-out shows in a continuous 200-plus date-a-year tour schedule, high-charting albums on Billboard, iTunes and the Texas Regional Radio Chart, featured videos on CMT, more than 1 million albums and singles sold, guest vocal performances on songs by Lee Ann Womack and Miranda Lambert, shared stages with some of the biggest names in country music, and a most coveted debut performance at Nashville's renowned Grand Ole Opry.
In addition to LaRue, activations inside Dickies Arena will also include a kid's zone with a face painter, sign-making station and coloring pages, as well as a unique 360-degree photo booth.
Prior to the opening of the festival on Saturday, October 8 at 4:30 p.m., the Rattlers will hold a military celebration in the iconic Fort Worth Stockyards. Following the cattle drive beginning at 11:30 a.m., at 11:40 a.m. a member of the Frog-X Parachute Team and FRX Tactical will make an aerial jump into the Stockyards, donning the Rattlers logo on a giant flag.
On the spurs of the unique jump, an official swearing-in ceremony will be held at 11:50 a.m., when dozens of members from the Army, Marines, Air Force and Navy will take their official oath as led by Commander Rick Dorsey.
Other activities on Saturday, October 8 include:
• The Rattlers will host a Championship Parade at 12:05 p.m., followed by an official team meet-and-greet at the Ariat store in nearby Mule Alley beginning at 1:00 p.m.
• At 5:00 p.m. at the Rattler Days fan festival at Simmons Bank Arena, attendees will be treated to the musical stylings of Hip Hop Hooray performing their version of the top hip hop songs from the '80s and '90s, while adding a new high energy flare to the beloved tracks.
The Rattler Days Fan Festival will conclude on Sunday, October 9 at 12:00 p.m. at Simmons Bank Plaza.
As an added offering, fans will be able to purchase a ticket to attend Sunday's Boots, Bulls & Bubbles Brunch at 10:00 a.m. in benefit of the Boot Campaign.
Boot Campaign, now in its thirteenth year of serving veterans and military families across the U.S., launched its "YOU MATTER" initiative during the pandemic when the already high military suicide rate increased by 20% due to factors including isolation, heightened anxiety, economic tensions and numerous deployments taking a toll on service members and the veteran community.
Every brunch-goer will be joined at their table by one of the top riders competing in the PBR Team Series. Attendees will also hear from service men and women who have dedicated their lives to protecting the American way of life. The Boots, Bulls & Bubbles Brunch will include a silent auction with all proceeds benefiting the Boot Campaign. The auction will feature PBR Team Series memorabilia for the league's inaugural season and more.
Tickets for the Boots, Bulls & Bubbles Brunch are available for $100 and can be purchased at Ticketmaster.com or by calling PBR Direct at 1-800-732-1727.
The bull riding action for Rattler Days at Dickies Arena begins at 7:45 p.m. CT on Friday, October 7, 6:45 p.m. CT on Saturday, October 8, and 1:45 p.m. CT on Sunday, October 9.
Tickets for the three-day event are on-sale now, Tickets can be purchased online at Ticketmaster.com and PBR.com, at the Dickies Arena Box Office, or by calling PBR customer service at 1-800-732-1727.
© 2022 PBR Inc. All rights reserved.