Rookie Ruger Piva Wrestles CBR World Standings Lead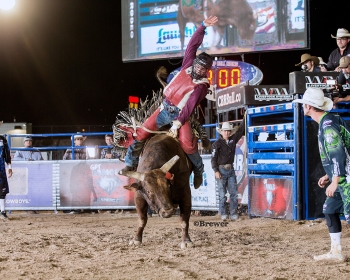 WEATHERFORD, Texas – (September 23, 2017) – When you "Google" Ruger Piva there is a moment you think you have spelled the name of the leading bull rider of the CBR's first quarter's name wrong, despite his weekend win of the Pendleton Round Up bull riding category. Ruger is not only the number ranked bull rider after two appearances on the CBR's Road to Cheyenne but he is an All American adorned wrestler with a 182-12 record, a national wrestling title and his first several pages of hits on Google are wrestling statistics over bull riding.
It didn't take long for the twenty-two year old Ruger Piva of Challis Idaho to get in sync. Piva grabbed the third lead in the CBR World standings since the tour began on August 21 in Huron, South Dakota. With 347.5 points, Ruger has ridden four of six bulls he has attempted in his rookie Road to Cheyenne season thus far.
After surviving CBR Bucking Bull of the year nominee Big Lew's irregular pattern for 87.5 points, Ruger took a minute in Laughlin, Nevada to talk – not knowing at the time that he would take the lead of the CBR World Standings after his first two appearances on the Road to Cheyenne.
"I won a couple of Horizon events and kept entering this season and that is how I got my start at CBR," said Piva with confidence. "I wanted to be here because there is a lot of money to be won and a lot of really, really good bulls to get on and no reason I shouldn't try to get on this tour and it's sure an honor."
Piva began his rodeo career at 9 years old and has "done it ever since", but claims he really never took it seriously till he was 20 years old and decided he was ready to move on from his wrestling career after a trophy room full of awards to communicate his obviously superior athletic ability.
The 5'7 155 pound Piva qualified for the National High School Rodeo Finals his junior year and finished in the top 15. He continued to rodeo alongside wrestling, qualifying for two consecutive years for the College National Finals Rodeo where he missed the Championship round by one place in 2015, but was in the final round in 2016 finishing third in the competition.
Piva first appeared on the Road to Cheyenne in Window Rock, Arizona on the second stop of the 2017-18 tour. He finished fourth, qualifying for his first Shoot Out round in his first event with 172 on three bulls.
He moved on to Laughlin riding Rockin R's 006 Carbine in round one and 1086 Big Lew (D4) for 87.5 in the semifinal round before bucking off 4B's 21 Janette's Pet in the Shoot Out Round.
"I love the three man format, you are getting on BUCKING bulls, and there is not a bull here I have seen that I don't want to get on, they are so even."
He was the highest average eon two bulls and earned the right to select first in the Shoot Out round and have his first conversation on bull selection with four time World Champion Tuff Hedeman.
"I didn't know any of the bulls so Tuff said 21 really bucked and I said give me that one!" laughed the good natured Piva after bucking off the new bucker from 4B Bucking Bulls.
Piva likes getting on three as he says the more he gets on the better he gets with less nerves toward the money round.
"Hard work and dedication, and being coachable, are some of my strengths and I am ready to transition to next level of competition," is the mantra of Piva whether he is wrestling or riding bulls.
Piva stormed the Road to Cheyenne in Window Rock but said he could not get too excited yet.
"I've still got a lot of bulls to go before I even start thinking about anything bigger than what's going on, you have to take it one bull at a time, jump for jump."
"Honestly, I do not focus on what anybody else is doing but myself," Piva said. "I don't worry. Those guys do what they're going to do. I'm cheering for everybody here. I don't want anybody to do poorly, but I'm focused on me."
Piva's success at the CBR is no surprise if you look deeper into his broad based athletic career thus far in his young life.
Piva averaged 171 yards per game with 15 tackles as he lettered in high school football all four years at Challis High School. He was also a four-year letter winner as he captured state wrestling titles as both a junior and senior. He finished in the top three at the Idaho state tournament in each of his four prep seasons, he went undefeated in each of his final two seasons, wrapping his career with 101-consecutive victories finished runner-up at the state tournament as a freshman and .won four district championships He was also a four-year letterman in both football and rodeo.
In 2015, Piva attended UMW in Dillon, Montana and was a NCWA National Champion.
Piva will attempt to keep his first quarter lead at the final event on the CBR's fall schedule, Conroe Bull Mania at the Lonestar Expo Center arena on Saturday night, October 7. Ticktes available on cbrbull.com.
Courtesy of CBR