Ryder Wright Wins in Canby (Ore.) with Rodeo-Record Ride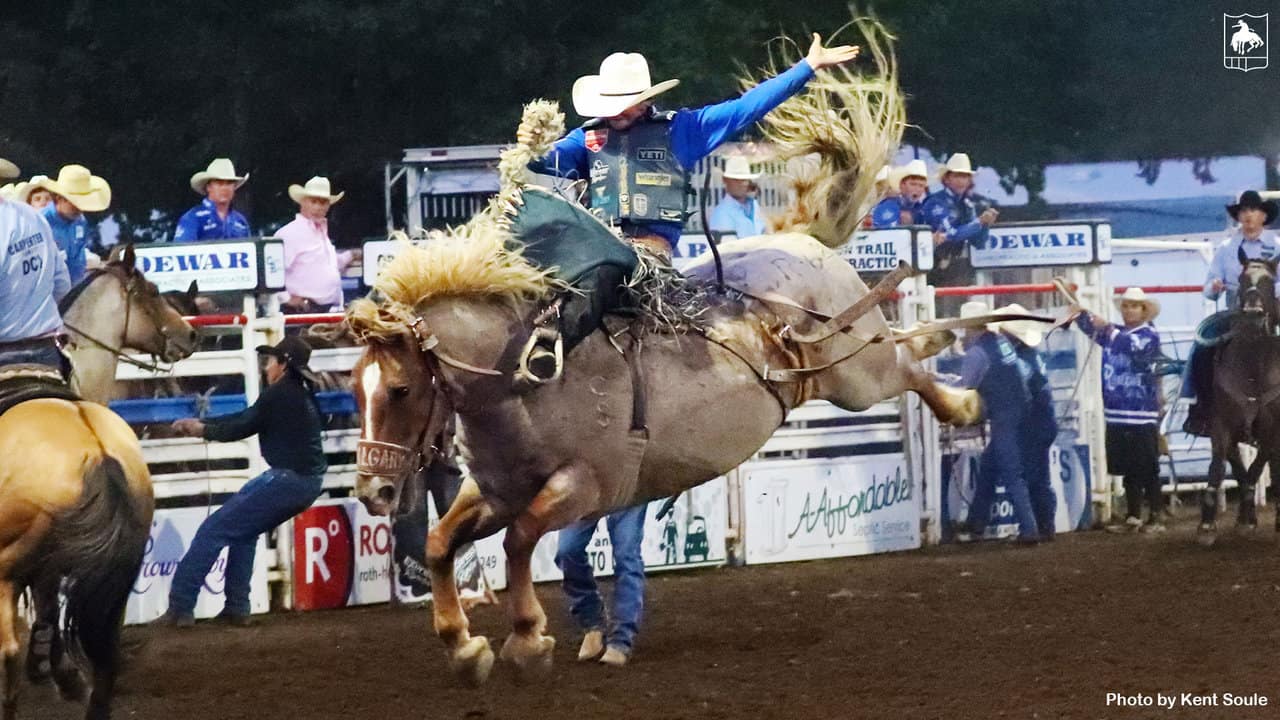 It's been a somewhat subdued season for saddle bronc rider Ryder Wright, at least by the standards set in his first six years as a professional where he's won two World Championships, $1.7 million, an NFR average crown and nearly every major rodeo on the docket.
But with headlines focusing on the breakout season of PRCA | RAM World Standings leader Sage Newman – as well as the continuing press for his little brother, five-time PRCA World Champion Stetson Wright – Ryder Wright has quietly stalked the leaders this season and sits solidly in fourth position in the current PRCA | RAM World Standings.
The leaders would be well served to keep an eye over their shoulder, however. Wright has gained momentum through the summer, capped with an outstanding performance in Canby, Ore., on Aug. 17.
Aboard the Wrangler National Finals Rodeo horse Redon Acres from the Calgary Stampede, Wright dished up a 90.5-point score, good enough for a new arena record and the win at the rodeo which concluded Aug. 20.
"I didn't know that," Wright, 24, admitted days later of the record. "If that's true, that's pretty cool. It never gets old."
The previous mark was 89 points set in 2009 by Wade Sundell and tied in 2018 by Clay Elliot.
The Canby Rodeo was a key stop on the NFR Playoff Series presented by Pendleton Whisky.
Wright, who earned $4,597 for his Canby victory, had matched up with the 17-year-old bronc back in 2016 as a rookie in Puyallup, Wash.
"I was not near as many points that time as I was this time," Wright noted wryly. "He reared out of there and I got a really good mark out. Then he just jumped and kicked across there like he always does; he always does his job."
Wright was marked 48 out of 50 by the judges for his ride.
"It felt good."
It was Wright's second 90-plus effort aboard a Calgary horse in a matter of days on the NFR Playoff Series, after a win last week in Hermiston, Ore.
He's also won nearly $20,000 during the first two weeks of August, prior to the Canby effort.
"I've been drawing well and things have been working out," he said. "I just hope to keep it rolling."
Wright was enjoying a relatively easy week with rodeos bunched close together in Caldwell, Gooding and Burley after Canby.
"It's kinda nice, slow down for a second. Sleep," he joked.
But the pause is temporary, and Wright may be on a hot streak at just the right moment to close the gap on the standings leaders with the Xtreme Broncs Finals Aug. 21 in Rapid City, S.D., as well as the $1 million Cinch Playoff Sept. 8-11 in Puyallup, Wash.
"The X-Broncs usually treats me pretty well so I'm excited for that," Wright said.
As for his motivation to keep hitting the road at the end of the long season? "Good horses, good money . . . the gold buckle is the big motivation."
Wright is looking to capture his third after losing out to Stetson by just $1,187 in 2021.
"It's tough being gone from home," he admitted, "but this is how we take care of our families."
Other winners at the $201,791 rodeo were all-around cowboys Stetson Wright ($2,222, saddle bronc riding and bull riding); bareback rider Keenan Hayes (89.5 points on Calgary Stampede's Soap Bubbles); steer wrestlers Hunter Cure, Taz Olson and Cash Rob (7.8 seconds each on two head); team ropers Clay Smith/Jake Long (10.8 seconds on two head); tie-down roper Shad Mayfield (16.1 seconds on two head); barrel racer Shannon McReynolds (16.42 seconds); and bull rider Josh Frost (88.5 points on Bridwell Pro Rodeos' Louisiana Lightning).
Courtesy of PRCA