Scott Guenthner Wins Long Round at The American, Eyes $1 Million Title
By Tracy Renck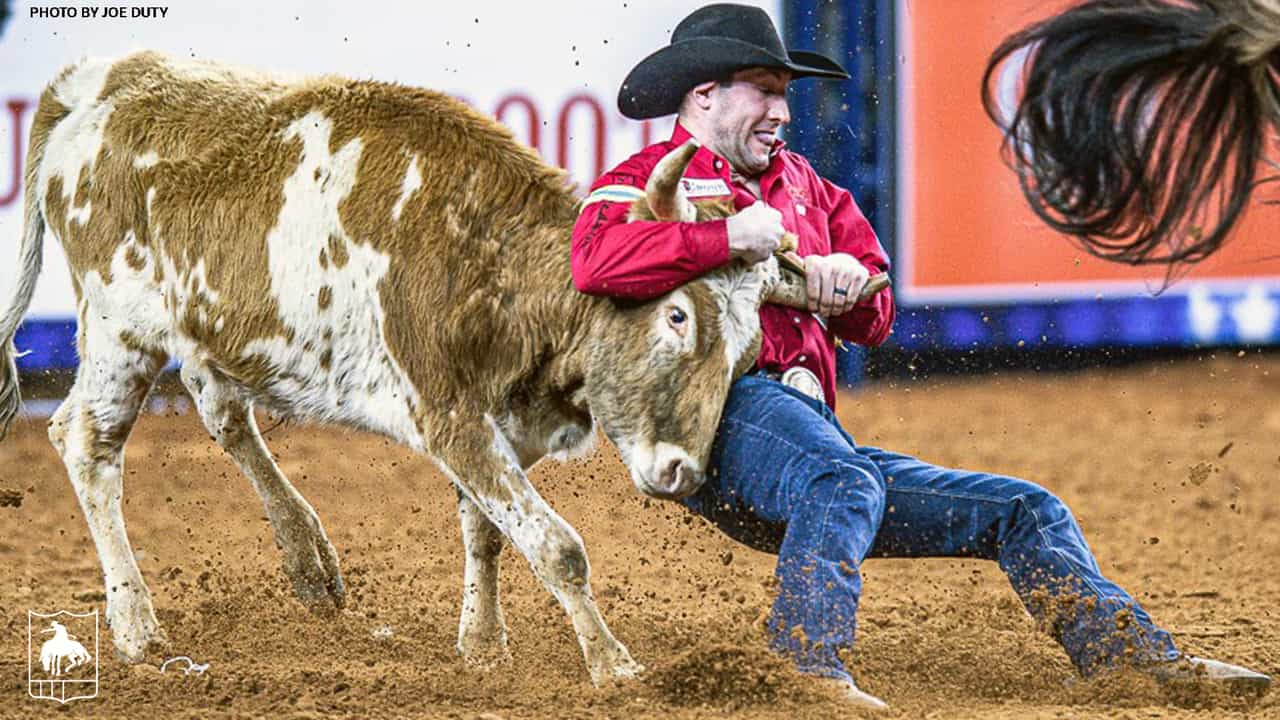 ARLINGTON, Texas – Like so many others in the world, steer wrestler Scott Guenthner was happy to put 2020 in the rear-view mirror.
With virtually all PRCA rodeos being canceled in his home country of Canada because of the COVID-19 pandemic, it left Guenthner scrambling.
"After Houston was canceled last year (in March), I went home and stayed home until about July," said Guenther, who lives in Provost, Alberta. "It was a difficult and frustrating year. It's nice to rodeo in Canada and I have always had good luck there, but there were no rodeos there. It was definitely a different year."
Guenthner hasn't looked rusty at all competing in The American.
He entered as a qualifier for the event and has kept his foot on the gas pedal, winning the long round of 16 competitors with a 4.0-second run Saturday night at AT&T Stadium.
"It was kind of a rough round of steer wrestling, the steers were kind of all over the map," said Guenthner, 29. "I knew I had a good one, so I just wanted to get a good start and try it on and hope for the best to make it back to (Sunday). I had a better start than I wanted to. I thought I may have broken the barrier. I might have been too aggressive, but I will take it."
Guenthner was riding Curtis Cassidy's horse, Tyson, the 2020 Purina Horse of the Year and he earned $3,000 for the victory.
"Tyson is an awesome horse," Guenthner said. "He makes it so easy to do your job. He hits the corner and stands there like a rock and doesn't move until you want to go, and he will see whatever you want. He's one of the best horses going."
Steer wrestler Tanner Milan, who placed eighth with a 5.46-second run Saturday, also was aboard Tyson.
The top eight finishers in each event March 6 advanced to the semifinals at 3 p.m. (ET) Sunday. The top four from the semis move on to the Shoot-Out. The action will be broadcast live on The Cowboy Channel and streamed on the PRCA on Cowboy Channel Plus App.
Because Guenthner is a qualifier for The American he has a chance at $1 million if he wins.
"I have been to the short round four times here, but I have yet to win it," Guenthner said. "To have a chance to go at $1 million is unbelievable. It's a dream come true. You have to beat 160 guys to get here and now you have to beat the best 16 guys in the world. It's not easy and to have the chance at $1 million is just amazing."
Guenthner, who qualified for the Wrangler National Finals Rodeo three years in a row 2017-2019, isn't overthinking his Sunday strategy.
"I'm pretty low key," Guenthner said. "I'm probably the guy who celebrates the least of anybody. Guys were laughing at me (Saturday night) because I had a great run and I just walked out of the arena. My family is down here, my wife, Becky and my 16-month-old son, Quade, so I'm just going to go back to the hotel and hang out my family and get a good rest and be ready for (Sunday)."
Courtesy of PRCA