Steer Wrestler Walt Arnold Sets Pace in Semifinal B in Fort Worth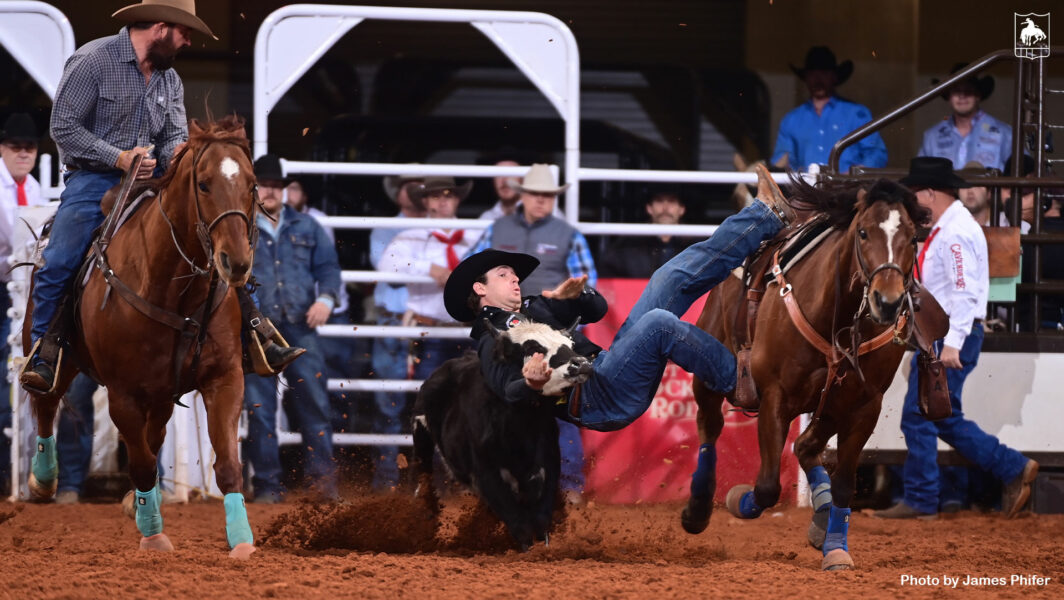 FORT WORTH, Texas – With his college degrees in hand and the 2022 Steer Wrestling College National Championship on his resume, Walt Arnold is taking the next step in his career.
The Coleman, Texas, cowboy is now rodeoing fulltime and chasing his gold buckle dream in the PRCA.
Arnold took a small step toward reaching that goal winning Semifinal B with a 3.8-second time at the Fort Worth Stock Show & Rodeo Friday night before a sellout crowd of 9,300 at Dickies Arena.
"When you go in there, so much can happen if you're late and you can't safety up," Arnold said. "You have to give it your best every time. If you slow down, mistakes happen and it goes downhill from there. To make a run like that feels great, especially having all this family here. My dad's side of the family, they are all from around here in Grand Prairie and Fort Worth, and they are all here tonight and it is awesome to do good at a rodeo in front of them."
Arnold, who earned $4,000 for his effort Friday, lives in Coleman which is 2½ hours west of Fort Worth. He obtained a general studies degree from Cisco (Texas) College and then received a criminal justice degree from Tarleton State University in Stephenville, Texas.
The top four placers in each event from Friday's Semifinal B advance to the finals at 8:30 p.m. (ET) Saturday in this lucrative Playoff Series rodeo. The 8 contestants/8 team roping teams will aim for top honors in the finals. All the action will be broadcast live on The Cowboy Channel and the Cowboy Channel Plus App.
Arnold was riding his horse Shelby, 8, which is a story in itself.
"This summer she got hurt and I thought I was going to have to put her down because of medical complications and an infection in a joint," Arnold said. "It was pretty scary. I had vets who spent six to seven months working on her and it went from me thinking she was not going to make it to me being able to use her, it is a blessing. I'm very grateful to have her and she is an amazing animal. I couldn't do this without her."
Kodie Jang was hazing for Arnold, and he praised his good friend.
"Kodie was riding Matt Reeves great haze horse, Kirk," Arnold said. "Kirk and Shelby were a pair this summer before Shelby got hurt. As soon as they saw each other they went to acting up. It was neat to get them back together and do some good. I think this was the first time they had run together since July."
Arnold, who stands 6-foot-2, and weighs 220 pounds, aims to keep things simple in Saturday's finals.
"It is the best guys in the world, and you can't worry about what they are doing, you just have to go do your job every time and see how it shakes out," Arnold said. "I have been kind of easing around taking care of my schoolwork. The goal was go to college and get my degrees and we are going to try and make a living now."
Other contestants who advanced Friday into the finals are as follows: bareback riders (Kaycee Feild, Taylor Broussard, Kade Sonnier, and R.C. Landingham); steer wrestlers (Arnold, Tucker Allen, Cade Goodman and Stockton Graves); saddle bronc riders (Zeke Thurston, Ryder Wright, Tanner Butner, and Leon Fountain); tie-down ropers (Jake Pratt, Westyn Hughes, Marcos Costa, and Tuf Cooper); team ropers (Andrew Ward/Buddy Hawkins II, Cody Snow/Wesley Thorp, Reno Stoebner/Ryan Motes, and Coy Rahlmann/Jonathan Torres) breakaway ropers (Erin Johnson, Josey Murphy, Hali Williams, Danielle Lowman, and Ashley Goforth); barrel racers (Sissy Winn, Wenda Johnson, Hailey Kinsel, and Shelley Morgan); bull riders (Stetson Wright, Trey Benton III, Tristen Hutchings, and Josh Frost).
Courtesy of PRCA