Taylor Looking Forward to Joining Nashville Stampede, Riding for his 'Hero'
By: Darci Miller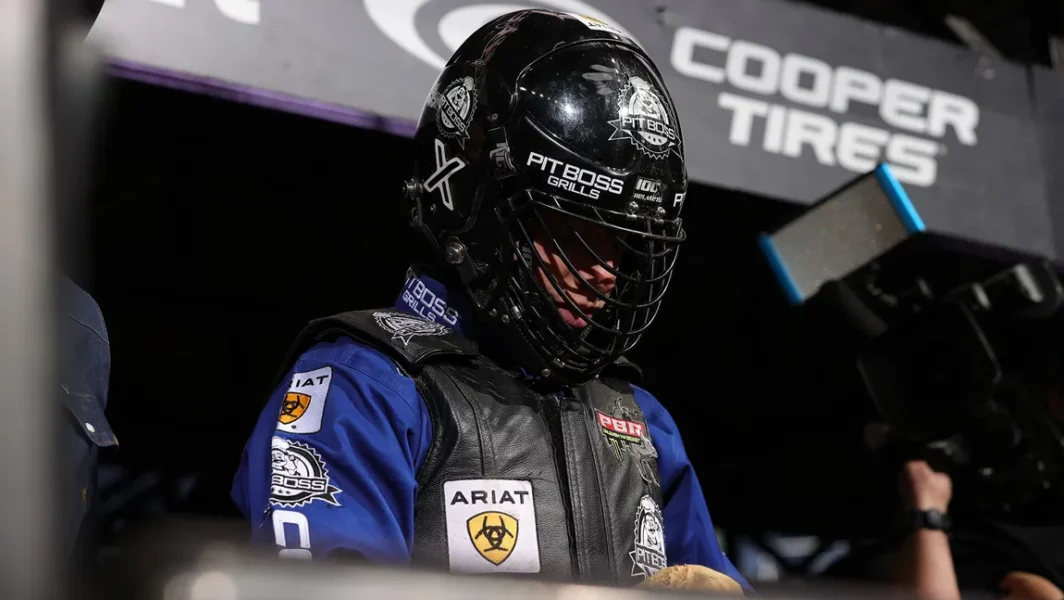 NEW ORLEANS – When Mason Taylor was in the locker room at the PBR Union Home Mortgage Invitational at the Smoothie King Center in New Orleans, he was approached by Kaique Pacheco and Dener Barbosa.
"Man, we're really excited," they said. "We can't wait."
The excitement is for the upcoming PBR Team Series, as the three are now teammates on the Nashville Stampede. On Thursday, it was announced that the Stampede acquired Taylor and Ednelio Almeida from the Carolina Cowboys in exchange for the No. 1 pick in the 2023 PBR Team Series Draft.
Taylor shared his teammates' excitement.
"I feel great (about it)," Taylor said. "I think that me being able to go to (head coach Justin) McBride, not only will it help the Nashville Stampede, but it'll actually help me as an individual. So I'm super excited and can't wait."
Taylor went 14-for-33 (42%) for the Cowboys last season, but the Stampede brass had their eye on the 23-year-old long before that.
"Before we ever drafted anyone onto the team, they met Mason just by coincidence at a hat shop, and they loved him," said Stampede Director of Rider Development & Scouting Keith Ryan Cartwright. "So when they found out we were going to be able to add him to the roster, they were over the moon.
"We're very excited. Mason is someone that we've had our eye on for a while. He's who we really wanted to add to the 2023 roster. He's great in and out of the arena. He's just a great, young, 23-year-old kid who can be with us for a long time. I think he embodies who we are as a team, when you look at the kind of roster we've assembled."
Taylor says he got a call about the trade at 10 p.m. on Wednesday. Rather than being jarred by the experience of being traded, he was fully open to and excited about the experience despite his good times with the Cowboys.
"Being a Carolina Cowboy, being with Jerome (Davis) and Austin Dillon and Richard Childress, that was a lot of fun," Taylor said. "Especially being with Daylon (Swearingen) and Cooper (Davis) and all them, that was a lot of fun. But new things have come up, and anything that can better me as an individual (is great), and I think this will. I'm just blessed to be able to have that opportunity."
Taylor went 0-for-2 in New Orleans – as Cartwright pointed out, simply a bad weekend – getting bucked off by Jersey Tuff in Round 1 and Cliff Hanger in Round 2.
In between, though, he spent some time chatting with his new coach backstage.
"He's my hero, so that's why I want to ride for him," Taylor said of McBride. "I watched him growing up. Everybody's got their rider – he was mine. And being able to be a part of that and get to know him a little bit better, and him get to know me a little bit better, I think it's going to be great."
The other half of the Stampede's acquisition, Almeida went 3-for-5 in the preseason for the Cowboys and 0-for-1 in the regular season before an injury sidelined him.
"Silvano (Alves) and Kaique have been talking about him since early last fall," Cartwright said. "We were just never able to add him then, so when it came up that he was available, that was someone that we already knew was going to fit well in the locker room, fit well at the practices.
"Right now, our entire seven-man protected roster, five of them live in Decatur, and two others live within an hour of getting to Decatur. So when we practice on Tuesdays as a team, it will be an entire team. One unit. Year-round."
Taylor will soon presumably be an integral part of that unit. Ranked No. 17 in the Unleash The Beast standings ahead of next weekend's PBR Ty Murray Invitational, presented by the Downs Racetrack & Casino, in Albuquerque, New Mexico, he joins a squad fresh off winning the 2022 PBR Team Series Championship.
Taylor also happens to be a rider that's donned three different team jerseys. Initially drafted by the Texas Rattlers, he was traded to the Cowboys during the 2022 PBR Team Series Draft.
"Everybody's been jacking with me that I've been traded twice, and it don't bother me none," Taylor said. "I think I'm home now."
Photo courtesy of Andy Watson/Bull Stock Media
© 2023 PBR Inc. All rights reserved.