Tie-Down Roper Hunter Herrin Snares Top Honors at California Rodeo Salinas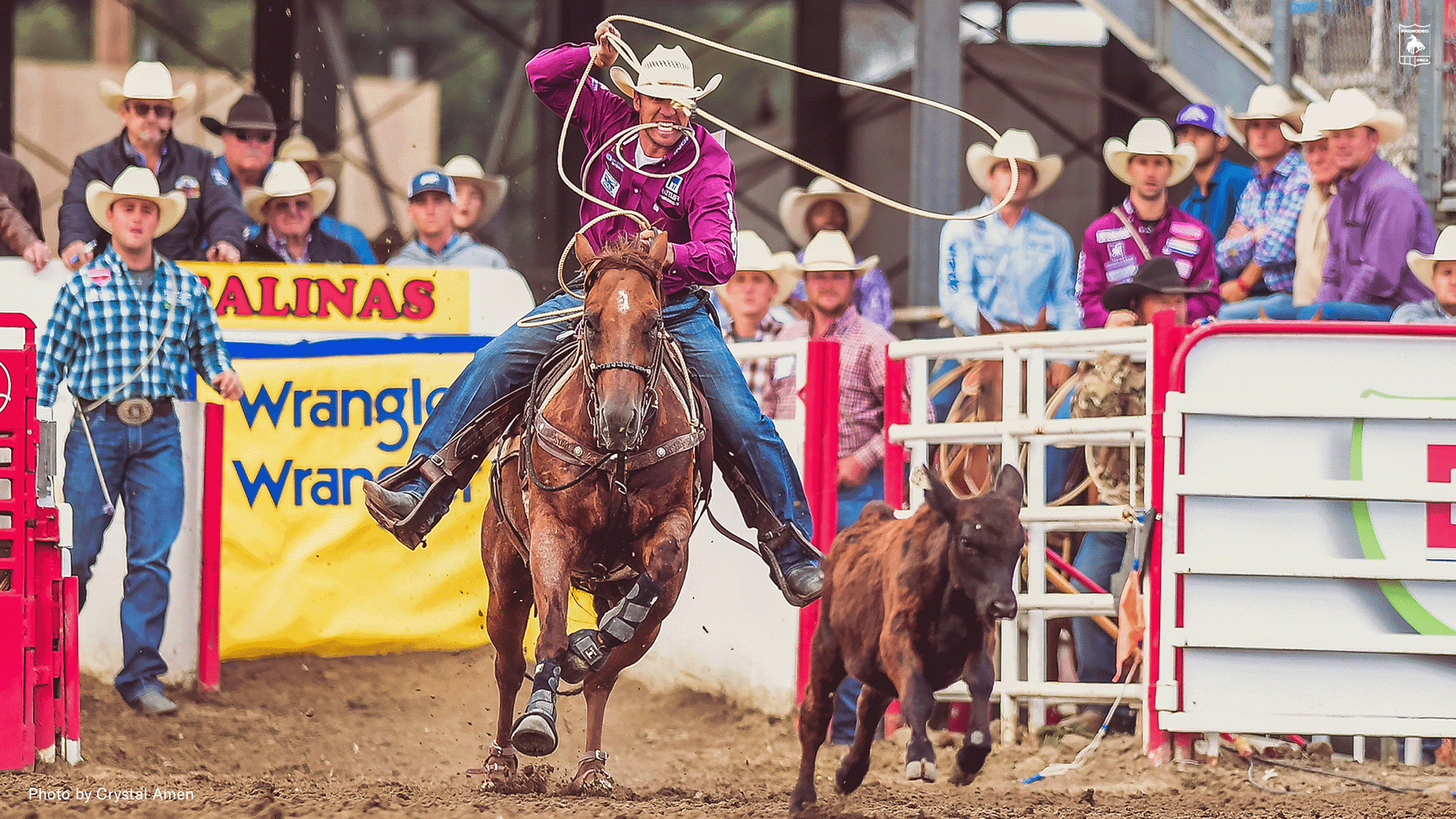 Hunter Herrin grew up competing in sports. He knows the difficult transition of moving up in levels, working with a different coach or adjusting to new teammates.
His rodeo career offers a similar challenge. After riding to honors and NFRs on his trusted Rambo, Herrin is now working with different horses. It takes time, but with the season approaching the stretch run, Herrin is microwaving the process. He won on friend Tyler Milligan's Rotel horse at the California Rodeo Salinas, finishing with a time of 33.5 seconds on three head, and delivered an impressive showing at the Fiesta Days Rodeo in Spanish Fork, Utah, on his grey named Dinero.
At 38, Herrin loves the challenge of a sport defined by timing and toughness, even when breaking in a new horse.
"When horses are green, they see things. They take some hard hits as everybody knows and you hope they get it figured out," Herrin said. "At Salinas, I drew really good. I got pretty lucky with my catch loop when a couple of guys had bad luck. It just worked out."
Herrin boasts a cluttered trophy case, but explained, while putting this season in context, that he and Rambo did not make it to the NFR in their first season. Still, that has not changed his goal of returning to Las Vegas – "That's every year," he admitted.
Herrin has qualified for the NFR 11 times, including the past two seasons. He's racing the clock this season but is heating up at the right time. He makes no excuses.
Herrin earned $11,661 at California Rodeo Salinas, which was a key stop on the NFR Playoff Series presented by Pendleton Whisky.
"My (hip) injuries are behind me. That was a long time ago. We are over that. That's not the reason for not scoring as well (earlier in the year). I'd rather be crippled and win than be healthy and not score," Herrin said. "It's been a great week. We needed it."
Herrin is starting to come full circle in life. He played sports in high school, and now his son Houston is tracing his footsteps, competing in football and basketball. Houston is line to play varsity quarterback for Apache (Okla.) High this fall.
"The competition is what drew me in with sports and with rodeo I was able to find something I did well enough to make a living," Herrin said. "But I am probably in the latter stages of my career. I want to be able to watch my son play."
However, Herrin will still have eyes on him down the stretch. It would be foolish to doubt him given his resume.
"It was a good run this week," Herrin said. "Now, we have to keep it going."
Other winners at the $518,002 rodeo were all-around cowboy William Pearson ($4,999, steer wrestling and team roping); bareback rider R.C. Landingham, (172 points on two head); steer wrestler Bridger Anderson (19.2 seconds on three head); team ropers Rhen Richard/Jeremy Buhler (47.4 seconds on five head); saddle bronc rider Tanner Butner (175 points on two head); barrel racer Brittany Pozzi Tonozzi (64.79 seconds on four head); bull rider Lucas Mooningham (170.5 points on two head).
Courtesy of PRCA