Timber Moore and Healthy Colonel Win Rodeo Rapid City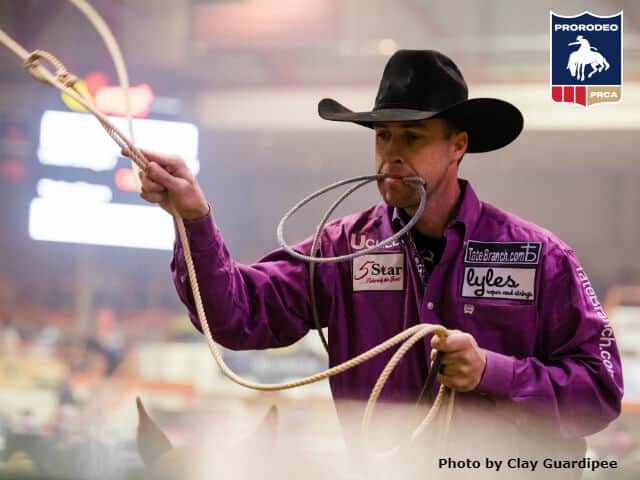 RAPID CITY, S.D. – Last season ended a bit rough for tie-down roper Timber Moore after his horse, Colonel, was injured.
But now the 2016 PRCA | AQHA Tie-down Roping Horse of the Year is on the mend and Moore has his first check of the 2019 season.
Moore and Colonel teamed to stop the clock in 8.6 seconds and win the tie-down roping at Rodeo Rapid City (S.D.), which concluded Saturday.
Not only was the win the first of Moore's 2019 season, but it was also his first victory at Rodeo Rapid City.
"It means a lot," said Moore, 32, who earned $4,394 for the victory. "In the winter time there's a lot of money to win. That's actually the first check I've got for 2019. So, we're at least off the zero mark, hopefully we can just keep going up from here."
Moore's run came in the first performance on Jan. 25. He liked his time but wasn't sure it would hold up throughout the nine-day rodeo.
"I thought I had a good chance to win money because the calves were fresher and wilder as a whole," he said. "Last year, they tied one about that fast and won. I had high hopes, but being in the first perf, you never know what might end up happening."
The win should move Moore into the top 50 in the PRCA | RAM World Standings. Failing to qualify for the Wrangler National Finals Rodeo last year snapped a streak of five consecutive trips to the Finals for Moore and happened because of Colonel's injury. Despite that, Moore finished in the top 30 and earned $54,037.
But with Colonel, 15, on the mend and feeling good again, Moore could be looking at a return to the Wrangler NFR in Las Vegas in December.
"To have him feel good and know he's on his A game, it gives me a greater chance to win whenever I do show up," said Moore, who lives in Aubrey, Texas. "You don't always have to have the best calf to win or place. Anytime he's at 100 percent it makes my job that much easier."
Colonel, who Moore bought in 2012, has been key to Moore's rodeo success, he said.
"He's been super awesome for my career," said Moore, who also made the Finals in 2011. "I bought him in 2012 and made the Finals in 2013 and basically every year since. Last year I didn't make it because he got hurt. Sure enough, without him I wouldn't have the success I've had throughout my rodeo career."
Wyatt Denny broke the rodeo record in bareback riding with his 90.5-point ride on Fettig Pro Rodeo's Classic Rock. The previous record had stood since 2003, held by Tom McFarland's 89-point ride.
Other winners at the $174,809 rodeo were All-Around cowboy Eli Lord ($3,259 in steer wrestling and team roping); steer wrestler Lord (4.7 seconds); team ropers Clayton Van Aken/Cullen Teller (4.1 seconds); saddle bronc rider Bradley Harter (87 points on Burch Rodeo's Maria Bartiromo); barrel racer Kathy Grimes (12.72 seconds); and bull rider Tanner Bothwell (84.5 points on New Frontier Rodeo's Ur Next).
For more coverage of Rodeo Rapid City, check out the Feb. 8 edition of ProRodeo Sports News.
Courtesy of PRCA