World Finals Event Winners Eguchi and Campbell Miss Championship Sunday in Omaha
By: Justin Felisko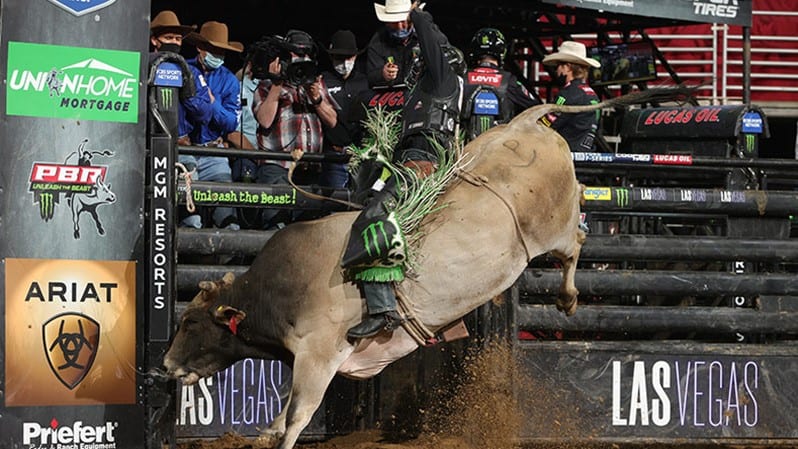 PUEBLO, Colo. – A pair of PBR World Finals event winners had to miss Championship Sunday as well as the 15/15 Bucking Battle at the PBR Union Home Mortgage Invitational in Omaha, Nebraska.
According to Dr. Tandy Freeman, 2018 World Finals winner Marco Eguchi and 2020 World Finals winner Boudreaux Campbell were unable to finish the event after sustaining concussions in Round 1 on Saturday night.
Campbell was the first to go down when Panic Button bucked him off in 3.72 seconds at the CHI Health Center. The buckoff was his 10th consecutive on the UTB.
Meanwhile, Eguchi, the No. 8-ranked bull rider in the world, sustained his injury after Slice of Heaven bucked him off in 3.55 seconds.
Both riders will have time to recover with the Unleash The Beast off next weekend. The UTB picks back up on May 14-16 in Billings, Montana, with the PBR Wrangler Invitational, presented by Cooper Tires.
2020 World Champion Jose Vitor Leme gave fans a quick scare on Championship Sunday when he got caught underneath Jayded following his 86.75-point ride in Round 2. Leme walked off gingerly to the locker room, holding his riding arm, but he later told Kate Harrison of CBS Sports Network that it was simply a deep bruise.
Leme then pushed any concern about his arm out the window by riding I'm Legit Too for 91.75 points in the championship round to finish Omaha in second place and leave Nebraska as the world No. 1 bull rider.
The 24-year-old leads No. 2 Kaique Pacheco by 27.5 points ahead of Billings.
Harrison also reported that 2016 World Champion Cooper Davis aggravated his pre-existing thumb injury (torn ligament) in the 15/15 Bucking Battle during his 78.5-point ride on King Brute. Davis turned down his re-ride option.
However, like Leme, his injury did not slow him down on Championship Sunday. Davis rode Danny Boy in Round 2 for 88.75 points and then edged Leme for the event victory with a 92.25-point effort on Trail of Tears.
LOCKWOOD EXPECTS TO BE BACK IN BILLINGS
Two-time World Champion Jess Lockwood missed a second consecutive event with a bruised left thigh, but the Montana native told PBR.com late last week that he has no plans of missing his home state event.
Lockwood is 24th in the world standings and 700 points behind Leme.
The Volborg, Montana bull rider will be getting on multiple practice bulls in the next two weeks to make sure he is 100% ready to return to his championship form.
"I want to be riding good and confident, though, before I return," he said. "Otherwise I'm just setting myself up for failure."
Follow Justin Felisko on Twitter @jfelisko
Photo courtesy of Andy Watson/Bull Stock Media
© 2021 PBR Inc. All rights reserved.