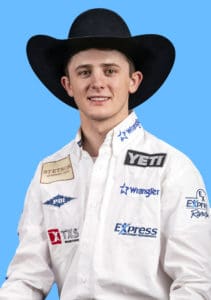 Name and Hometown: Stetson Wright – Milford, Utah
Reigning World Champion All-Around Cowboy
2-time Wrangler National Finals Rodeo Qualifier
Joined PRCA: 2018
Regular Season Earnings: $60,646 (bull riding)
Starting 2020 NFR in 8th place
Major regular season wins:
• San Angelo (Texas) Rodeo (2nd), $6,227
• San Angelo Xtreme Bulls, $5,473
• Lion's Dixie Roundup (St. George, Utah), $4,033
• PRCA Xtreme Bulls Finale (Nephi, Utah, 3rd), $7,952
Fun Facts about Stetson: His favorite book is King of the Cowboys by Ty Murray who happens to be one of Stetson's rodeo idols. Another idol is his dad, Cody Wright. And while both of these guys have are world champions, the thing that they have in common and that Stetson strives for is being a great cowboy. He proved himself in the arena a year ago finishing third in the world standings in the bull riding and winning his first all-around championship. This year Stetson has qualified for the WNFR in the saddle bronc riding and bull riding and is the favorite for the all-around championship. He also became a dad for the first time and now daughter, Kingsley Rey will be part of the Wright family dynasty.