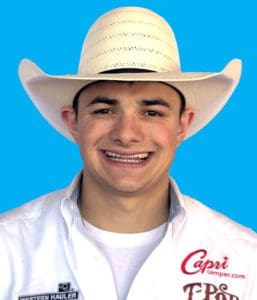 Name and Hometown: Lefty Holman – Visalia, California
1-time Wrangler National Finals Rodeo Qualifier
Joined PRCA: 2017
Regular Season Earnings: $49,670
Starting 2020 NFR in 12th place
Major regular season wins:
• San Antonio Stock Show Rodeo (brackets and semifinals), $8,375
• Rodeo Houston (Bracket 2), $4,458
• The United States Open Xtreme Broncs Match (Faith, South Dakota), $3,991
Fun Facts about Lefty: He qualified for the College National Finals Rodeo in 2018 for Cuesta (California) College then made a run for his first WNFR last year. He was in good shape after winning the Reno Rodeo, then injured his knee at Cheyenne Frontier Days. He promised to come back stronger than ever and is making his rookie appearance at the WNFR. Lefty will be paying attention during the steer wrestling, Dakota Eldridge is married to his aunt and he is the great-nephew of Nevada bronc riding greats, the Marvels.