WPRA Announces 2021 Justin Best Footing Award Winners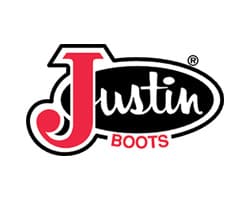 COLORADO SPRINGS, COLORADO – Every year since the early 1990s the Women's Professional Rodeo Association and Justin Brands have honored rodeo committees in each of the 12 circuits that have went above and beyond to ensure safe ground for the animal athletes of rodeo, specifically the barrel racing horses.
The Justin Best Footing Awards® program was created when Tom Feller, director of event marketing for Justin Brands, approached the WPRA about partnering on a program that would focus on the health and well being of the animal athlete. Not only does the program keep animal athletes performing at the top level, but it also recognizes the hard work and time rodeo committees put into making their ground as safe as possible for the barrel horse and all rodeo livestock.
This award is determined by votes by the WPRA membership and Circuit Directors and represents our members' voices saying "thank you" for a job well done. The WPRA recognizes the top three rodeo committees in all 12 circuits as well as the most improved ground committee in each circuit. Committee awards provided by Justin include cash bonuses (ranging from $350-$1,000), plaques and, at certain award levels, a pair of Justin exotic boots. In addition, names of each winner for each of the 12 circuits are put into a drawing for an addition $1,500 bonus from Justin. The following rodeo committees will be recognized at the WPRA Star Celebration in Las Vegas on Dec. 2 at the South Point Hotel and Casino.
Congratulations to the following rodeo committees being honored in 2021 and the WPRA thanks you for making your ground safe and consistent.
2021 Justin Best Footing Award Winners
Badlands Circuit
First – Buffalo Stampede, Kadoka, SD
Second – Burke Stampede Rodeo, Burke, SD
Third – Black Hills Roundup, Belle Fourche, SD
Most Improved – Killdeer (ND) Mountain Roundup Rodeo
California Circuit
First – Sonoma County Wine Country Rodeo, Santa Rosa
Second – Red Bluff Round-Up
Third – Santa Maria Elks Rodeo
Most Improved – Sonoma County Wine Country Rodeo, Santa Rosa
Columbia River Circuit
First – Walla Walla (WA) Frontier Days Rodeo
Second – Moses Lake (WA) Roundup Rodeo
Third – Farm City Pro Rodeo, Hermiston, OR
Most Improved – Kitsap Stampede, Bremerton, WA
First Frontier Circuit
First – Goshen (CT) Stampede
Second – Painted Pony Championship Rodeo, Lake Luzerne, NY
Third – Cowtown Rodeo, Woodstown, NJ
Most Improved – Apple Hill Stables Rodeo, Levante, ME
Great Lakes Circuit
First – Sikeston (MO) Jaycee Bootheel Rodeo
Second – Ozark Empire PRCA Pro Rodeo, Springfield, MO
Third – Carson (IA) Community Rodeo
Most Improved – Buffalo (MN) Championship Rodeo
Montana Circuit
First – Bozeman Stampede
Second – Yellowstone Pro Rodeo Roundup, Billings
Third – Kootenai River Stampede, Libby
Most Improved – Central MT RAM Pro Rodeo, Lewistown
Mountain States Circuit
First – Steamboat Springs (CO) Pro Rodeo Series
Second – Moffat County Fair and Rodeo, Craig, CO
Third – Greeley (CO) Stampede
Most Improved – Yuma (CO) County Fair & Rodeo
Prairie Circuit
First – Kansas Biggest Rodeo, Phillipsburg
Second – Jim Shoulders Living Legends Rodeo, Henryetta, OK
Third – Abbyville (KS) Frontier Days PRCA Rodeo & BBQ
Most Improved – Wild Bill Hickok Rodeo, Abilene, KS
Southeastern Circuit
First – Florida Gateway Pro Rodeo, Lake City, FL
Second – Chas B Davis Memorial Rodeo, Ringgold, GA
Third – 146th Silver Spurs Rodeo, Kissimmee, FL
Most Improved – 146th Silver Spurs Rodeo, Kissimmee, FL
Texas Circuit
First – Heart O' Texas Rodeo, Waco
Second – Cowboy Capital of the World, Stephenville
Third – Helotes Festival Association Rodeo
Most Improved – Parker County Sheriffs Posse Frontier Days & PRCA Rodeo, Weatherford
Turquoise Circuit
First – Socorro (NM) County Fair & PRCA Rodeo
Second – World's Oldest Rodeo, Prescott, AZ
Third – Parada del Sol, Scottsdale, AZ
Most Improved – 37th Annual Andy Devine Day Rodeo, Kingman, AZ
Wilderness Circuit
First – Gooding (ID) Pro Rodeo
Second – Jerome (ID) County Fair and Rodeo
Third – War Bonnet Roundup, Idaho Falls, ID
Most Improved – Days of the Old West Rodeo, Delta, UT
Courtesy of WPRA