Brazilian Trio Looking to Stay on UTB Off to Good Start in Milwaukee
By: Justin Felisko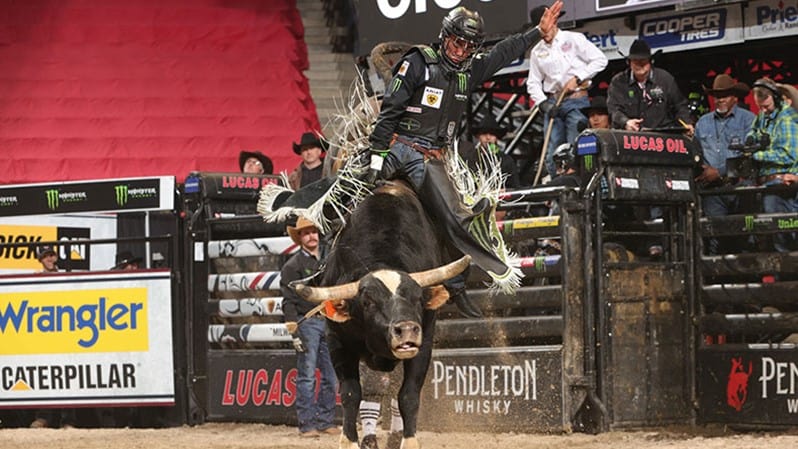 MILWAUKEE – Marco Eguchi and Eduardo Aparecido have 19 World Finals appearances between them, and Rafael Henrique dos Santos qualified for his first Finals last season. But that will not guarantee them a spot on the Unleash The Beast if they don't take care of business at the PBR Ariat Invitational this weekend.
So far, so good for the Brazilian trio, though.
The group took a step forward in their respective quests to avoid the Unleash The Beast cutline on Friday night at Fiserv Forum with qualified rides.
All three riders are competing in their fifth and final guaranteed UTB event before facing the possibility of losing their spot on the UTB.
Eguchi was the first to strike when he rode Hard Juice for 84.5 points. The 2018 World Finals event winner earned only eight world points for finishing 12th in the round, but those points could be crucial for him. There were 12 qualified rides total in Round 1.
The 32-year-old improved from No. 33 to No. 31 in the world standings.
Every UTB event in 2022 guarantees the Top 25 healthy/active riders in the world standings a draw spot. The next draw spots for an event are filled by riders with guaranteed UTB exemptions, injury exemptions and Pendleton Whisky Velocity Tour event wins. If any draw spots remain following that criteria, alternate positions are filled via the world standings.
Eguchi is now only 13.26 points behind the Top 25.
At No. 31 in the world, that would also be good enough for Eguchi to now be the last alternate in Milwaukee. But, of course, much will change in the world standings come Saturday night once the PBR Ariat Invitational and the two Pendleton Whisky Velocity Tour events taking place in North Charleston, South Carolina, and Lexington, Kentucky, end.
"It was a very important situation; every point matters," Eguchi said. "At every event, you have to give your best, and there is no time to rest. There is no stress. No pressure. It is no problem. Just one more event. I feel like I am riding good, so I don't care about this."
Meanwhile, Santos is inside the Top 30 for the first time this season following his 85.25-point ride on Monkey Island. Santos placed 10th in the round and earned 10 world points. He is only 9.16 points behind the Top 25.
Aparecido was right on Santos's heels with 85 points on Short Stuff. The 31-year-old will have his work cut out for him on Saturday if he wants to get back into contention for even an alternate spot for the next UTB event – the PBR Express Ranches Invitational in Oklahoma City. The No. 49-ranked bull rider in the world is 34.16 points behind the Top 25.
"I am very happy to ride this bull," Aparecido said. "This is my last guaranteed event for being Top 30 last year. It has been a long time for me since I was in this situation, but it is a new year. I was concentrating on riding my bull, and thank you, God, for giving me a good bull. I am focused."
Aparecido missed last weekend's event in Sacramento, California, because of a stomach illness, and he believes it may have been food poisoning after eating barbeque in Houston.
"I think I ate something bad," Aparecido said. "I was in Houston working on a new passport for my boy, and I had some barbeque. I don't know for sure."
Two other riders facing the cutline – No. 55 Boudreaux Campbell and No. 70 Paulo Lima – were bucked off in Round 1 and are getting closer to possibly having to shift their focus to the Pendleton Whisky Velocity Tour.
Follow Justin Felisko on Twitter @jfelisko
Photo courtesy of Andy Watson/Bull Stock Media
© 2022 PBR Inc. All rights reserved.