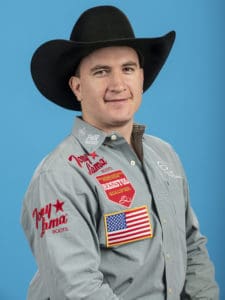 Name and Hometown: Jake Brown – Cleveland, Texas
6-time Wrangler National Finals Rodeo Qualifier
Joined PRCA: 2008
Regular Season Earnings: $42,778
Starting 2020 NFR in 13th place
Major regular season wins:
• Earned $8,191 over the Fourth of July
Fun Facts about Jake: Jake's sixth WNFR qualification came by placing at a lot of rodeos. He finished 11th in the 2019 world standings and four days after getting on his 10th round horse in the Thomas and Mack Center in Las Vegas his life changed. Jake and his wife, Nicole had all kinds of options involving the birth of their first child. Luckily, Wacey Paul waited until December 18th to make his entrance into the world with all of his family members safely back in Texas. Jake grew up playing in the dirt at rodeo arenas. That quickly led to participating. He started out riding bulls as well and was a Texas High School Rodeo all-around champion. He won the bareback riding title at the National High School Finals Rodeo in 2008. When the pandemic caused rodeos to cancel, they put up an arena on their property and started holding practice sessions. He also got a little fishing time in.