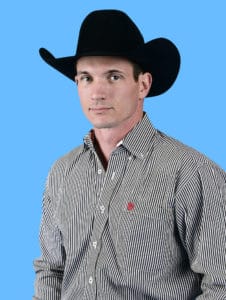 Name and Hometown: Jeff Askey – Athens, Texas
4-time Wrangler National Finals Rodeo Qualifier
Joined PRCA: 2010
Regular Season Earnings: $66,227
Starting 2020 NFR in 6th place
Major regular season wins:
• San Antonio Stock Show Rodeo (bracket and wildcard), $7,250
• San Antonio Stock Show Rodeo Xtreme Bulls (3rd), $8583
• Spanish Fork (Utah) Fiesta Days Rodeo (2nd), $6,162
• Pro Tour Finale (Rapid City, South Dakota), $10,934
Fun Facts about Jeff: He was the 2010 National Intercollegiate Rodeo Association's champion bull rider competing for the University of Tennessee at Martin. He got his bachelor's degree there in animal science. After growing up in Pennsylvania, he has kept moving west and has now found his home in Athens, Texas where he lives with his wife of one year, Tianti. She is in veterinary school at Texas A&M University, so when COVID-19 hit, she started on-line classes and Jeff started hunting – more. An avid outdoorsman, when he's not at a rodeo, Jeff is hunting and his home in east Texas is a great place to take care of predators like coyotes, bobcats and wild hogs.