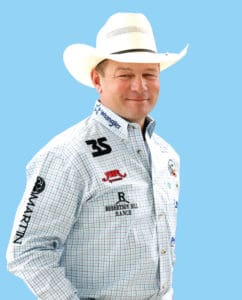 Name and Hometown: Luke Brown – Rock Hill, South Carolina
13-time Wrangler National Finals Rodeo Qualifier
Joined PRCA: 1998
Regular Season Earnings: $89,665
Starting 2020 NFR in 1st place
Major regular season wins:
• The American Rodeo (Arlington, Texas) $50,000 counted towards world standings
• San Antonio Stock Show Rodeo (won during brackets and semifinals), $8,625
Fun Facts about Luke: He could be labeled Mr. Consistency in the Thomas and Mack Arena. In his 13 times to compete in 10 rounds in Las Vegas, he has had the fastest total three times and won the WNFR average. He and his wife, Lacy, have a daughter Libby and because of Libby, he's been known to take his head horses around a barrel pattern. He says Libby always wins.