Martha Angelone Leads the Average, Anna Bahe Turns in Record Time on Day 2 of the NFBR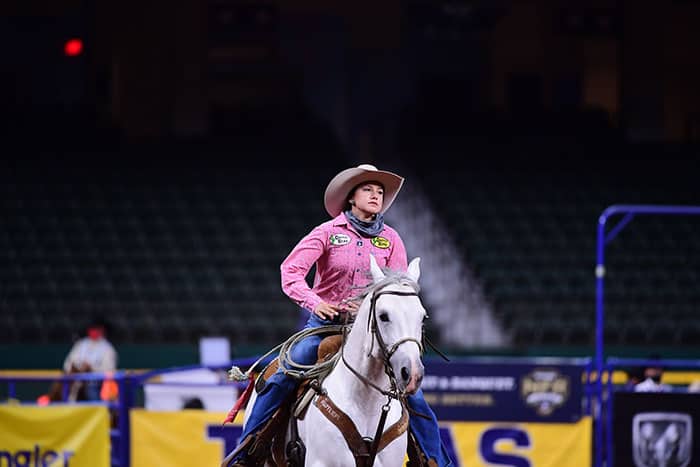 ARLINGTON, TEXAS – Surfer turned roper and Flordian turned Texan took the victory lap during the fifth round on Day No. 2 of the first-ever National Finals Breakaway Roping (NFBR). Amanda Coleman, now making her home in Stephenville, stopped the clock in 2.0 seconds to get the day started in Globe Life Field in Arlington, Texas.
Coleman was the 14th to rope and was staring down a 2.2-second run by Macy Fuller of Wittmann, Arizona, atop the leaderboard. Similar to her surfing instincts to run from sharks, she kicked it into high gear with her rope and got the job done.
"Only thing is run from sharks," said Coleman, about the similarities of surfing to breakaway roping. "My whole family surfs on my dad's side. My cousin surfs professionally, so I just grew up on the beach when I was younger."
Coleman travels with fellow roper Shelby Boisjoli, who has relocated from Canada to Texas and kicked off the Rd 5 action. Boisjoli turned in a 3.9 second run but things got drastically quicker by the time Coleman went.
"Shelby is letting me use her horse Pepsi here this week and I am grateful for that," said Coleman.
Anna Bahe of Grantsville, Utah, decided to write her name in the history books turning in a record run of 1.7 seconds in the sixth round to dominate the field. The closest competitors to her time were Kirby Eppert and Lari Dee Guy who both stopped the clock in 2.3 seconds. Prior to round six the fastest time recorded at this historic event was 1.9 seconds matched twice on the first day of competition. Now everyone has a new mark to try and match for the remainder of the event.
"My sister Cassie and I have roped together our entire life and she is always there for me and it is awesome," said Bahe, the younger sister of Cassie Bahe Latham also competing in Arlington this week. "We have been competitive our entire lives so it is good we can push each other."
The Bahe sisters unfortunately had a rough October having to put their good horse Roy down after complications from colic surgery. So Anna had to borrow a horse for the big event.
"I am borrowing a horse from James Barton and XBar2 Ranch and I am very thankful they let me borrow their horse," said Anna. "I have been practicing on him for just three weeks prior to bringing him here."
She is riding AQHA World Champion Jr Tie-Down roping stallion Mamas Duel N At Boon. James Barton has trained a few calf horses for Tuf Cooper and had Boon available for Bahe to use in Texas.
It was a log jam in the seventh round with three ladies tying for the win with times of 2.2 seconds. Martha Angelone, who got her first round win on opening day in the second round with a time of 1.9 seconds, set the bar in the seventh round as the first roper out. Kirby Eppert of Seneca, Nebraska, would match that time to earn her first round win at the NFBR and they would be joined in the winner's circle by Anna Bahe, who had just won the sixth round.
It was a good win for Eppert after a rough first day turning in only one qualified time.
"I made a couple of mistakes yesterday…I figure eighted a leg and tail, so I didn't really change my game plan for today as I like to go at them in every round," said Eppert. "Probably my difference maker was my lucky rock my nephew gave me. He had it yesterday so I didn't have it in my pocket but I do today buddy."
Angelone is not only looking to collect round money but is also looking to stay solid in the average race as well.
"I am trying to keep my spot in the average right now," said Angelone, originally from Virginia but now residing in Stephenville, Texas. "I am going to try to be as fast as I can on each calf. I am going to rope them where they let me rope them. I am not going to try and be stupid about it. "
Angelone definitely didn't safety up going into the eighth and final round on Day 2 stopping the clock in 1.9 seconds to win the round and extend her lead in the average. She holds an 8.7-second cushion on the rest of the field in the average after two solid days of roping. Her total time is 20.4 with eight-time WPRA World Champion Lari Dee Guy second with a 29.1.
"I think I was just looking for my shot sooner on this last one," said Angelone, when asked to compare her last two round times. "I was more ready for that throw than I was on my last one."
Cassie Bahe Latham retook the lead in the world standings with $33,039 to 19-time WPRA World Champion Jackie Crawford's $32,860.
The first NFBR concludes on Wednesday, December 10 at 10 a.m. CT and the 2020 WPRA World Champion Breakaway Roper will be crowned. Catch it LIVE and free on the Wrangler Network. Be sure to tune in for this historic event.
Second day results: http://www.wpra.com/index.php/nfr-2020-results-breakaway-roping/147-nfr-2020-results-breakaway-roping/2032-nfr-2020-results-breakaway-roping-wednesday-dec-9-2020
Courtesy of WPRA