Louisiana's Sage Seay Leads Pack on Day 5 of 2021 UBF World Finals
By: Ted Stovin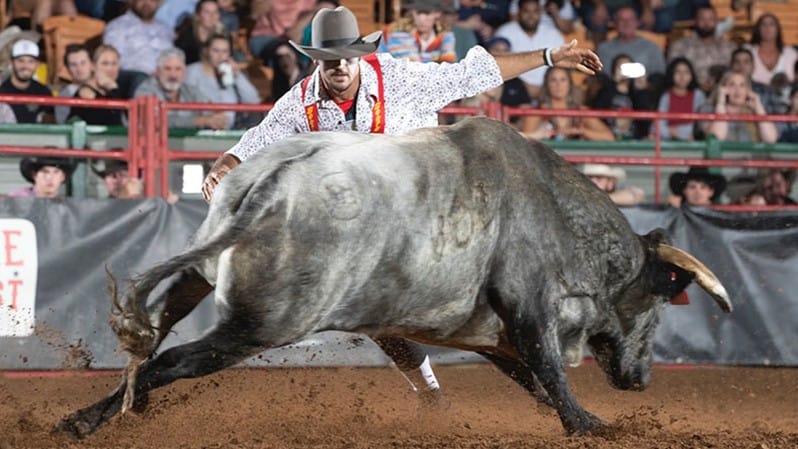 FORT WORTH, Texas – With the highest-marked fight of the week, Hackberry, Louisiana's Cajun Train Sage Seay made a statement on Wild Card Friday at the 2021 Ultimate Bullfighters World Finals inside Cowtown Coliseum.
Seay put up 88.5 points against Joker on Jack from Chad Ellison Fighting Bulls in Round 4 presented by Pendleton Whisky to punch his ticket to Championship Saturday, where $100,000 is on the line.
"It feels great, especially coming back to the Wild Card Round knowing that I had to put all the chips in and double down and bet on myself, and to go out there and put 88.5 points on a sweet bull from Chad Ellison was slim to none," Seay said.
Coming into Friday, Seay had registered scores of 88 and 85.5 on Thursday and Saturday of the first weekend of competition, just missing the cut to directly qualify for this Saturday's finals. His eyes now lay directly on the prize.
"Right now, it's getting back to the fundamentals and really getting out there and having some fun, and then trusting in my knee and my fakes and bringing the fight to a bull," Seay said. "I haven't felt this healthy in probably about two years, and I know it's coming out in that shotgun chute tomorrow.
"I'm going to get me a good breakfast, and I'm going to be ready to fight some bulls tomorrow."
Of the $100,000 purse, first place pays $25,000 in the final round. All eight qualified bullfighters will fight first in head-to-head brackets. The top four will compete in one final round for the event and world titles.
First out on the night was Colton Orcutt of Kersey, Colorado. Orcutt showed out with the second-highest score on day 5.
"Every guy needs one good fight under his belt when there's when there's a long week ahead of us," Orcutt said. "It's just longevity at this point."
Checking in at 87 points, he bested world No. 9 and Rookie of the Year contender Dakota Martin and Trenton Ross of Jackson, Wyoming.
"It's one of those deals; you've got to leave it all on the line," Orcutt said. "We've got nothing to lose. It's my last opportunity to make Saturday, and heck, we're all here for one reason, another solid bull fight and another day in paradise."
Orcutt split first place on opening night, Dec. 2, at 88 points with Seay. In Saturday's quarterfinals, he put up an 83.5 but was relegated to Wild Card Friday.
Rounding out Saturday's contenders are Preston Robinson (Minersville, Utah) with an 82.5, half a point better than his score in Thursday's redemption round. A second man having fought on back-to-back nights, Colby Lindsey of Calvert City, Kansas, moved on, edging second and third in his bracket by just half a point at 85.
Moving on to fight on Championship Saturday, Dec. 11 (Name – Score)
Chance Moorman
Roper Rich
Knox Dunn
Clay Moore
Sage Seay
Colby Lindsey
Preston Robinson
Colton Orcutt
Action concludes inside the Cowtown Coliseum on Championship Saturday, Dec. 11, starting at 7 p.m. CT. Fans can watch LIVE on RidePass on Pluto TV, channel 720, starting at 8 p.m. ET. The UBF World Finals Pre-Show with myself, Ted Stovin, and my pal Wacey Anderson starts at 7:30 p.m. ET on the UBF and Wrangler Network pages on Facebook.
Tickets for the 2021 UBF World Finals are on sale now and can be purchased at CowtownColiseum.com and PBR.com or through PBR Customer Service by phone at 1-800-732-1727.
General Admission tickets start at $15 for adults, and $7.50 for children ages 11-18, taxes and fees not included. Children age 10 and under will be able to enter the 2021 UBF World Finals for free.
For a more close-up experience, fans can also purchase Silver Spur Seats for $35, VIP and Gold Buckle Seats for $45 and Dirt Seats for $55.
All ticket buyers will also be able to partake in nightly post-event autograph sessions and meet-and-greets on the dirt with some of the top bullfighters in the world.
For more information about how to attend the 2021 UBF World Finals at Cowtown Coliseum in Fort Worth, Texas, Dec. 2-11, visit PBR.com.
Official results from Day 5 of the Ultimate Bullfighters World Finals from the Cowtown Coliseum inside the history Stockyards in Fort Worth, Texas, on Dec. 10, 2021. (Name – Score, Payout)
Round 1
Colton Orcutt – 87, $1,000
Trenton Ross – 85, $500
Dakota Martin – 83
Round 2
Colby Lindsey – 85, $500
Tyler Washburn – 84.5, $250
Gus Kluttz – 84.5, $250
Round 3
Preston Robinson – 82.5, $1,000
Noah Krepps – 82, $500
Jacorey Golden – 80.5
Round 4
Sage Seay – 88.5, $1,000
Dekevis Jordan – 86.5, $500
Trent King – 82
Photo courtesy of Andre Silva
© 2021 PBR Inc. All rights reserved.