U.S. Catfish Recipe of the Month: Curried Catfish Cheese Ball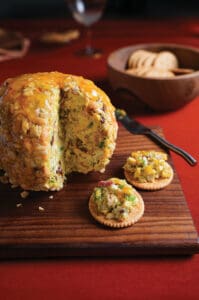 Ingredients
• 2 U.S. Farm-Raised Catfish fillets
• 3 teaspoons curry powder, divided
• 8 ounces cream cheese, softened
• 4 ounces cheddar cheese, shredded
• 1/4 cup sour cream
• 1/2 cup green onions, sliced
• 1/2 cup raisins
• 1 pound bacon, fried and crumbled
• ¼ cup flaked coconut
• 1 teaspoon salt
• 1/2 cup cocktail peanuts, chopped
• 1/2 cup peach and mango chutney
Instructions
1. PREHEAT oven to 350˚ F.
2. PLACE catfish on a sheet tray, and sprinkle with 1 teaspoon curry powder.
3. COOK for 15 minutes or until it flakes easily.
4. PLACE on a plate and chill. In a large bowl, COMBINE flaked catfish with next 8 ingredients and remaining curry powder. ROLL into a ball, wrap in plastic wrap, and refrigerate at least 1 hour.
5. Before serving, REMOVE plastic wrap, roll ball in peanuts, and then coat with the chutney.
6. SERVE with crackers.
We would love to hear your thoughts after trying this one! I always check the label to make sure it's U.S. Farm-Raised Catfish and so should you. Enjoy 100% All-American!