U.S. Catfish Recipe of the Month: Catfish and Shrimp Stuffed Mushrooms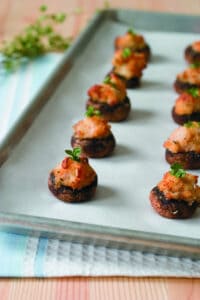 Ingredients:
• 2 U.S. Farm-Raised Catfish Fillets, cooked and flaked
• ½ cup melted butter
• 1 cup seasoned croutons, crushed
• ¾ cup mozzarella cheese, shredded
• ½ cup Parmesan cheese, grated
• 8 ounces small shrimp, peeled and cooked
• 3 garlic cloves, minced
• 1 teaspoon fresh thyme leaves
• 1 lemon, zested
• 1 teaspoon fresh lemon juice
• ½ teaspoon salt
• ½ teaspoon pepper1 pound fresh button mushrooms, stems removed
• Thyme leaves for garnish
Instructions
1. PREHEAT oven to 425ºF. Line baking sheet with parchment paper.
2. COMBINE all ingredients except mushrooms in bowl and stir well to incorporate.
3. SPOON mixture into mushrooms; place stuffed mushrooms onto baking sheet.
4. COOK 10 to 12 minutes or until lightly browned.
5. GARNISH with thyme leaves. Serve warm.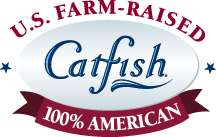 We would love to hear your thoughts after trying this one! I always check the label to make sure it's U.S. Farm-Raised Catfish and so should you. Enjoy 100% All-American!